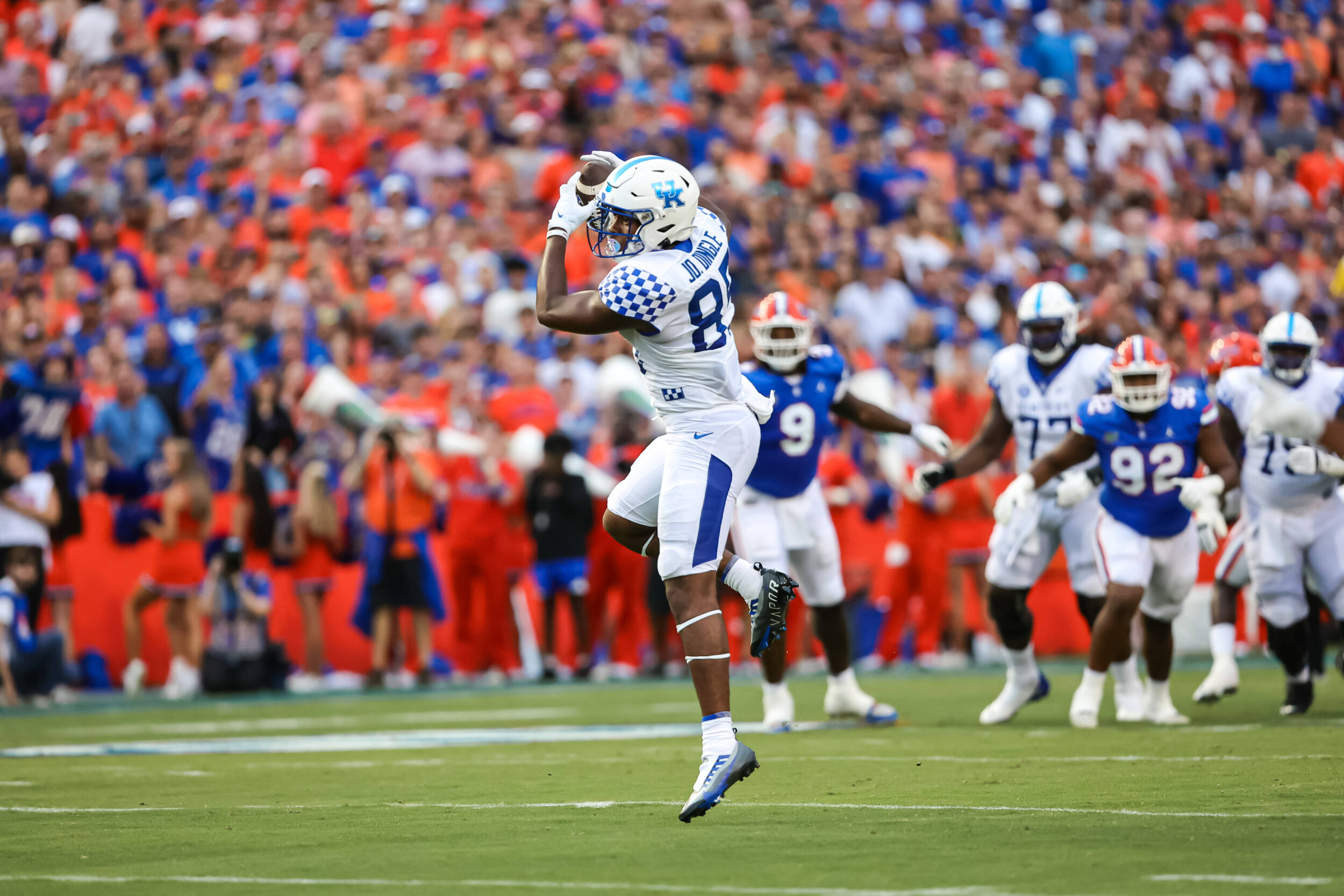 KENTUCKY FOOTBALL POSTGAME QUOTES
KENTUCKY AT FLORIDA   
BEN HILL GRIFFIN STADIUM – GAINESVILLE, FLORIDA
Sept. 10, 2022
FINAL SCORE: No. 20/20 Kentucky 26, No. 12/19 Florida 16
Team Records and Series Information 
Kentucky is 2-0 overall, 1-0 in the Southeastern Conference. Florida is 1-1, 0-1 in the SEC.

 

Florida leads the series, 53-20.

 
With the victory tonight, UK has defeated Florida in consecutive seasons for the first time in 45 years, since 1976-77.

 

Kentucky has won two of the last three meetings in Gainesville (2018, 2022).

 

Kentucky has won three of the past five meetings overall.

 

The game-winning score for Kentucky each of the past two seasons came on a non-offensive score (blocked field goal in 2021, interception in 2022).

 
Next for UK: on Saturday, Sept. 17, UK begins a two-game homestand by playing host to Youngstown State. Game time is noon and it will be televised on the SEC Network.

 
UK will be seeking to extend its streak of 17 consecutive non-conference wins, the longest active streak in the nation.

 
What the Win Means for Kentucky 
Kentucky's last win over a team ranked in The Associated Press poll was the 20-17 victory over No. 17 Iowa in the Vrbo Citrus Bowl.

 

Kentucky has won two in a row and four of its last five games vs. ranked opponents.

 
The last time Kentucky won four of five vs. ranked opponents was during the 1976 and '77 seasons when the Wildcats won five straight against ranked foes.  

 
Kentucky also defeated a No. 10-ranked Florida team last season.  The last time UK defeated the same ranked opponent in consecutive seasons was 45 years ago, 1976 and '77, when the Wildcats defeated LSU and Penn State in both campaigns. 

 

Kentucky's last win over a top-20 team in the opponent's home stadium was the victory at Tennessee in 2020.

 
It is the second year in a row that UK has won its SEC opener, the first time that has happened since 2017-18.

 
What the Win Means for Coach Mark Stoops 
It is win No. 61 for head coach Mark Stoops, breaking the Kentucky record of 60 victories set by Paul "Bear" Bryant, who led the Wildcats from 1946-53.

 
After beginning 12-26 at UK, Stoops has now gone 49-27 (.644).

 
Team Notes 
Kentucky held Florida to 16 points.  UK has limited its last six opponents to 21 or fewer, longest since an eight-game streak of 21 or less to open the 2018 season.

 

UK has allowed 30 or fewer points in 48 of the last 54 games.

 
The Kentucky defense intercepted two passes, returned one for a score and held Florida to 4-of-16 on third down.

 

It is the first time the Kentucky defense has shut out an opponent in the second half since at Tennessee on Oct. 17, 2020.

 
It is the first time Florida has been held scoreless in the second half since 2017.

 
Player Notes 
Senior quarterback

Will Levis

completed 13-of-22 passes for 202 yards a touchdown and an interception.

 

Senior wide receiver

Tayvion Robinson

has a reception in 38 consecutive games. He also saw time at running back and had four carries for 11 yards.

 

Senior running back

Kavoisey Smoke

rushed 14 times for 80 yards.

 
He moves up two spots to 26

th

on UK's career rushing chart with 1,418 yards.

 
Freshman wide receiver

Dane Key

hauled in 3 passes for 83 yards and a touchdown.

 
He caught a career-long 55-yard scoring pass.

 

He has caught a touchdown pass in each of his first two collegiate games. The last time a Wildcat caught two touchdown passes in his first two games was Derek Abney in 2000, when he caught two vs. South Florida in his first career game.

 
Sophomore wide receiver

Chauncey Magwood

hauled in a career-long 25-yard reception in the third quarter.

 
He finished with two receptions for 47 yards.

 
Senior linebacker

Jordan Wright

intercepted a pass in his first action of the season.

 
It is his second career interception.

 

He also had six tackles, including an eight-yard sack that caused a fumble, and a five-yard tackle for loss.

 
Junior cornerback

Carrington Valentine

had five tackles and a career-high three pass breakups.

 

Super senior cornerback

Keidron Smith

had a 65-yard interception return for a touchdown in the third quarter.

 
He has six total INTs in his career and at least one in each of his five collegiate seasons.

 

It is the first time UK has returned an INT for a score since Quandre Mosely against New Mexico State on Nov. 20, 2021 (38 yards).

 
Senior linebcker

J.J. Weaver

led the Wildcats in tackles with a career-high nine stops.

 
Senior kicker

Matt Ruffolo

made 2-of-3 field goal attempts, including the game-sealing 26-yarder with 1:24 remaining.

 
He now has 193 points, moving him into eighth place on the school's career scoring list.

 

He completed a streak of nine consecutive made field goals, tied for the third llongest streak in school history.

 
First collegiate starts: TE

Josh Kattus

,

 

First start at Kentucky: DB

Keidron Smith

(transfer from Ole Miss)

 

Game captains for Kentucky: Kenneth Horsey, Will Levis, DeAndre Square and Jordan Wright