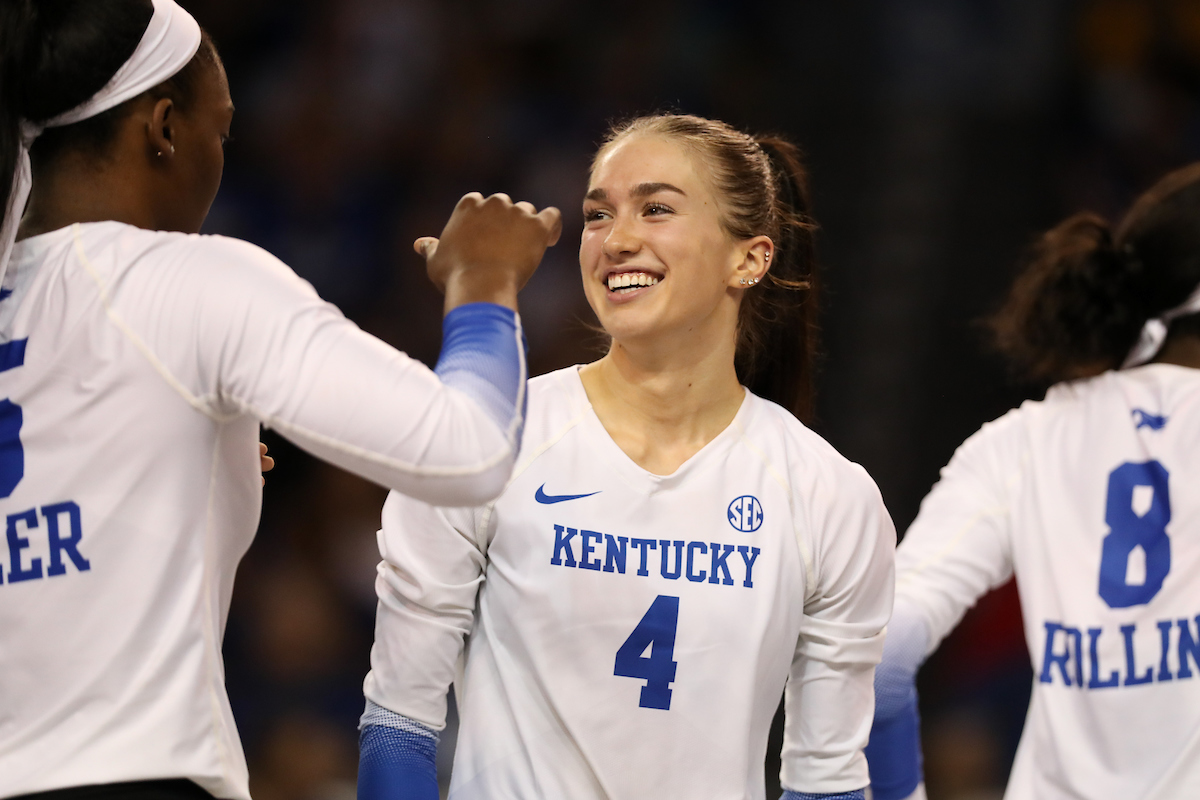 September 10, 2022 - 06:20 PM
No. 14 Kentucky Rebounds With 3-0 Sweep Over Indiana State
LEXINGTON, Ky. – Reagan Rutherford had a match-high 12 kills and libero Eleanor Beavin had a match-high 18 digs as the No. 14 Kentucky Volleyball team rebounded after Friday's loss with a 3-0 (25-16, 26-16, 25-15) sweep if the Indiana State Sycamores on Saturday afternoon in Memorial Coliseum.
With Saturday's result, Kentucky improves to 5-2 on the season. Indiana State is 1-7 after play Saturday.
Kentucky hit .308 on the afternoon with 51 kills while holding the Sycamores to a .097 hitting percentage, the lowest of a Kentucky opponent this season in a match. The Wildcats had 10 players record a kill in the match and all 15 players on the roster got in the match for UK, a first for this season.
The Wildcats will play host to No. 4 Louisville on Wednesday night at 7 p.m. ET on ESPN or ESPN2. The match time was moved up an hour to accommodate the television change from ESPNU to ESPN/2. Tickets are still available for the match by visiting UKathletics.com/tickets or by contacting the UK Ticket Office.
Set One
Maddie Berezowitz went on a critical service run of six points that helped open a gap midway through the set that forced the Sycamores into a timeout trailing by seven. The Wildcats used the offensive attack of Reagan Rutherford and Erin Lamb in the opening set who helped lead UK to a .293 hitting percentage and 68 percent side-outs to win the frame, 25-16.
Set Two
Kentucky won the second set by the same margin, 25-16. It was again the senior Maddie Berezowitz who's serve caused the Sycamores major problems midway through the set as Kentucky took control at 16-8 and pushed ISU into a halt of play. Rutherford and Elise Goetzinger continued to push hard on the gas petal as the Wildcats won six of the last eight points in the set to win 25-16 and hit .278 in the frame.
Set Three
Kentucky got everyone in the match in the third set with Bella Bell seeing her first action since opening night and Jordyn Williams seeing her first extended playing time as a Wildcat. The RS-freshman Williams had nice serves and helped push UK in front early in the third set in conjunction with three blocks as UK outblocked ISU 9-5 in the match and 4-0 in the third set alone. The final point was closed out with UK not having a single senior on the floor, showing the future and promise of the Wildcats.
Follow along with the Wildcats on Twitter, Facebook and Instagram, and on the web at UKathletics.com.