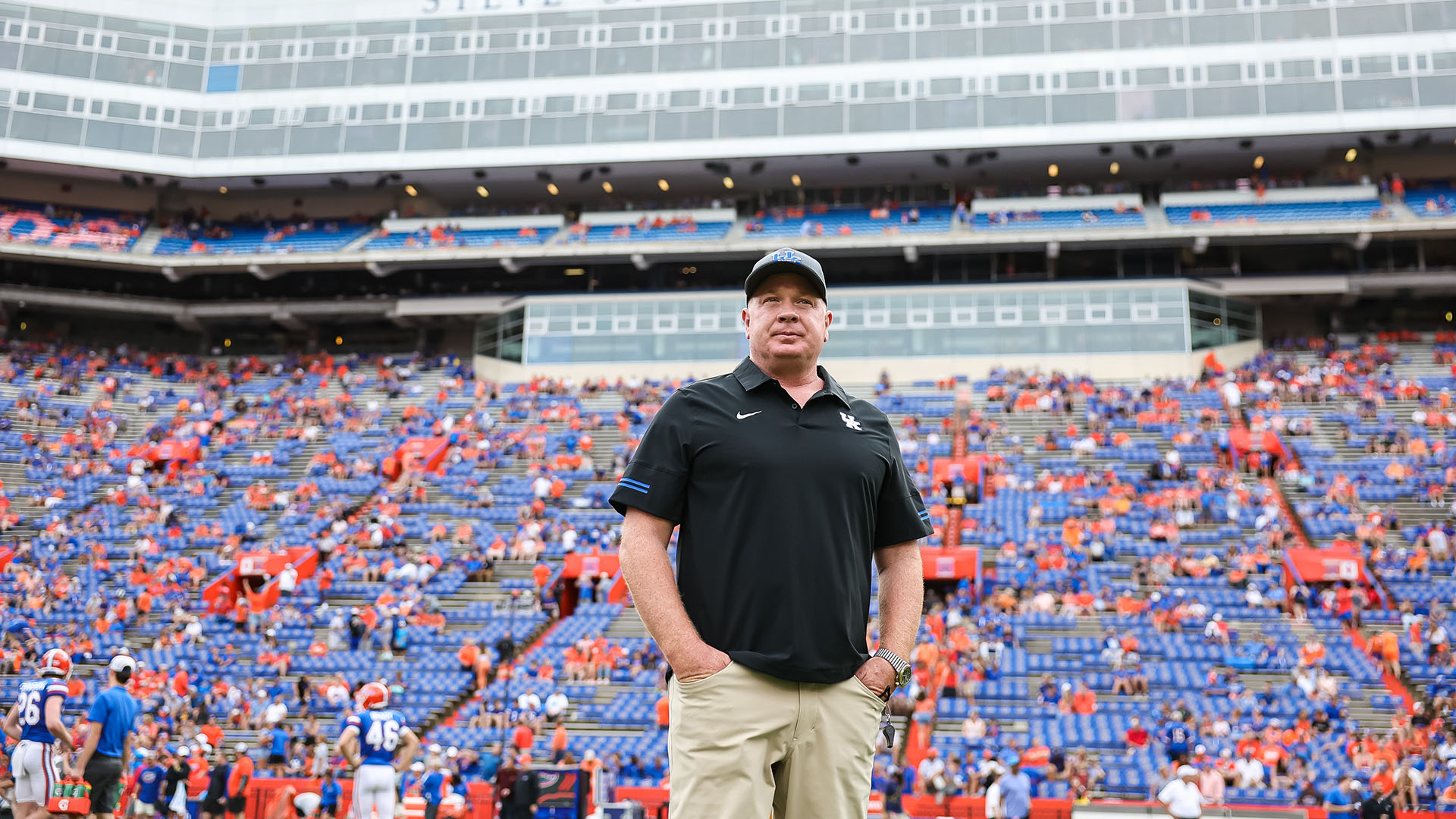 On Saturday at Florida Field, aka "The Swamp", Kentucky faced a situation that it had faced many times before. The Cats found themselves in the game with 12th-ranked Florida, trailing by just three at the half.
But through the years, Kentucky fans have seen their team be competitive against a highly-ranked opponent for a half, only to lose, sometimes in heartbreaking fashion.
News flash – this is not the same old Kentucky. Instead of seeing the higher-ranked Gators pull away in the second half, it was the Cats who made big play after big play in the second 30 minutes on their way to a 26-16 win over Florida.
SIXTY-ONE!! pic.twitter.com/NrKfGPoVFU

— Kentucky Athletics (@UKAthletics) September 11, 2022
The Cats won in The Swamp for the second time in three visits. The Cats beat Florida in back-to-back seasons for the first time in 45 years (1976 and '77).
Why is that important? Well, it wasn't that long ago that Florida had won 31 straight games against Kentucky. Not just in Gainesville, but overall. That's right, 31 straight times Kentucky and Florida met and 31 straight times, the Gators were the victors.
But that was before Mark Stoops arrived in Lexington. It was absolutely appropriate that Kentucky topped Florida for Stoops' 61st win as the UK head coach, breaking the school record of Hall of Famer Paul "Bear" Bryant because shows just how far the UK head coach has brought this program during his 10 years in Lexington.
(In case you're wondering – yes, that Paul "Bear" Bryant).
Before Stoops came along, Kentucky was, frankly, not on Florida's level. The Gators were winning Southeastern Conference and national championships while Kentucky sometimes struggled just to have a .500 record.
Stoops is not one to focus on individual accomplishments. But after the game, he told ESPN's Katie George what passing Bryant meant to him.
"Fortunate," Stoops said. "A lot of great players, coaches have been through here. To be able to persevere through this difficult conference, I have nothing but respect and appreciation."
Stoops has been methodical in building the Kentucky program. He has recruited. He has developed talent. He has built a culture. He, his coaches and his players worked very hard.
Saturday's win was right up Stoops' alley. It was a defensive struggle for most of the night and Stoops saw his defense make the two plays that earned the win.
With the Cats trailing 16-7 late in the first half, Jordan Wright intercepted Florida quarterback Anthony Richardson and returned the ball deep into Florida territory. The Cats got a Will Levis touchdown to get within 16-13 at the half.
Then, with the game tied at 16-16, UK's Keidron Smith intercepted Richardson and returned it 65 yards for a touchdown, giving UK the lead for good.
Stoops started his UK career by going 12-24 in three seasons. Since then, he has won 49 games with just 29 losses. And it has all led to Saturday's moment, when Stoops set the record for most wins in Kentucky football history.
But Stoops being Stoops, he'll be right back to work tomorrow, focusing on Youngstown State. That's how he has built this program and that's how, on this night in Gainesville, he passed a legend.