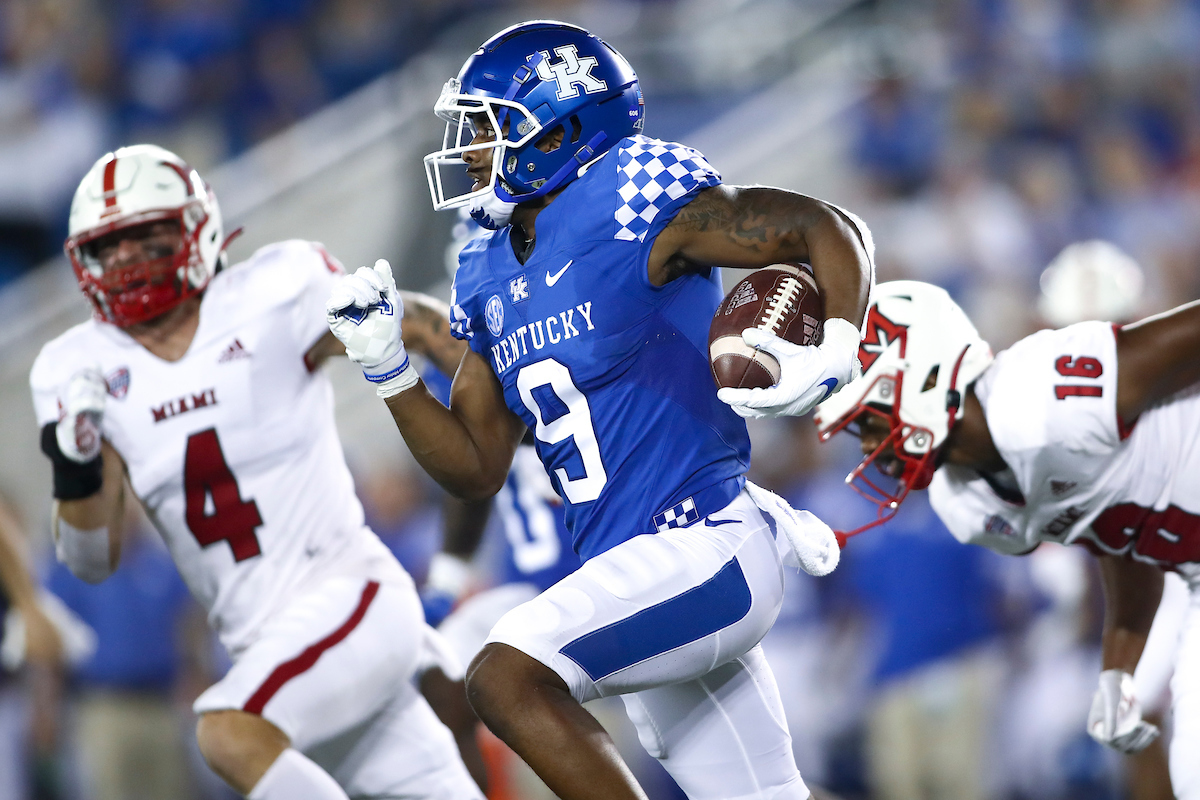 Kentucky opened its 2022 season with a 37-13 win over Miami (Ohio) at Kroger Field on Saturday. As with any opening game, there was some good and some not so good, according to UK head coach Mark Stoops.
"Game one, week one, after the game, it's never quite as bad as you think it is, it's never quite as good," Stoops said.
Stoops cited his offensive line play as one area that the staff needed to address.
"There's certainly some things we all felt, coming out of the game, that need to be looked at, need to be addressed and we need to improve," Stoops said. "And that is, being physical, being able to run the football and being able to protect the quarterback."
However, with past experience as his guide, Stoops thinks that the Cats will make the necessary adjustments.
"There were some issues in the pass protection. After looking at it, it's never quite as bad as you think it is," Stoops said. "We felt like we had a pretty solid offensive line. I remember (in past years), everybody (in the media) hitting panic mode on the offensive line and we seemed to pull it together rather quickly. I don't think it will be an issue this year. I felt like we played a little better than we thought at four positions. We'll get them addressed, we'll fix the issues and get better."
Stoops and the Cats will need to make those adjustments ahead of UK's SEC opener on Saturday at Florida. The Gators upset No. 7 Utah 29-26 on Saturday in Gainesville and Stoops knows that Florida will provide a stiff challenge for his team.
"We obviously have a big test this week, going into Florida (with) Florida coming off a big win over Utah," Stoops said. "You know any time you go down to Florida, they are a talented football team. It will be a great environment, a hostile environment, SEC East game on the road, big challenge and it should be a lot of fun. We're excited about this challenge."
Specifically, the Cats will be tested by Florida quarterback Anthony Richardson. Stoops knows that the Florida signal caller can hurt a defense in various ways.
"Anthony Richardson is one heck of a football player," Stoops said. "Very talented. You can see he's much more comfortable in this offense. Very talented arm, can make all of the throws, then obviously hurt you with his feet."
As for his team, in addition to the offensive line play, or perhaps in conjunction with it, Stoops would like to see the Cats run the ball more effectively this week.
"We need to run the ball more efficiently," Stoops said. "We ran it 25, 26 times with the running backs for 75 yards, which is not up to our standards. But, we can get that ironed out. The good news is, I don't think any of our running backs had any negative yardage plays, which is very important in this offense, being able to get those three, four, five yard gains to keep them off balance. With our run game, it opened up those strikes, those passes that we really hit consistently."
That task may be a bit more difficult after both Ramon Jefferson and JuTahn McClain went down with injuries on Saturday. However, Stoops likes what he has seen from redshirt freshman La'Vell Wright.
"He was really solid and he got dinged up late in camp," Stoops said. "It's nice to have La'Vell back. He's a tough, physical runner. At some points, he was running with the 'ones' in the middle of summer and last spring. So, we have a lot of confidence in him."
Kentucky hopes to make great strides from game one to game two, and Stoops is confident that his Cats will do just that as they prepare for Florida.