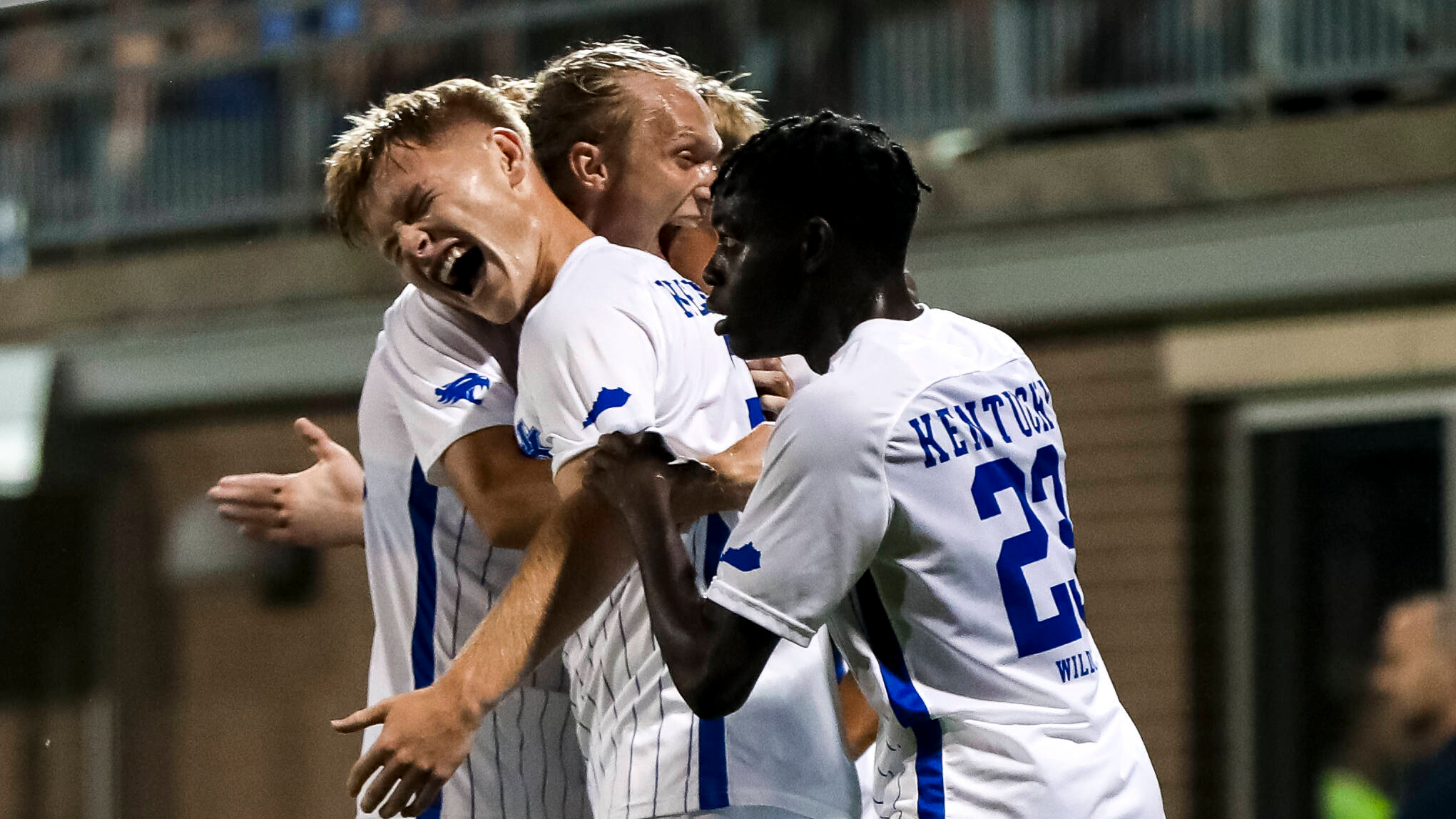 September 2, 2022 - 11:18 PM
Damge, Grening,Screen Score in UK Men's Soccer's 3-0 Win Over Belmont
LEXINGTON, Ky. – Ben Damge, Casper Grening and Robert Screen all scored as the No. 6 Kentucky men's soccer team won its third straight game to begin the season, defeating Belmont 3-0 on Friday in front of 1,780 members of Big Blue Nation on hand to kick off a big athletics weekend in Lexington.
Damge opened the scoring just before halftime, while Grening and Screen scored within a minute of each other just after the hour mark to seal the result.
Freshman goalkeeper Casper Mols kept a clean sheet through 80 minutes in his Kentucky debut with Ryan Jack coming on for the final 10 minutes. Fellow freshman Taco Nsimpasi also made his first start in defense, joining alongside Luis Grassow, Trey Asensio and Robert Screen in the back four. With fellow defenders Lucca Rodrigues, Max Miller, Justin Scharf and Mason Leeth also contributing on the back line.
"Good performance," Assistant Coach Josh Oldroyd said. "We knew that Belmont are a good team … they made it difficult in the first 30, 35 minutes and we broke the deadlock right before halftime. Really happy for Ben, Casper and Screen to get the three goals. In terms of the team performance, it was good, got a lot of guys on the field. Kept a third clean sheet in a row. We're looking good from the defensive standpoint, but we're also creating a lot more in the attacking third."
With a minute to play in the first half, senior Nick Gutmann lofted a cross from just outside the box onto Brennan Creek's head. Creek redirected the ball toward Ben Damage, allowing the junior to finish his first goal of the season.
The Kentucky attack created more chances after the break, eventually scoring twice in rapid succession to take command of the match.
A 62nd minute a cross from Robert Screen found Casper Grening, who settled and quickly fired a bouncing shot into the bottom left corner to make it 2-0.
The Wildcats backed up that goal with another less than a minute later. Brennan Creek drew a penalty in the box, and Screen buried the penalty kick into the left side.
The Wildcats improved to 3-0-0 following a season-opening win over the University of Illinois Chicago and a Monday victory over Seattle. The Wildcats host Louisville on Tuesday at 7:30 p.m. in the annual day after Labor Day rivalry matchup. Admission to all Kentucky soccer home games are free.
For the latest on Kentucky Men's Soccer, follow @UKMensSoccer on Twitter, Facebook and Instagram, as well as on the web at UKAthletics.com.