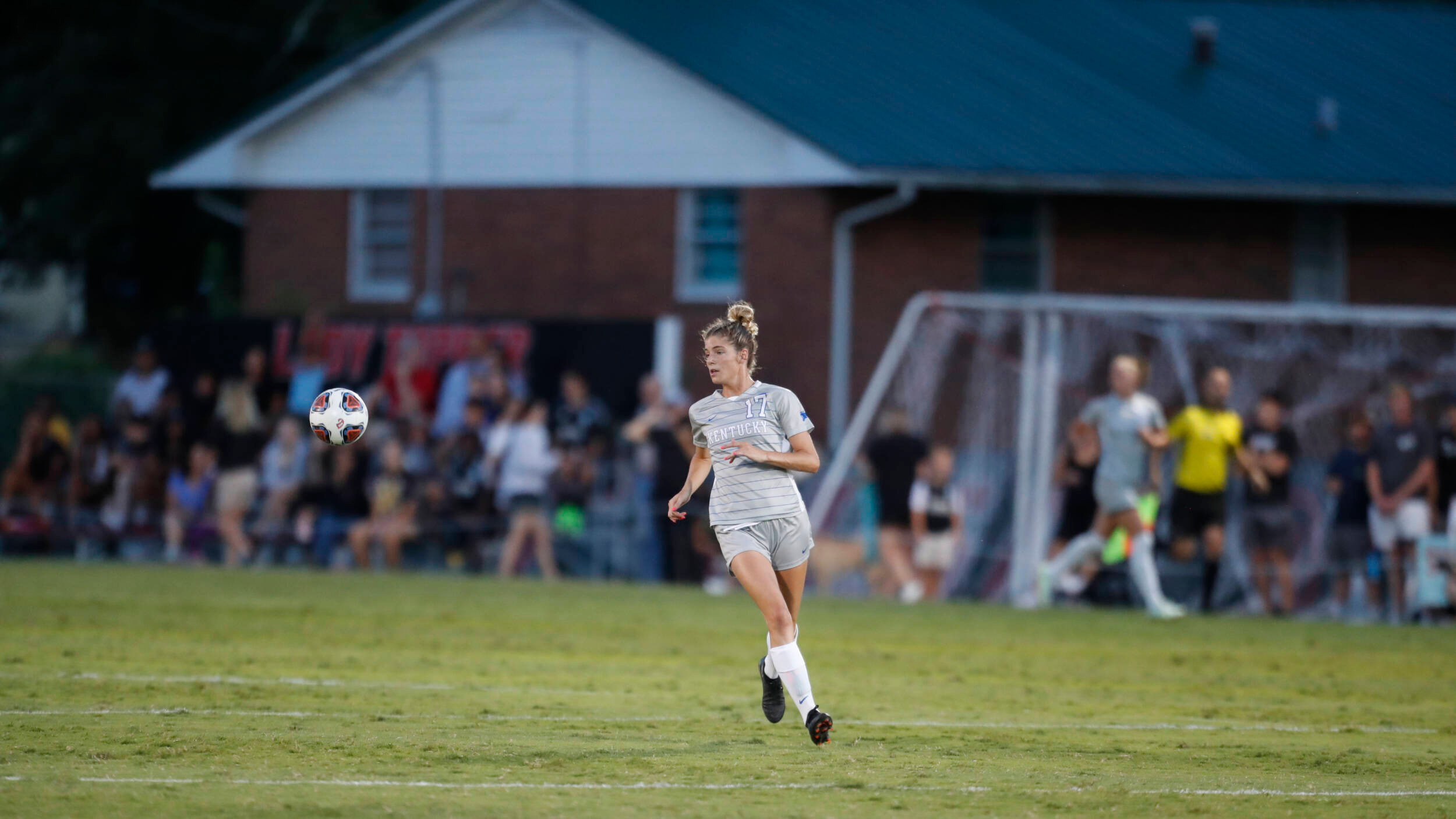 September 1, 2022 - 10:39 PM
Wildcats Tripped Up at Western Kentucky, 1-0
BOWLING GREEN, Ky. – Kentucky women's soccer dropped a 1-0 decision vs. Western Kentucky on Thursday night at the WKU Soccer Complex.
A goal from Aspen Seaich in the 16th minute would prove to be the only score of the match, as Hilltoppers' goalkeeper Alexis Bach was able to keep Kentucky off the board for the first time this season.
UK outshot WKU 13-10 on the night, with both teams finishing the contest with five shots on goal.
Western Kentucky gained the advantage when Seaich found the top of the net with a long range shot in the 17th minute.
Attempting to answer, the Cats created a quality chance when Kugler played a dangerous ball toward goal in the 26th minute that had to be batted away by Bach.
Kentucky had perhaps its best opportunity off a corner from Hannah Richardson in the 29th minute. A header by Maggy Henschler seemed to be destined for the back of the net, before a Hilltopper defender standing on the line made the save.
Richardson had another prime scoring chance in the 34th minute as the senior weaved through the WKU defense before being stopped at the last second by a charging Bach.
In the 39th minute, Wildcats' keeper Tallulah Miller made a terrific save of her own, diving to her right to stop an attempt by the Hilltoppers' Lily Rummo and keep the deficit at one.
No goals were to be found in the second half of play despite a substantial offensive push from Kentucky.
In the 65th minute, Jordyn Rhodes had her best opportunity of the match, heading a well-played ball from Anna Young just inches wide of the right post.
With under 10 minutes to play, Rhodes came close to an equalizer yet again. The senior directed header off a cross from Taylor Hattori that forced an outstretched Bach to make the stop with her fingertips.
Kentucky is back at the Wendell and Vickie Bell Soccer Complex on Sunday when the Wildcats will take on Iowa St. beginning at 1 p.m. The match can be seen live on SECN+.
For the latest on UK Women's Soccer, follow the Wildcats on Twitter and Instagram at @UKWomensSoccer, on Facebook and on the web at UKathletics.com.