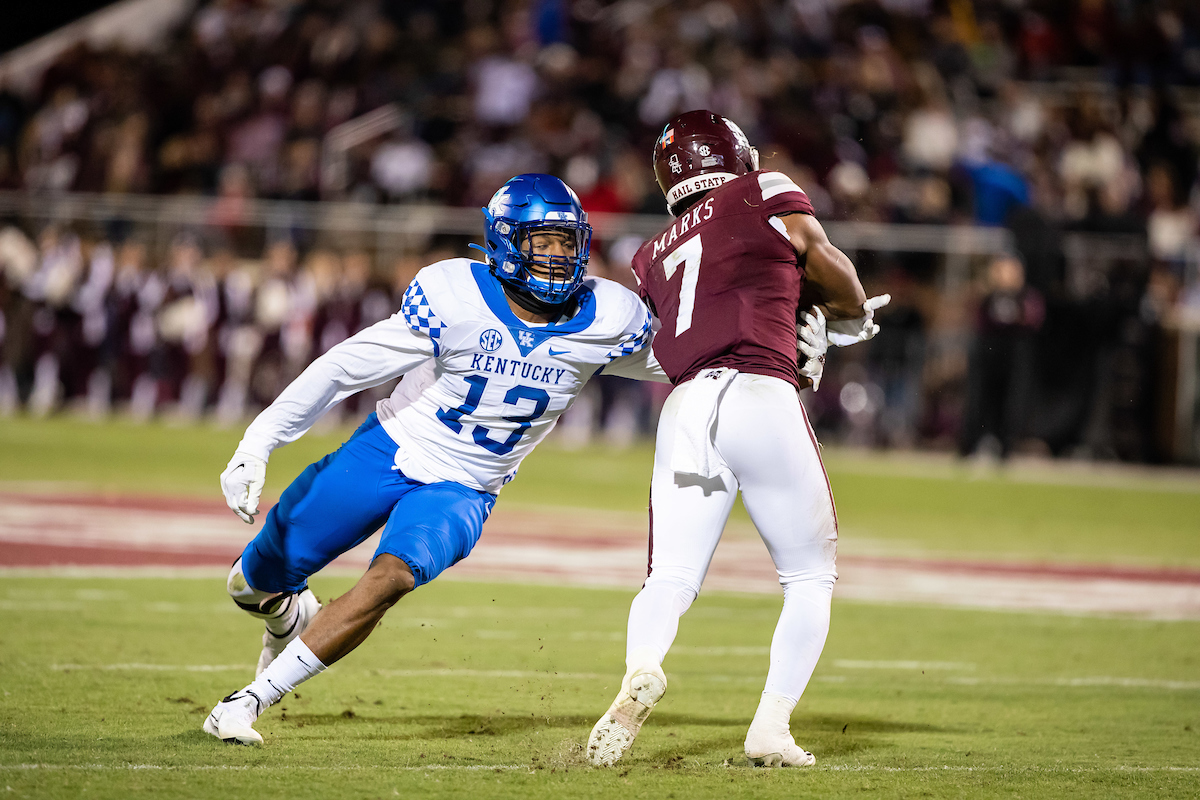 Kentucky linebacker JJ Weaver has been through more than his share of difficult times during his career at Kentucky. Now, he hopes that the character those events have helped him build, along with the fact that he is fully healthy, will add up to a big season in 2022.
As a true freshman in 2019, Weaver was able to play in three games and not lose his redshirt. In his limited action, he had five tackles, including a tackle for loss, and a quarterback hurry. The future was bright for Weaver.
However, over the following summer, Weaver's father was murdered in Albany, Georgia. It was a devastating blow to the talented young linebacker and something that was very difficult for Weaver to handle.
"After my dad's murder, it was hard," Weaver said. "But it made me become more mature and grow."
That growth not only happened off the field but also on it. In fact, during the 2020 season, Weaver's redshirt freshman year, he grew into an All-SEC Freshman Team player. He played in nine games, registering 33 tackles, including six and a half tackles for loss, a half sack, two quarterback hurries and a pass breakup.
But, just when things looked to be going smoothly and in a very positive direction, bad luck struck again. In the Cats' November 28 game against Florida, Weaver went down with a knee injury. It turned out to be a torn ACL, causing Weaver to miss the final two games of the season. It also forced him to use the offseason to rehab his injury.
Weaver did exactly that, rehabbing his knee in time to play in 12 of Kentucky's 13 games in 2021. Ironically, the only game he missed was the Vrbo Citrus Bowl, when he was held out with COVID-19 symptoms.
While he wasn't 100 percent, Weaver played anyway and played well. He had 34 tackles, including 10 tackles for loss, a team-high six sacks, four quarterback hurries, two interceptions, a forced fumble and a pass breakup. All while playing on a knee that, Weaver admits, was not fully healed.
Now, Weaver is back for his junior year and he's convinced that this will be his best year so far. Why?
"Because I'm healthy," he said. "I'm finally 100 percent. I have my motor ready to go. I'm excited about the season."
He knows that everything he has been through, from the death of his father to his knee injury to his rehab, has made him a stronger man.
"There's been tough times," Weaver said. "But I am better and stronger because of it all."
Kentucky defensive coordinator Brad White is excited about Weaver being healthy. And White knows what the team needs from the junior this season.
"We need him to be a difference maker, to play that jack (linebacker) position," White said. "That position's got a chance to change the game, influence it."
Specifically, what are the things that Weaver can do to affect UK's opponents?
"When you're a pass rusher, you can make up for a lot of ills if you can get to the quarterback," White said. "If you're an edge setter, you can make run games a lot easier if you can set a dynamic edge. We need him to be that kind of player, that changes the game. Whether that's taking on a puller and knocking off the second one so now we're playing 11 on 10, he's got to have some of those plays."
Weaver has been through a number of tough situations during his UK career, but they have built him into a stronger person and a better player. White and the UK staff are expecting that this is the year Weaver takes his game up yet another notch.