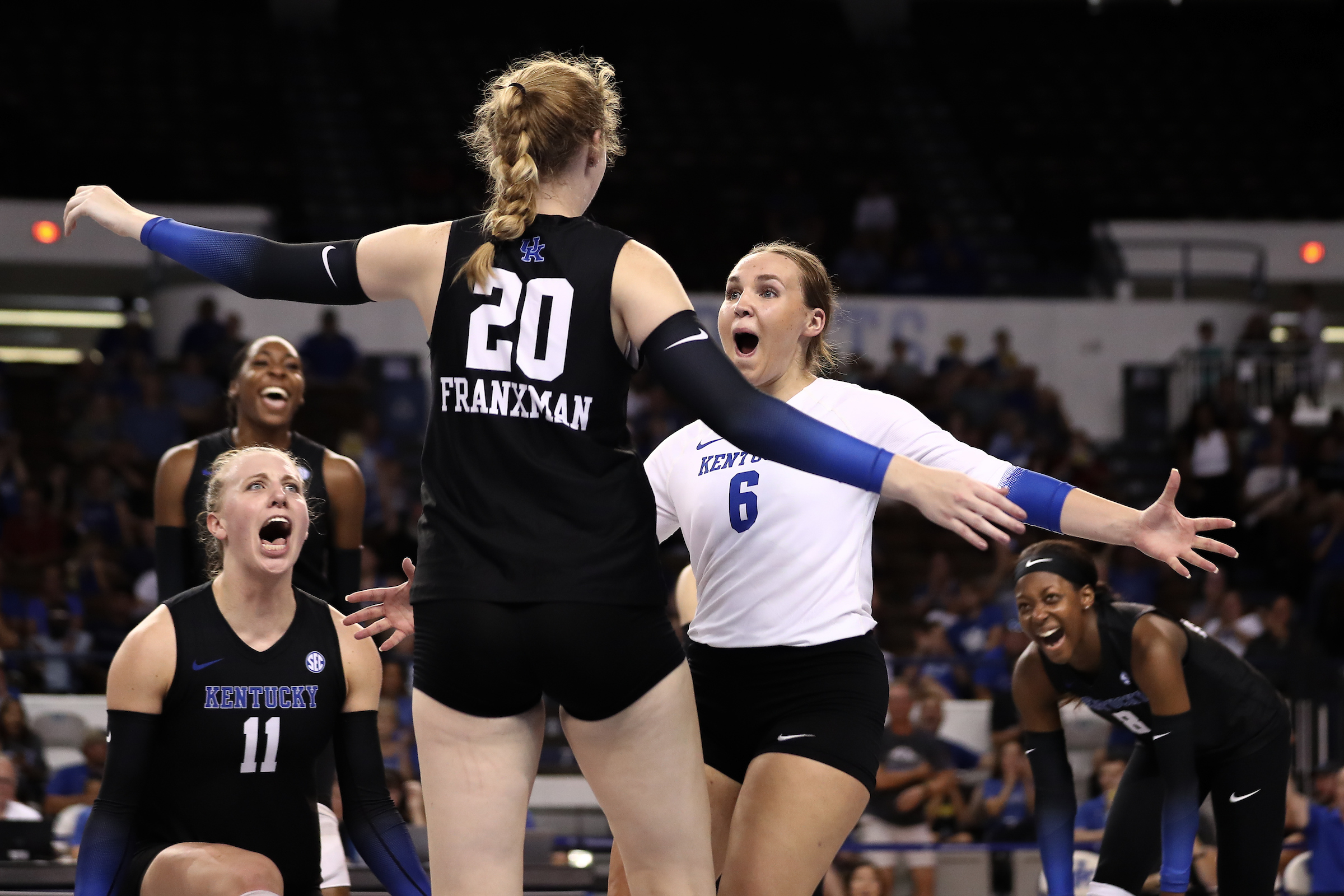 August 31, 2022 - 08:43 AM
No. 16 Kentucky Heads to Omaha for 2022 Bluejay Invitational
LEXINGTON, Ky. – The No. 16 Kentucky Volleyball team will head to Omaha for what it hopes is the first of two trips to the Nebraska heartland this season as it will compete in the 2022 Bluejay Invitational, hosted by Creighton University. The Wildcats will also play Northern Iowa and Southern California on the weekend.
This is the final year of the eight-year scheduling agreement between these four teams with Creighton getting its second and final opportunity to host the event that began back in 2014. The event will be hosted at the D.J. Sokol Arena (2,500) on the campus of Creighton in downtown Omaha. The 2022 NCAA Volleyball Final Four will be held in CHI Health Arena.
Kentucky's weekend begins Friday at 6 p.m. ET against the Northern Iowa Panthers led by Bobbi Petersen in her 23rd year in charge. The Panthers are 1-2 on the season and UK leads the all-time series with UNI, 6-2, including a sweep last season in Memorial Coliseum.
Saturday, Kentucky will play two matches to close the tournament with No. 17 Creighton at 11:30 a.m. ET and caps off its weekend Saturday night at 6 p.m. ET against No. 25 Southern California. Creighton has beat Kentucky for four-straight seasons in this tournament, including a 3-0 sweep of the Wildcats in Lexington a season ago. UK swept USC in 2021 and has won two in a row over the Trojans.
All matches of the 2022 Bluejay Invitational will be streamed with a required subscription by FLOSports. Links to the broadcasts will be at UKathletics.com. Live stats are also going to be available through UKathletics.com, as well. Tickets for the matchers are available through GoCreighton.com.
Kentucky (1-1) is led by Adanna Rollins offensively, who had 28 kills Friday night vs. Marquette and is averaging 4.25 kills per set. Reagan Rutherford is averaging 1.13 blocks per set to lead UK's defense at the let, with Eleanor Beavin's 3.13 digs per set leading the Kentucky floor defense. Elise Goetzinger might have had the best overall weekend of the Wildcats last weekend, hitting .444, and actively leads UK in that category with a career-high 12 kills vs. Marquette also added to her resume Friday night.
Overall in the scheduling rotation, Kentucky is sitting 5-2 against Northern Iowa, 3-4 against USC and 2-5 vs. Creighton. Kentucky is 10-11 in this tournament in the seven-year rotation. As mentioned above, 2022 marks the final year of the rotating event.
2022 Bluejay Invitational
D.J. Sokol Arena – Omaha, Nebraska (2,500)
Tickets: GoCreighton.com
Friday, Sept. 2
Northern Iowa vs. Southern Cal (11:30am ET, FLOSports)
Kentucky vs. Northern Iowa (6pm ET, FLOSports)
Southern Cal at Creighton (8:30pm ET, FLOSports)
Saturday, Sept. 3
Kentucky at Creighton (11:30am ET, FLOSports)
Southern Cal vs. Kentucky (6pm ET, FLOSports)
Northern Iowa at Creighton (8:30pm ET, FLOSports)
Follow along with the Wildcats on Twitter, Facebook and Instagram, and on the web at UKathletics.com.