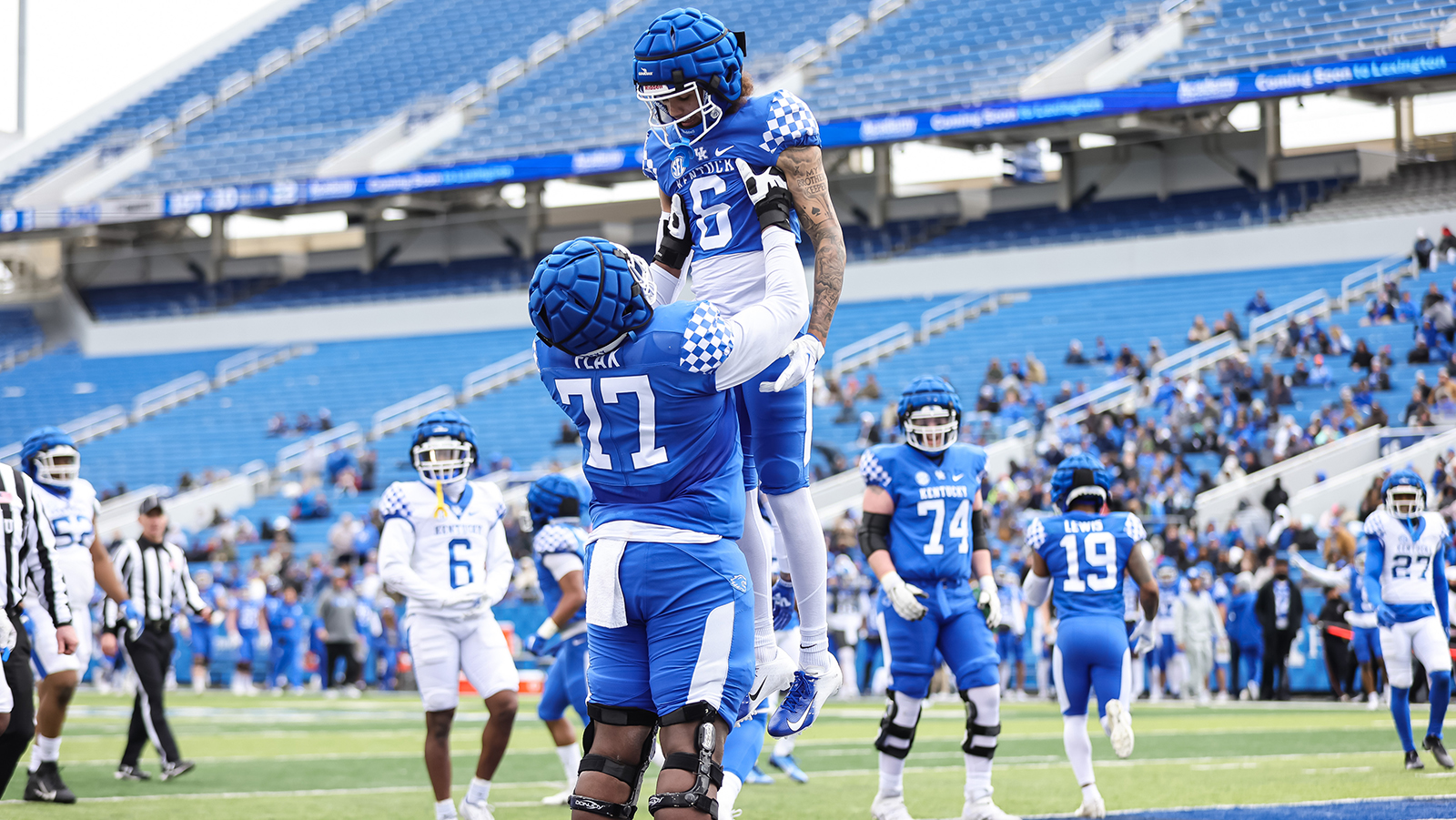 Over the past couple of recruiting cycles, the Kentucky football staff, led by head coach Mark Stoops and recruiting ace Vince Marrow, have brought in a couple of the best classes in UK history. Now, the fruits of that recruiting labor are starting to pay off.
When Kentucky released its first depth chart of the 2022 season on Monday, there seven true freshmen on the two-deep, and eight redshirt freshman. Five freshmen are slated to start in Saturday's season opener against Miami (Ohio).
On offense, two of Kentucky's three starting receivers will be true freshmen. Barion Brown will be at one receiver spot, while Lexington's own Dane Key will be at another.
Three redshirt freshmen are also slated to start on offense. David Wohlabaugh will be at left tackle, while fellow redshirt freshman Jager Burton will be at left guard. Jordan Dingle is projected to get the start at tight end, giving the Cats five freshmen starting on offense.
Offensive coordinator Rich Scangarello is high on his young talent.
"It bodes well for the future of the program," Scangarello said. "Coach Marrow and the entire staff did an outstanding job recruiting last year. It's exciting. It's exciting for now, it's exciting for the future."
Scangarello did say that there's still some proving left to be done for the freshmen.
"Practice is practice," Scangarello said. "They've done it in practice, they've earned that right and now we've got to go see, when the lights go on, what we're all about."
Stoops has seen the young players develop in fall camp.
"I'm very pleased. Really like the way they are preparing, the way they're playing," Stoops said. "Consistency is what we're looking at. In football, there's ups and there's downs, there's highs and there's lows and freshmen have a tendency to go through that. How they respond to that will determine how much playing time and how they do this season. They've been very consistent to this point. Not perfect, like most of our guys. But I really like the athleticism, the work ethic and the attitude of these guys as a group."
On that offensive line, Stoops likes what he has seen from both Burton, another Lexington native, and Wohlabaugh.
"Jager's done a wonderful job. We love what we've seen from Jager," Stoops said. "He's really played well and we're excited about him. "David has been the most consistent (at left tackle), that's why he's getting the start."
Stoops has no problem starting two true freshmen at wide receivers because both have earned their spots.
"They're very instinctual players and that helps," Stoops said. "There's highs and lows and every player on our team is going to have some ups and some downs this year. And freshmen have a tendency, over the years, to have higher highs and lower lows. We want consistency out of them. I've been pleased with what I've seen so far. They haven't been perfect but they've handled things very well."
Stoops is not sure exactly how many true freshmen he will play this season, but the number is fairly significant.
"I think eight will play for sure," the UK head coach said. "Probably little chance to be redshirted unless they are injured. As many as 12 could play this year."
Stoops knows that there are a number of other talented players on the team who are trying to earn their way toward playing time.
"We have terrific players that we're not talking about right now but we may be halfway through this year, at the end of the year, next year, who knows," Stoops said. "There are very good football players on this roster that have got to continue to grind, continue to do their job, continue to take the medicine that the coaches are giving them and, eventually, they will develop into what they can be. Guys like Dekel (Crowdus) that are going to continue to get better. He missed all of last year and sometimes I have to remind him that he's basically like a freshman himself."
The Kentucky coaches are putting their faith in a number of young players this season. It's a move that the UK brass hopes pays dividends both now and for years to come.