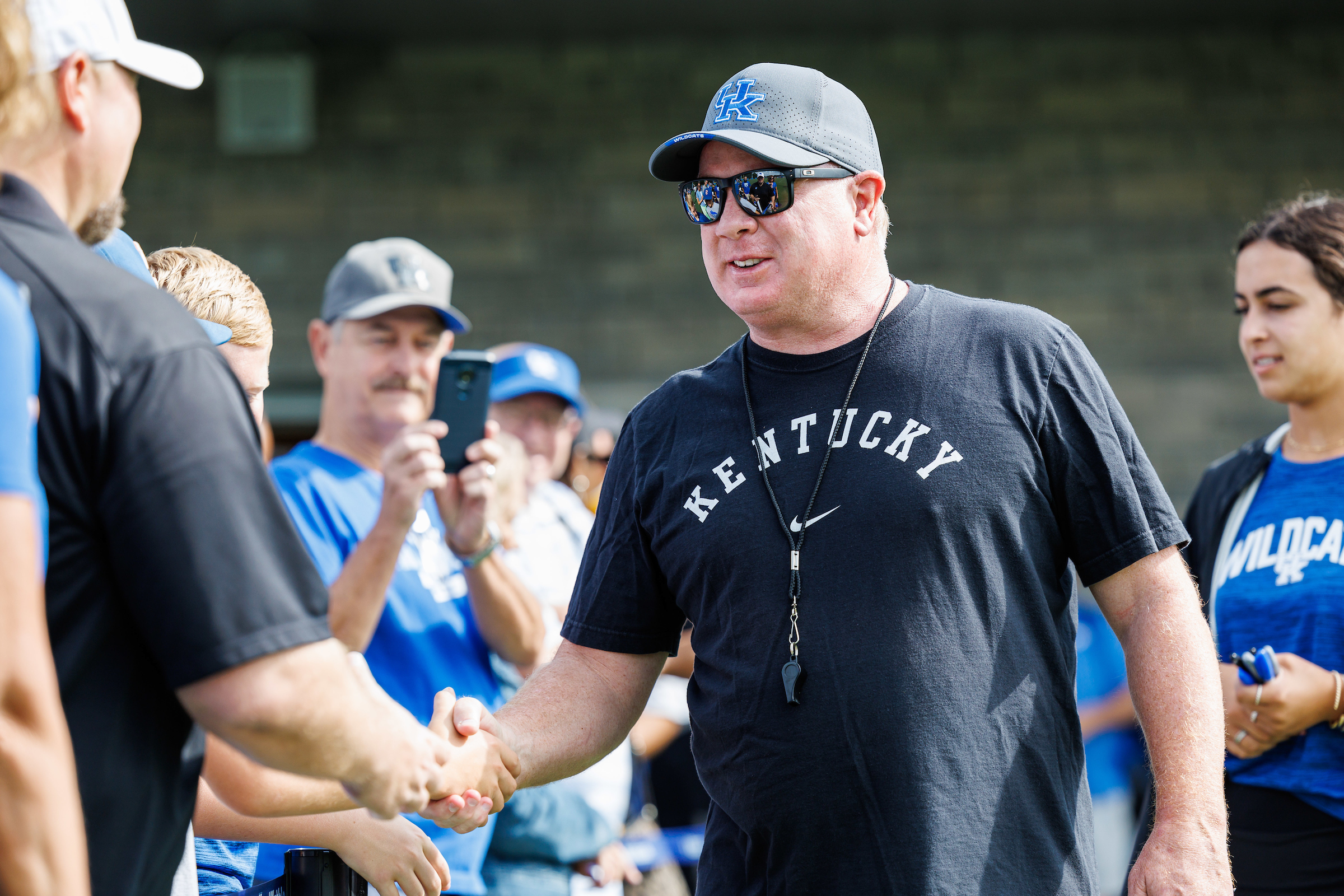 LEXINGTON, Ky. – As University of Kentucky Football Head Coach Mark Stoops begins his 10th season leading the Wildcats, he will also begin his weekly call-in show Monday, Aug. 29 from 6 p.m. to 7 p.m. ET on the UK Sports Network. A live video stream of The UK HealthCare Mark Stoops Show will also be available on UKathletics.com and on the official Kentucky Football Facebook page.
The UK HealthCare Mark Stoops Show is hosted by The Voice of the Wildcats, Tom Leach. Fans will have the opportunity to ask Coach Stoops questions via Twitter at @UKSportsNetwork or by calling 1-800-606-GAME (4263) or 859-280-2287 (CATS).
The show is broadcast in Lexington on 630 WLAP, online at UKathletics.com and statewide on UK Sports Network radio affiliates.
Following The UK HealthCare Mark Stoops Show, Clark's Pump-N-Shop BBN Radio, hosted by Darren Headrick, will air from 7 p.m. ET to 8 p.m. ET on the UK Sports Network.  The show will provide insight straight from UK Sports Network personalities. Dusty Bonner, UK's 1999 starting quarterback, will join Headrick on Monday night.
UK coaches and student-athletes, and give fans the opportunity to have their voices heard each week through phone calls and social media interactions.
A complete list of radio affiliates can be found at UKathletics.com/UKSportsNetwork.
Dates for The UK HealthCare Mark Stoops Show:
Airs from 6-7 pm
Monday, August 29, 2022
Monday, September 5, 2022
Monday, September 12, 2022
Monday, September 19, 2022
Monday, September 26, 2022
Monday, October 3, 2022
Monday, October 10, 2022
Monday, October 17, 2022
Monday, October 24, 2022
Monday, October 31, 2022
Monday, November 7, 2022
Monday, November 14, 2022
Monday, November 21, 2022
Monday, November 28, 2022