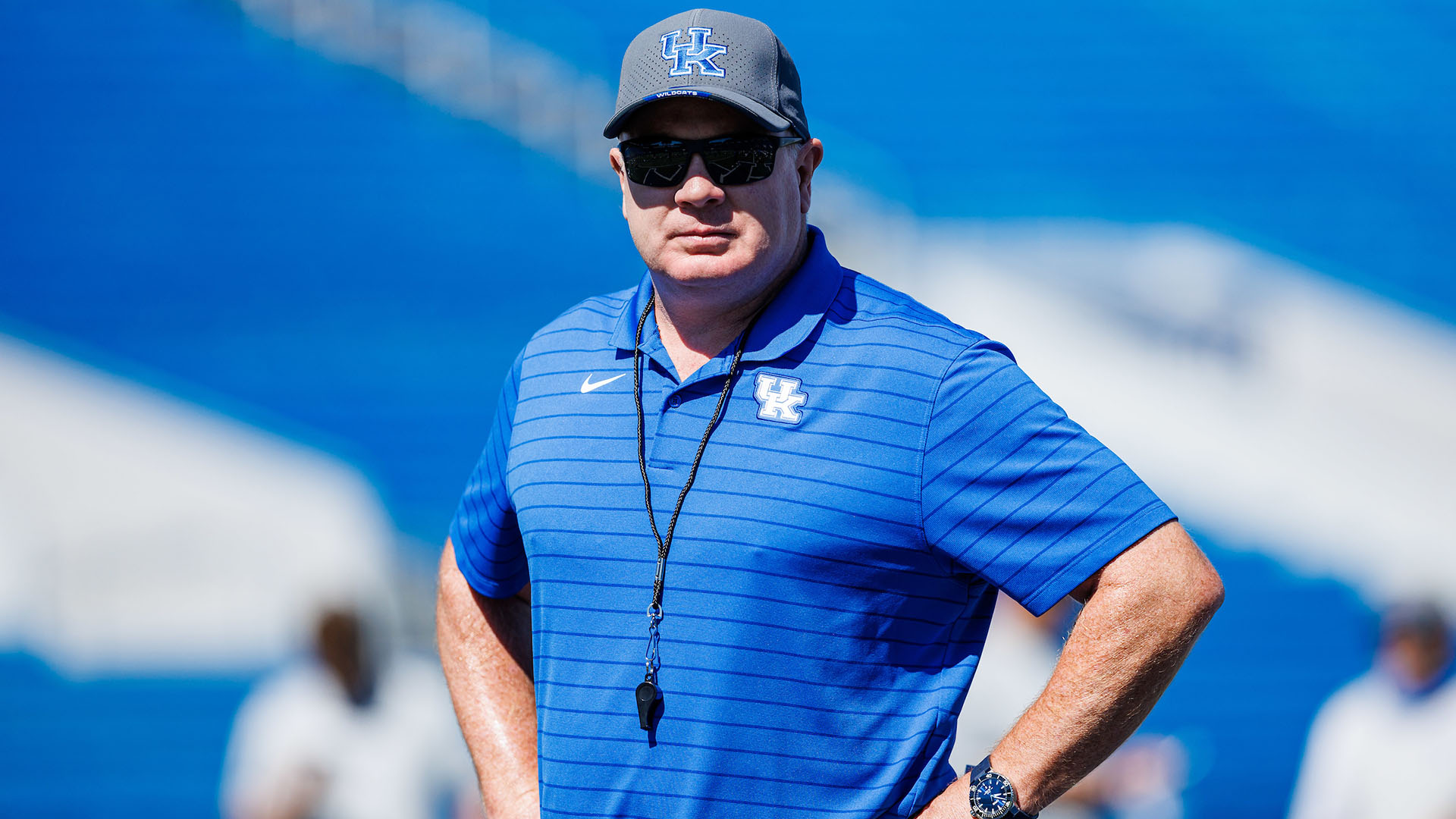 Mark Stoops begins his record 10th season as head coach of the Kentucky football program on Saturday when the Cats face Miami (Ohio) for a 7 p.m. kickoff at Kroger Field.
With this being his 10th season opener as a head coach, Stoops knows that the unexpected will likely happen in Saturday's contest.
"First games are always unique because you have a pretty good idea of what you have but you don't know until you go play a football game," Stoops said. "I have confidence in this team, I have confidence in the leadership, I have confidence in the preparation that we've done to this point. Now, it's time to go put it on the field. Block out everything, really concentrate and have a great attention to detail this week, great focus this week and go take it one day at a time."
The UK head coach and his staff will have a game plan, but he also knows that making adjustments, especially early in the season, will be crucial.
"Things don't always go according to plan," Stoops said. "You have to adapt and overcome any situation and be prepared for it and just really focus and concentrate and be dialed in for this week's preparation."
As Stoops and his team enter game-week mode, the UK head coach is happy with where the Cats are at this point.
"I really like the preparations our team has made throughout the summer, throughout this preseason camp," Stoops said. "We're in relatively good shape, health-wise."
He does realize that his team has been in camp for a while and that it's time to focus on someone other than just themselves.
"Really looking forward to getting started," Stoops said. "I think it's just that time. For us, it's about really getting focused in, getting dialed in on Miami."
Speaking of the RedHawks, they will bring a talented team to Lexington on Saturday. Miami went 7-6 last season, capping the season with a 27-14 win over North Texas in the Frisco Football Classic.
Quarterback Brett Gabbert returns this season after a stellar sophomore campaign. Gabbert played in 10 games and had 2,648 yards passing and 26 touchdowns in those contests. His best outing of the 2021 season came against Ohio University, when Gabbert connected on 32 of 55 through the air for 492 yards and five touchdowns.
Stoops knows that the RedHawks will pose a challenge to his Cats.
"Really looking forward to the challenge of playing Miami Ohio," Stoops said. "Coach (Chuck) Martin has been there nine years, a lot of continuity in the program. Very well-coached football team, a team that's picked to win their division and play in the MAC Championship. So, we'll have our hands full. They're a very good football team."
Stoops has his own starting quarterback returning in Will Levis, who thrived in UK's pro-style offense last season. Despite a change in offensive coordinators, Levis should take another step forward in the same style of offense this season under new coordinator Rich Scangarello.
The Cats have experience behind center and experience on defense, which should bode well for UK early. But, as Stoops pointed out on Monday, coaches never really know what they have until they hit the field.