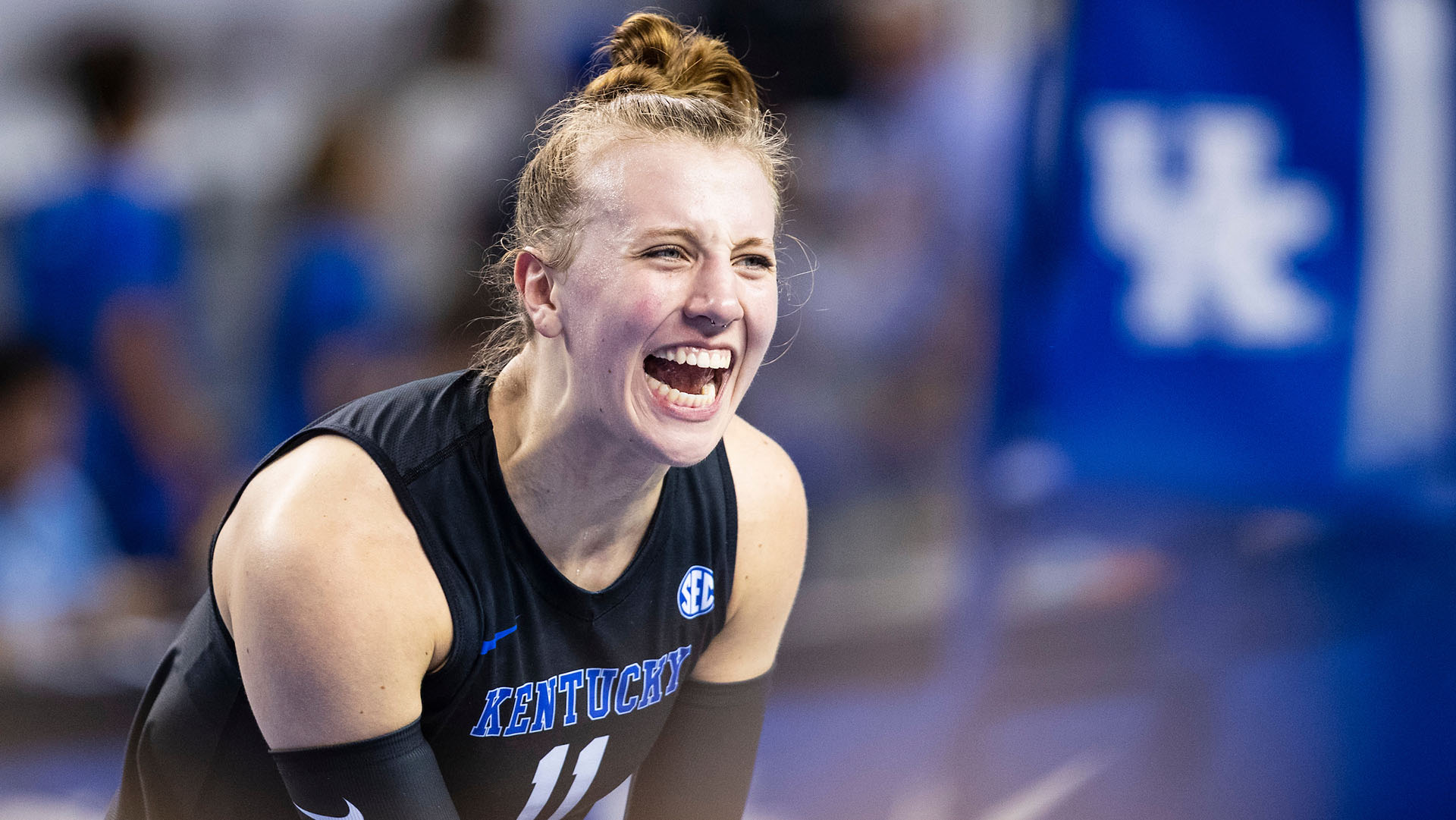 August 28, 2022 - 08:08 PM
Elise Goetzinger Paces UK Offense on Sunday
In Friday's season opener, Kentucky volleyball middle blocker Elise Goetzinger came off the bench and sparked the Cats as UK nearly rallied from two sets down against Marquette. Goetzinger had eight kills and four total blocks in Friday's match.
On Sunday, Goetzinger was rewarded with the starting nod and she responded in a big way. The junior from Blue Mounds, Wisconsin, notched 12 kills as the Cats swept Ohio University 25-20, 25-11, 25-20 inside Memorial Coliseum. The 12 kills set a career high for Goetzinger, eclipsing her nine-kill effort in last year's Bluegrass Battle, also in Memorial, against Southern California. Even more impressive is the fact that she accomplished the feat with just 17 swings on Sunday, with only one error and a .647 hitting percentage.
After her effort on Friday, Goetzinger will still surprised to get the start on Sunday. But she is a team player above all.
"It was not something expected, the start, but I will fill my role and I'm willing to do whatever the team needs me to do," Goetzinger said. "I've just been playing a lot more loose this season and, obviously, it's paid off so far."
Goetzinger is known as "Mel" to her teammates, because her voice apparently sounds like the giraffe, Melman, in the movie Madagascar. Call her Elise or call her Mel, either way, she was consistent throughout the match against the Bobcats. Goetzinger had four kills on six swings in the first set, then had four kills on just five attacks in the second set. She added four more kills in the final stanza and led the Cats in that category in the match.
Having good chemistry with the setter is key for any hitter, and Goetzinger's connection with UK setter Emma Grome is no exception. Goetzinger knows that putting in the work is the only way for that connection to develop.
"I think it's definitely time put in over the summer and after practice to get that connection going," Goetzinger said. "Otherwise, it would have looked a lot different over these first two games."
UK head coach Craig Skinner was pleased that Goetzinger was able to continue her hot start to the season.
"Glad to see Mel pick up where she left off before she was out a little bit in the preseason," Skinner said. "She got the job done offensively and blocking."
Goetzinger's play in the middle provides Kentucky with the offensive balance that Skinner has been looking for since the preseason. With the schedule getting tougher over the next couple of weeks, Goetzinger could be the spark that the Cats need.