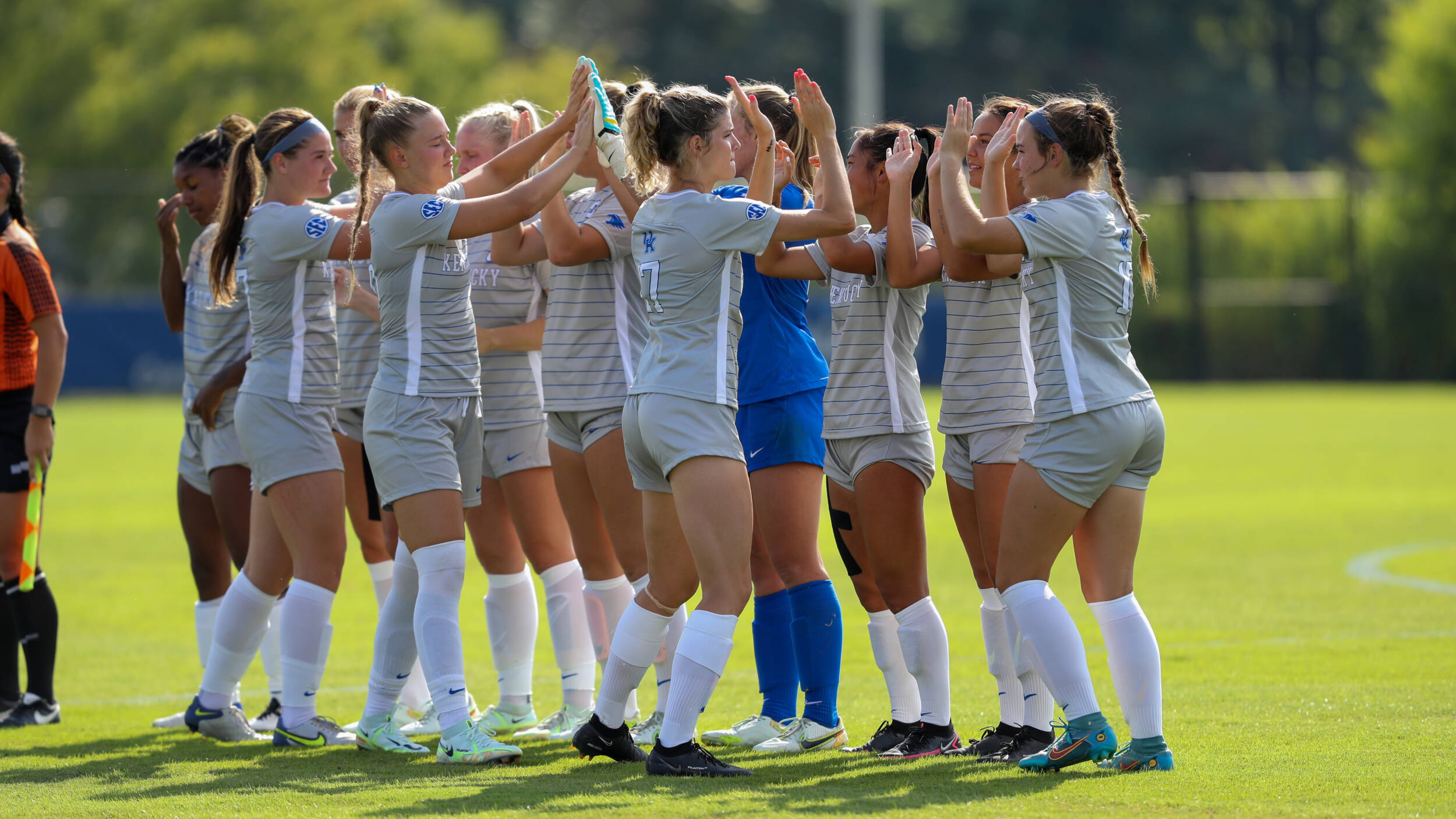 August 27, 2022 - 11:19 AM
Unbeaten Women's Soccer Hosts EKU on Sunday
LEXINGTON, Ky. – Still undefeated in the Troy Fabiano era, Kentucky women's soccer looks to extend its hot start to the 2022 season as the Wildcats take on Eastern Kentucky at the Wendell and Vickie Bell Soccer Complex, Sunday at 1 p.m.  The match will air live on SECN+.
Admission to the contest is free of charge with fans also encouraged to bring their furry friends for Kentucky Athletics' "Bark at the Bell" promotion. All dogs in attendance will receive a treat while supplies last.
The Wildcats picked up their biggest win of the young season when last on the pitch, topping Purdue, 2-1, for its first non-conference victory over a power-five opponent since 2016. The 'Cats will now face an Eastern Kentucky side which is 1-1-0 on the year, having knocked off Chattanooga its last time out.
Jordyn Rhodes, Hannah Richardson and Ulfa Úlfarsdóttir have powered the Kentucky offense through three games, each registering five points. Rhodes and Úlfarsdóttir have two goals apiece, while a total of five other Wildcats have also recorded a goal. The seven different goal scorers for Kentucky already matches their total from the 2021 season and includes contributions from a pair of freshmen in Mallory Glass and Madison Jones.
Neighboring EKU finished the 2021 campaign in the middle of the pack in the ASUN at 9-10 overall and 4-5 in conference play. Head coach Matt Cosinuke is in his fourth season leading the program with a career record of 18-28-2 to this point. The Colonels have gotten two goals in the early season from senior midfielder Myla Sharpless along with one from sophomore Lucy Ream. Sophomore Nerea de Diego of Spain is back after a strong first season which saw the midfielder earn ASUN Freshman of the Year and Second-Team All-ASUN honors.
UK owns an 8-1-0 advantage over the Colonels in the all-time series including a 6-0 victory at EKU last season.
Bark at the Bell Guidelines
Dogs will be permitted through the berm side gate. All dogs must be kept on a leash while in Wendell & Vickie Bell Soccer Complex.
A maximum of (1) dog per person is permitted. Dogs must stay on the grass berm and are not permitted in the seating bowl at any time (this include using the restrooms, concessions or bookstore). Owners are permitted to bring a water bowl for their dog but dog food is prohibited. Kentucky Athletics reserves the right to refuse entry to any dog or require a dog to exit the stadium.
Bring your dog to Bark at the Park if he/she:
Does well on-leash and is not aggressive toward people or other dogs
Is friendly toward humans and not excessively fearful
Is on a leash and supervised by an adult at all times
Participants are expected to practice responsible pet ownership. If your dog is an aggressive breed or has aggressive tendencies, do not bring him/her to this event. Do not bring your dog if it is unpredictable in crowds, with other dogs, and/or with strangers. Kentucky Athletics reserves the right to refuse entry to any dog or require a dog to leave for any reason.