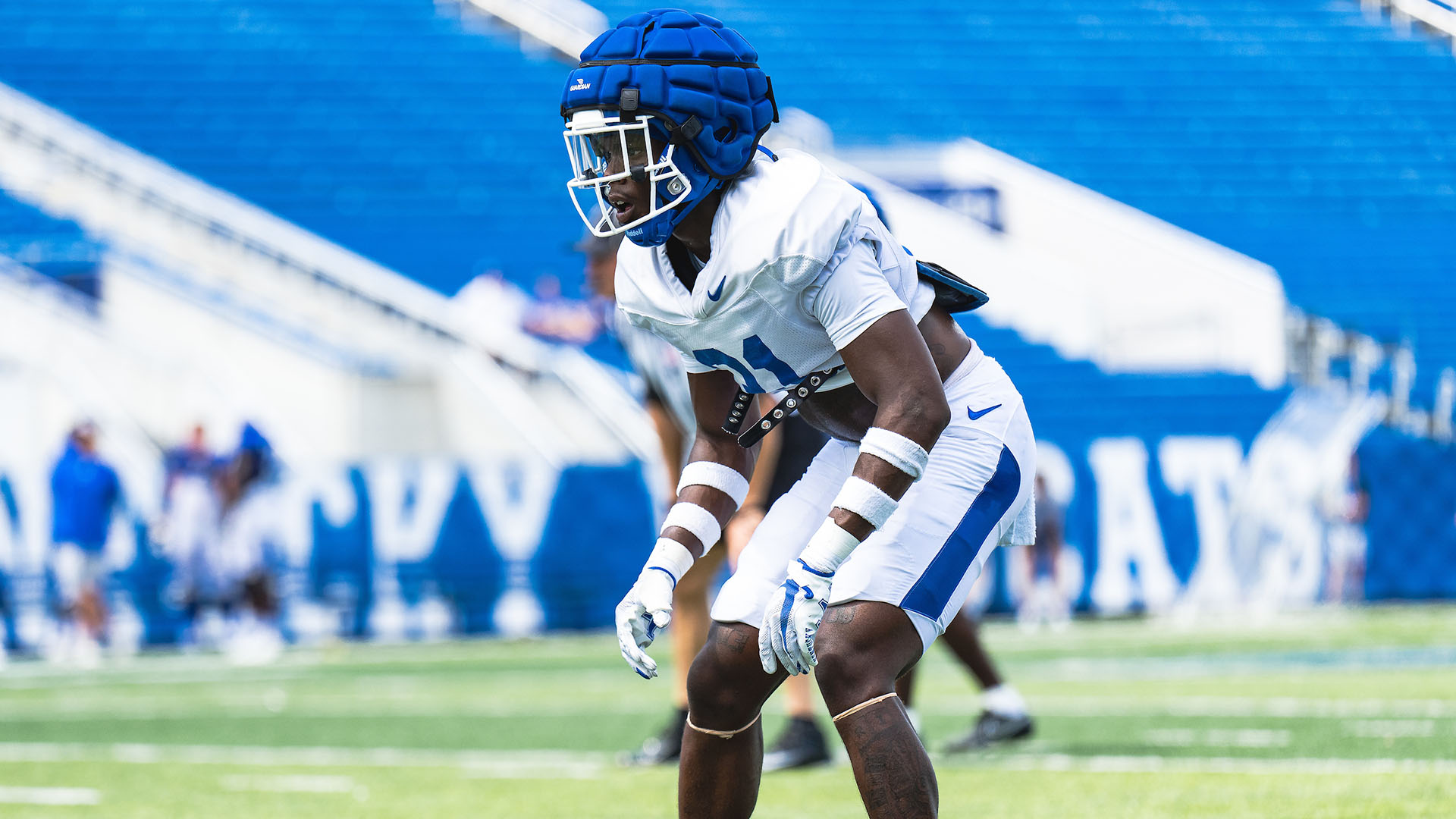 With preseason practice about to wrap up for the Kentucky football team, one particular unit continues to draw praise from head coach Mark Stoops and his staff. And it may not be the unit that one would suspect.
Nearly every time that Stoops and defensive coordinator Brad White have addressed the media during fall camp, the UK secondary has drawn praise from the coaching staff.
After Wednesday's practice, White was again asked about the secondary. And, as he has for most of the fall, White was complimentary of his defensive backfield.
"Everybody's got their days where they look really good. Some days, not quite as good. But overall, they are communicating, they're talking and they're making plays on the football. That's got to show up on Saturdays."
White was asked whether players had improved during the summer and fall or whether the addition of transfers like Keidron Smith and Zion Childress made the difference with the defensive backs. White thought it was probably both.
"I think individuals have elevated their game from last year or from spring," White said. "I think the addition of the transfers of Keidron and Zion have been a big boost to our defense and to that back end."
As far as the cornerbacks go, White knows who one starter will be. The rest may be in some sort of rotation.
"I think there's good competition. I think we feel really good about a three to four man rotation there," White said. "I think Carrington (Valentine)'s been a guy who started for us last year and is kind of the leader of that group. But Keidron and Dru can play just the same. And I think Max is a guy that can go in the game and he's going to have enough old guys around him to make sure that the calls and checks are right, and his athletic ability is going to take over."
I think Carrington is ready to take a big step forward. Andru Phillips has had a good camp, now he needs consistency. That's a big thing for him. You can roll guys in and not miss a beat. I've seen guys like Max Hairston take a step forward. He's still young but he's long and he can run."
White knows what he's looking for in a defensive back. It has to be a player who fits in with the program and, specifically, with the defense.
"It's got to be a fit," White said. "The first piece of the fit is, it's got to fit personality-wise because if you bring in a guy who doesn't fit the culture of our unit, if it's individualistic, if it's going to be about me or if it's about my NFL Draft stock, then this is not the place for you.
White is looking for someone to fit in with the team concept, like the one employed by the UK defense.
"If you want to come in and compete on a really good defense and you want to get taught and you want to play in a scheme that's going to challenge you, those are the guys that we want," White said. "We want smart guys. Keidron, Zion, they fit that mold. They've come right in, they've fit it, they've checked their egos at the door. They don't ever want anything given to them. They compete on a daily basis and it's fun to watch."
Having players stepping up to go along with those who are a good fit has given White and the UK staff a lot of confidence in their secondary with the season less than two weeks away.