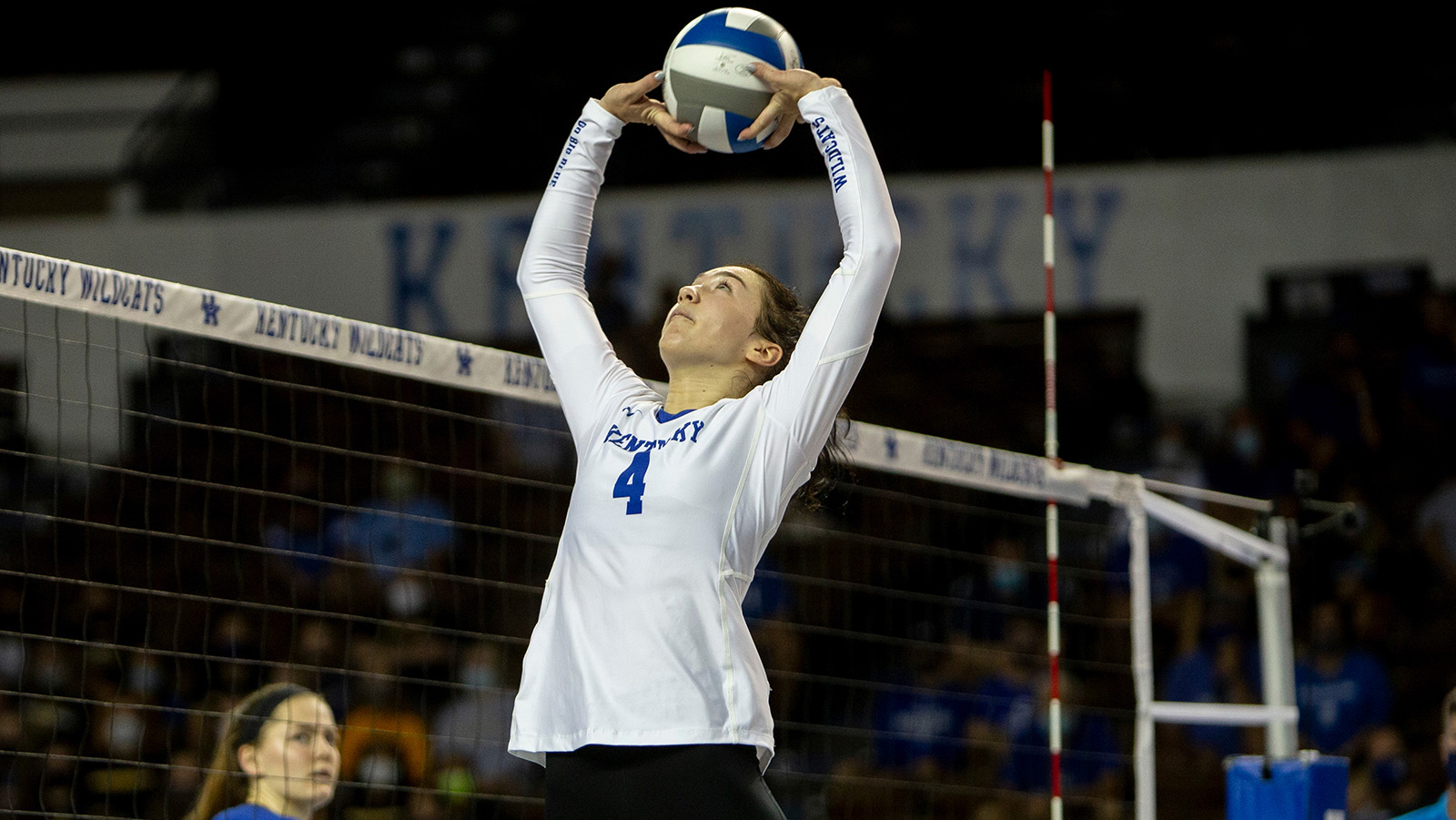 August 23, 2022 - 02:50 PM
UK Volleyball Schedule Presents Challenges, Opportunities for Cats
During his tenure as head coach of the Kentucky volleyball program, Craig Skinner has never been one to shy away from tough competition. But this year's UK schedule may top them all.
In addition to the ever-improving Southeastern Conference, the Cats will face a gauntlet that has to be the toughest non-conference schedule in the country.
The Cats open the season on Friday night against Marquette, which is not ranked but did receive votes in the AVCA preseason rankings.
On the second weekend of the season, the Cats travel to Omaha, where they will face No. 18 Creighton and No. 24 Southern California, in addition to Northern Iowa.
As if that wasn't a tough enough way to start, the schedule ramps up from there. Kentucky will host defending national champion Wisconsin on Sept. 9 inside Memorial Coliseum. The Badgers are ranked No. 3 in the preseason poll.
Five days later, on Sept. 14, Kentucky welcomes Louisville to Memorial. The Cardinals were in the Final Four last season and come into this campaign ranked No. 4.
Then, on Sept. 18, UK welcomes top-ranked Nebraska to Lexington. The Huskers were national runners-up last year, falling to Wisconsin in five sets in the title match.
Skinner hopes that the early schedule can prepare his team for the postseason.
"Our schedule kind of speaks for itself. We've never shied away from playing tough teams and this is no exception," Skinner said. "The goal of the schedule is to always try to put yourself in position to play your best volleyball in November and December. I think this schedule, obviously, will get us to that point."
He also hopes that these contests provide a bit of a measuring stick for his team early in the season.
"To compete with the best, you're finding out a lot about yourself," Skinner said. "How cool is it that we get them in Memorial Coliseum. It's going to be a great opportunity, a great challenge for us to see what we're made of. But more importantly, it's going to get us ready for November and December."
As for the UK players, they are excited about the opportunity to face such great competition, especially with three matches against top-five teams at home.
"I'm excited. I'm really excited to play Wisconsin at home, Nebraska, Marquette, there's some really good teams that we're going to be playing," said junior middle blocker Elise Goetzinger. "I think we have a really good, competitive team that's going to give them a run for their money, especially early in the season."
Goetzinger's classmate Riah Walker agrees.
"We're really, really excited to play them," Walker said. "It's a great opportunity to play these great teams before we get into conference play and even the tournament. It will make us so much better."
Senior Azhani Tealer knows that these matches will create a ton of excitement not only on the team, but in the Lexington community.
"It's insane that we have three Final Four teams coming to our gym. I'm so excited for them to get here. It's going to prepare us. This is why we play – to play in matches like that. To have those three teams here in a two-week span is going to be incredible."
Sophomore setter Emma Grome thinks the tough non-conference slate will have the Cats ready for SEC play.
"Definitely tough but to me, that's so exciting. It's great that we get to play so many good teams going into SEC play," Grome said "I think that will really prepare us. These first two weeks are going to be crucial, getting in the right shape for those games. It will be a great test at the beginning of the year to see what we need to work on to be ready for the tournament."
The 2022 UK volleyball schedule presents a number of challenges for this year's Cats. But, at the same time, it provides a ton of opportunities – both to get big wins and to prepare for the postseason.