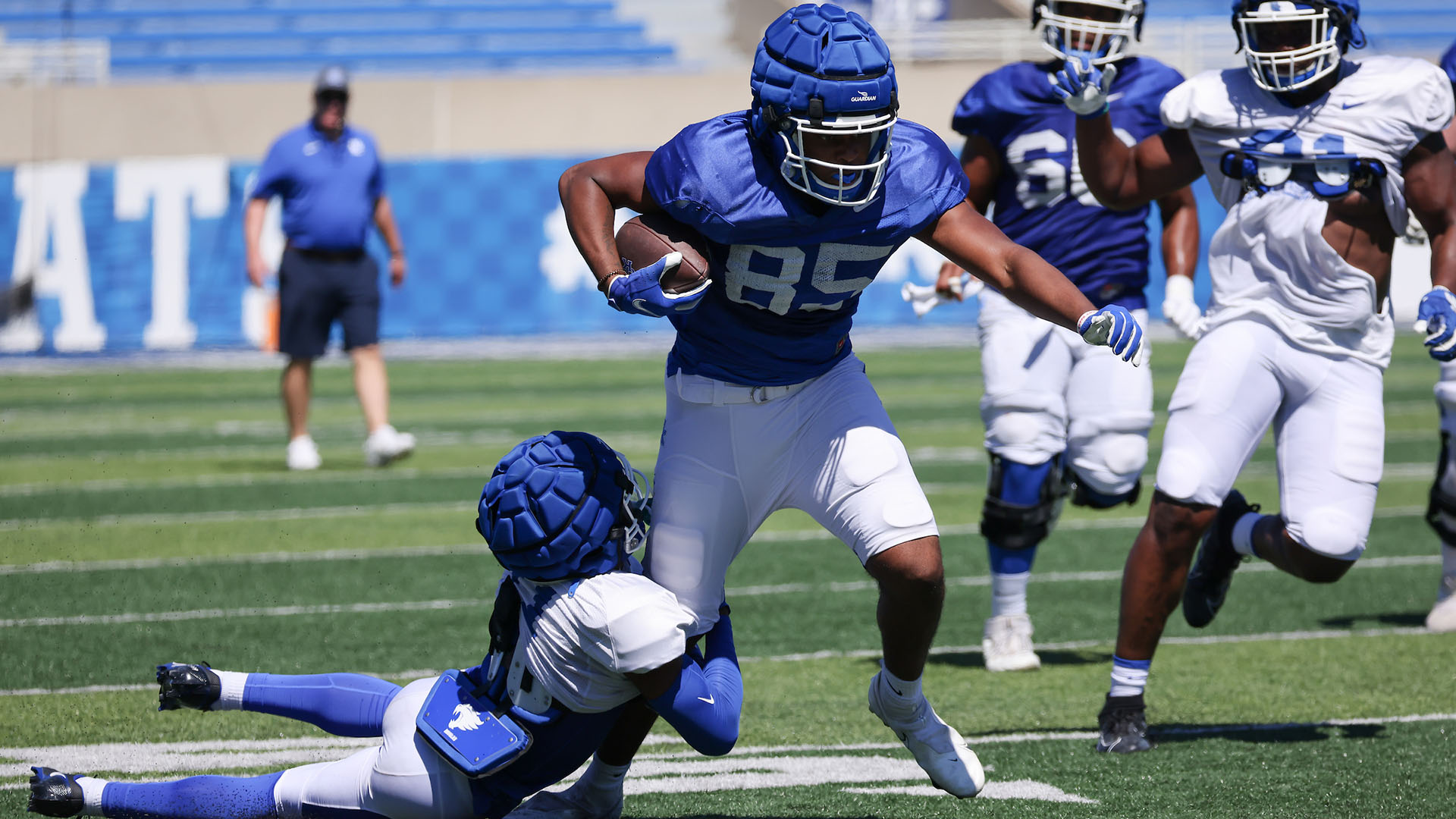 As college football teams around the country start to wrap up fall camp, many of them have something in common. In a number of locations around the country, there are players who are creating quite a bit of buzz despite having little, or no, past production on the field.
It's a player, or players, who the fan base remembers during the recruiting process. It's a player with a ton of potential that fans hope will pan out, and who has been the talk of August.
At Kentucky, that player so far this fall has been tight end Jordan Dingle. Despite having played in only four games in his career, Dingle appears to have a real shot at being the starting tight end when the Cats open the season on Sept. 3 against Miami (Ohio).
Dingle, a Bowling Green native, was a four-star recruit coming out of high school, is creating a lot of discussion with his play this fall.
"He's a guy who can do it all," said UK tight ends coach Vince Marrow. "He's a smart kid. He's just a very knowledgeable kid and he's very talented. I think people are starting to see what everybody else was seeing."
Marrow has seen the potential in Dingle since he was recruiting him out of high school.
"Jordan was a talented player coming out of high school in Bowling Green," Marrow said. "We could have played him last year. The games he played in, the four, he actually played pretty good."
What has Marrow seen from Dingle this fall?
"He's made some big plays," Marrow said. "He's a kid that works hard. He was a very highly-recruited kid as a tight end."
Marrow likes the versatility that Dingle provides to the UK attack.
"How I want to describe Jordan is, he's a Swiss Army knife," Marrow said. "He can do it all. But he's also a guy who is very physical. People talk about his catches but he blocked very physical in the scrimmage. That's the part that gets me, that he's an all-around guy. To play for me, you've got to be an all-around guy."
When asked about Dingle, UK offensive coordinator Rich Scangarello, who coached Pro Bowl tight end George Kittle with the San Francisco 49ers last season, would not identify Dingle by name. But he did approve of the job that his tight ends room is doing.
"Competition brings out the best, especially when you've got the character that they have," Scangarello said. "They're grinding, they're improving, I've seen them get better, they're smart and this offense is built for guys like that."
Scangarello thinks the group has progressed nicely in fall camp.
"They've got a good mix of skill and physicality and smarts," Scangarello said. "I think that they are going to be a big part of our successes here. I'm excited for where they're at."
The tight end is sure to have a big role in the UK offense this fall. And Dingle appears to have put himself in position for playing time with his performance this fall.