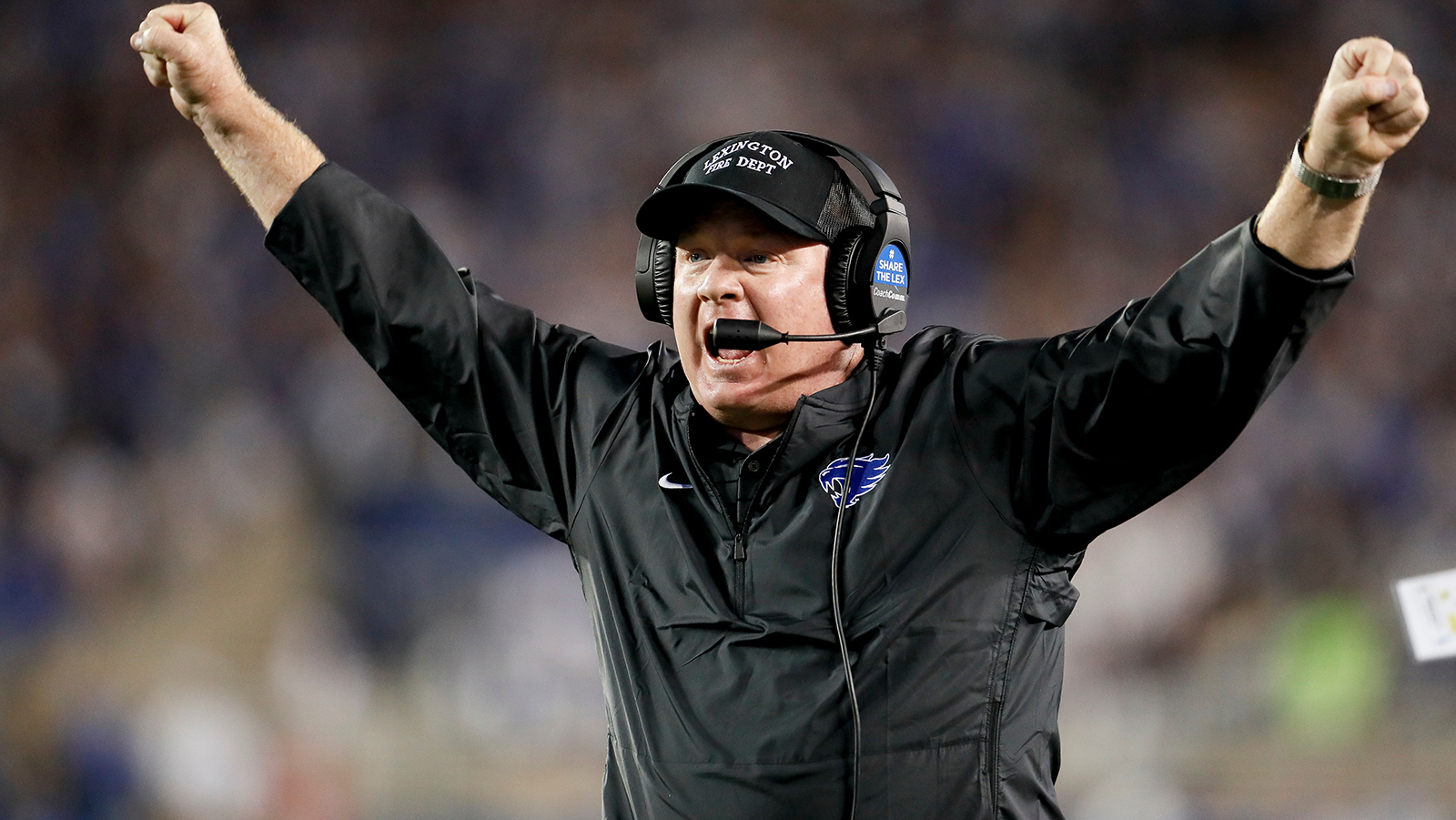 With two weeks until the 2022 football season kicks off, Kentucky head coach Mark Stoops and his team continue to prepare for the Sept. 3 opener against Miami (Ohio) at Kroger Field.
The Cats went through their second scrimmage of the fall on Saturday. Afterwards, Stoops said he's looking for his team to improve one specific thing at this point – consistency.
"Much like a lot of practices, there's some good and some bad," Stoop said of Saturday's scrimmage. "We need to be more consistent. I think we have a good nucleus, a good team, we need to be more consistent. Too many ups and downs. We've got to be a little more physical on the offensive side of the ball."
Speaking of the offense, UK has dealt with some injuries during fall camp, especially on the offensive line. Some of those players returned on Saturday and Stoops noted the difference that made.
"Offensively, we've got more continuity," Stoops said. "Last week, we were down some o-linmen for the scrimmage. We had two of them back today and it improved, but we're still not where we need to be."
Stoops noted that the Cats' defensive line continues to make plays in the preseason.
"The d-line has been disruptive, much more active," the UK head coach said. "That's a good group in general. It's a good blend."
UK quarterback Will Levis echoed his head coach's sentiments following Saturday's practice. Just like the rest of the team, Levis is looking for consistency from himself and the offense. When asked if he had made any physical adjustments in the offseason, Levis noted the role that being consistent plays.
"I haven't changed anything mechanically, I think it's more so just consistency," Levis said. "I have the ability to make every throw on the field, and I know that, but missed throws are going to happen. It's just a matter of realizing why it happened and trying to not revert back to that same mistake the next time I have a situation like that. It's more so just decision making."
The good news for the Cats is that there are still two weeks of camp left before the opening game.
"Fortunately, we have two weeks to go," Stoops said. "So, we still need to grind, still need to work and good things will happen. We've just got to keep things right in front of us, day-to-day, continue to improve."
That improvement will be more evident as the Cats become more consistent on both sides of the ball.