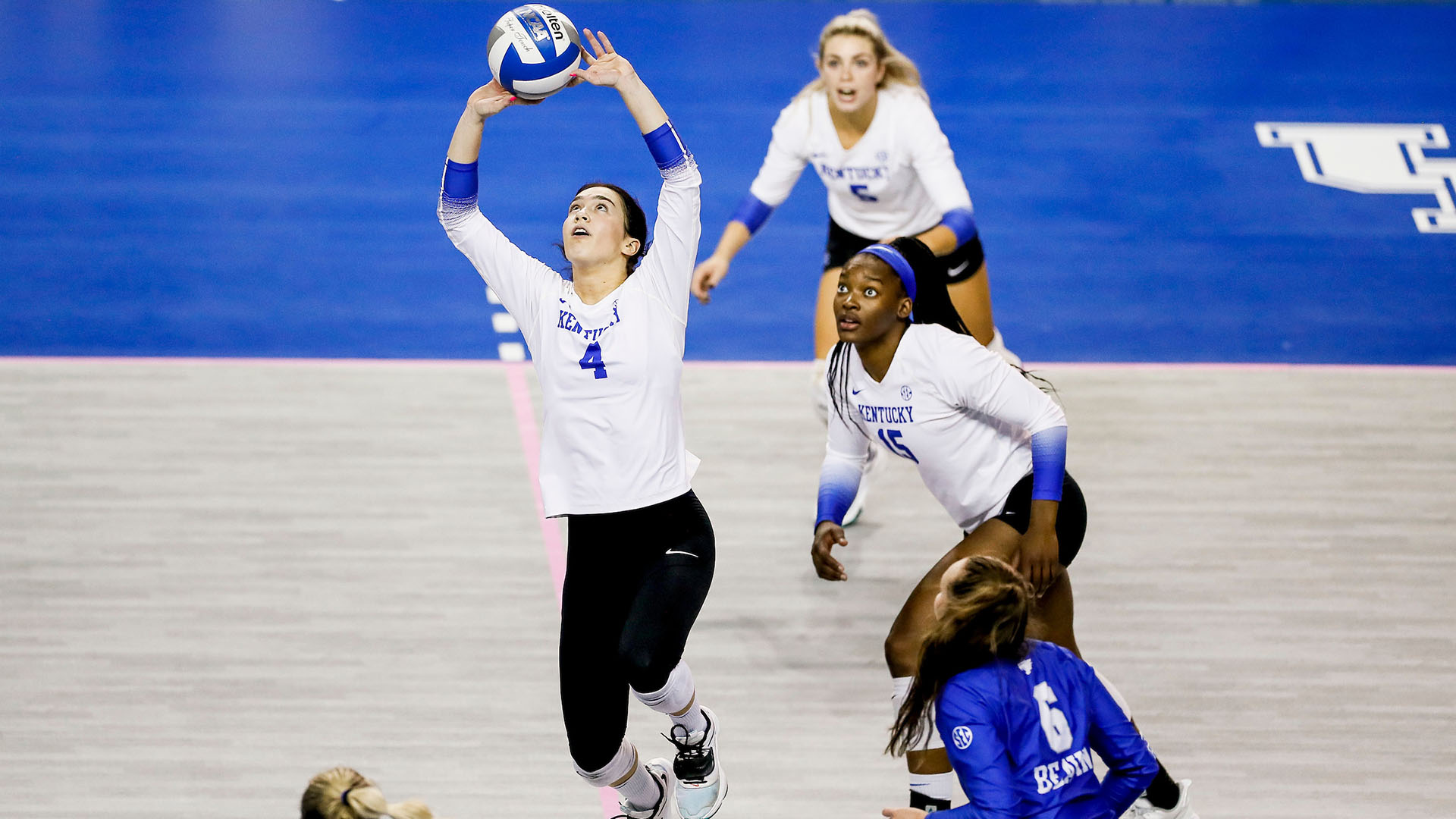 August 18, 2022 - 09:43 AM
Emma Grome Prepared to Make Even Bigger Impact in 2022
Emma Grome made an immediate impact on the Kentucky volleyball program last season. She earned the starting setter position as a freshman and proceeded to record 1,218 assists in her first season. That's seventh on UK's single-season list during the 25-point rally scoring era. That's making an immediate impact.
Grome was named SEC Freshman of the Year, was named to the SEC All-Freshman team and was SEC Setter of the Week on five occasions. She had seven double-doubles last season, including two matches in which she had at least 30 assists and 20 digs.
But Grome is a competitor and she was not satisfied with how the season finished, as the Cats lost to Illinois in the second round of the NCAA Tournament. She knows that she and her teammates have been working hard since last season finished.
"I think this year is going to be really good," Grome said. "I think we had a great offseason, especially summer workouts. I think we're in a good spot physically. I think what we've done in six-on-six has been really impressive. I think once we get back with the coaches and start practicing every day, things will look really good."
While Grome's performance last year was impressive, she was not asked to lead. This year, she knows that leadership will be a huge part of her game.
"I think this year will be a big year for me," Grome said. "Last year, we had really great leaders in Alli (Stumler) and Cam (Scheitzach) and (Lauren) Tharp. And now, we've got some holes to feel, so I think that's where I can step up, whether it's by example or talking on the court. I think it will be a big year for a lot of people stepping up but I think we have the perfect people to fill those roles."
Grome knows that the 2022 Cats are a new team and that they will need to come together during fall practice to be ready for the season.
"You just have to get in the gym a lot, get a lot of reps on different things," Grome said. "I think this year, we're trying some things offensively, different plays and obviously, there's a couple of new hitters that I'm going to have to work out connections with because we lost both of our outsides. Not that it's going to be hard but it will take a little bit of time. I'm excited to see where it can go."
While improving her leadership will be very important, Grome also knows that continuing to improve her game is also crucial.
"Just keep working on my game, trying to get better in any way I can," she said. "Tweaking little things here and there."
Grome will need to be a key cog on this team In order for Kentucky to win a sixth straight SEC regular season championship and make a run at the Final Four. She plans on stepping up her game and continuing to make an impact for the 2022 Cats.