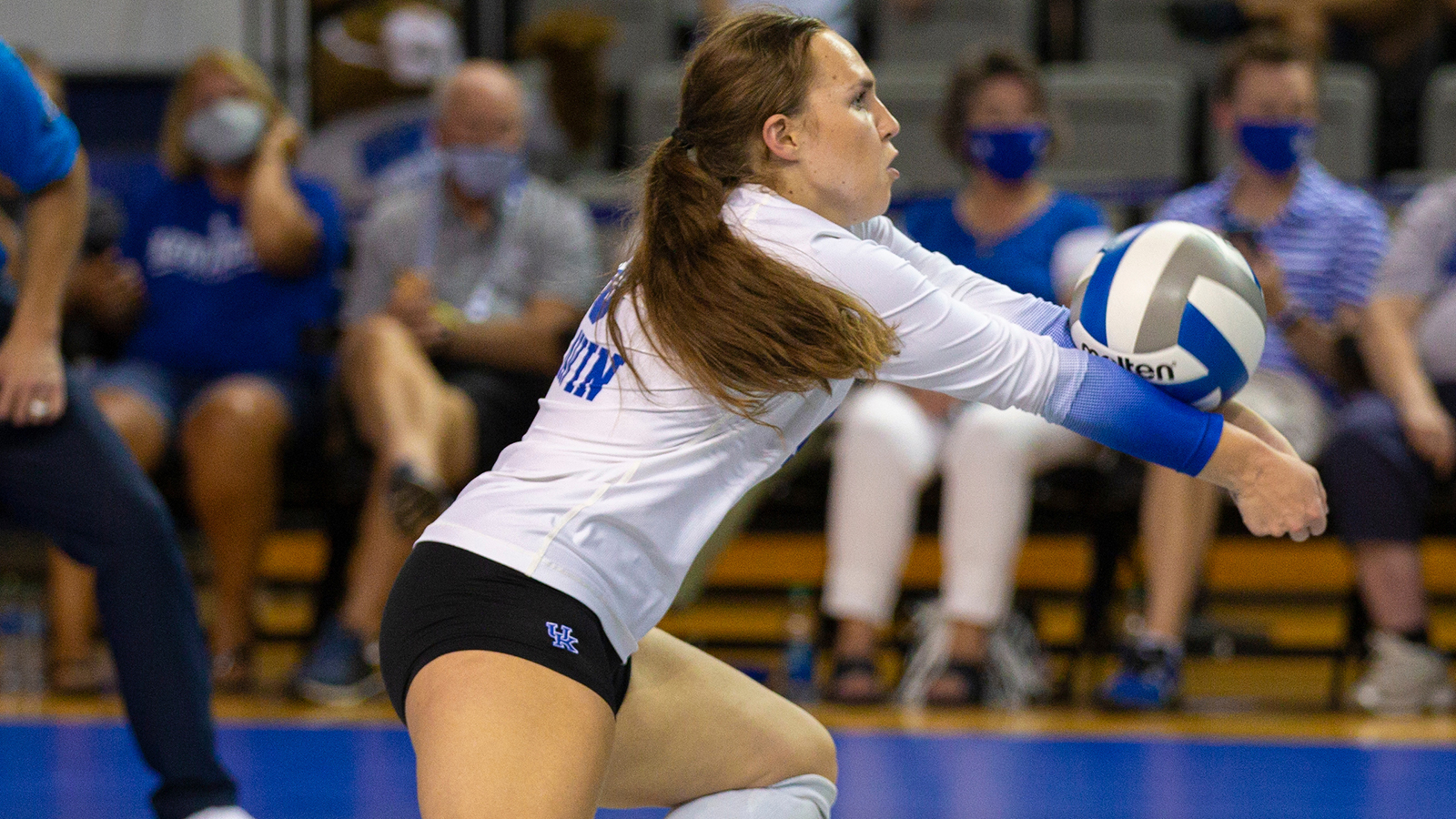 August 17, 2022 - 09:37 AM
Eleanor Beavin is Latest in UK Volleyball's Libero Legacy
The Kentucky volleyball team's history at the libero/defensive specialist position is well documented. And, frankly, it's amazing.
Kentucky has won the last eight SEC Libero of the Year awards. Making it even more impressive is the fact that this feat has been accomplished by four different players (Jackie Napper in 2014; Ashley Dusek in 2015, '16 and '17; Gabby Curry in 2018, '19 and 20; and Eleanor Beavin last season). In 11 of the last 12 seasons, Kentucky has won the award (Stephanie Klefot won in 2010, '11 and '12).
Last season, Beavin became the latest in that line of success, winning the award as a freshman. She's back for her sophomore season and she credits a couple of factors as the reasons that UK has had so many successful liberos.
"I think it's the coaches, the way we train and we have a lot of home-grown talent in Kentucky," Beavin said. "We train defense well and we come into college prepared for those hitters we're going to go against."
Beavin feels more comfortable with her game now than she did last season, where she admits that some of her play was instinctual.
"I think just the experience will help me this year," Beavin said. "(Last year), I was running off adrenaline. But now, I have training under my belt and experience, which is going to help me in the tougher games."
She also thinks that having a full spring to practice will prove to be beneficial this season.
"It was good, it was really fun. I don't think our team had been through a whole spring since Covid hit," Beavin said. "But I think we're really prepared for the season, both mentally and physically, so I think we're really excited."
With that experience, as well as a full spring, Beavin believes she is ready to tackle the new season, even with some changes happening around her and the team.
"I'm really excited to help some of the freshmen out, teach them the ropes," Beavin said. "We also have new coaches, so I'm going to get new training that I didn't get as a freshman. I'm just really excited that I have more experience under my belt and I'm not going to go out there panicked and hopefully we'll have an even better season than last season."
Speaking of last season, it did not end the way the Cats hoped it would. A second-round NCAA Tournament loss to Illinois in Memorial Coliseum brought the campaign to a premature close. Beavin is clearly not over the way last season ended.
"We're kind of pissed about last year, going out in the second round," Beavin said.
That fact made this year's goals much easier to set.
"Obviously, SEC Championship is on our mind," Beavin said. "Win a national championship again."
And individually, Beavin has some goals as well.
"Personally, I just want to be consistent every game," Beavin said. "Another Libero of the Year wouldn't be bad, either."
And if history is any indication, Beavin will be the favorite to win SEC Libero of the Year again. It's a Kentucky tradition.