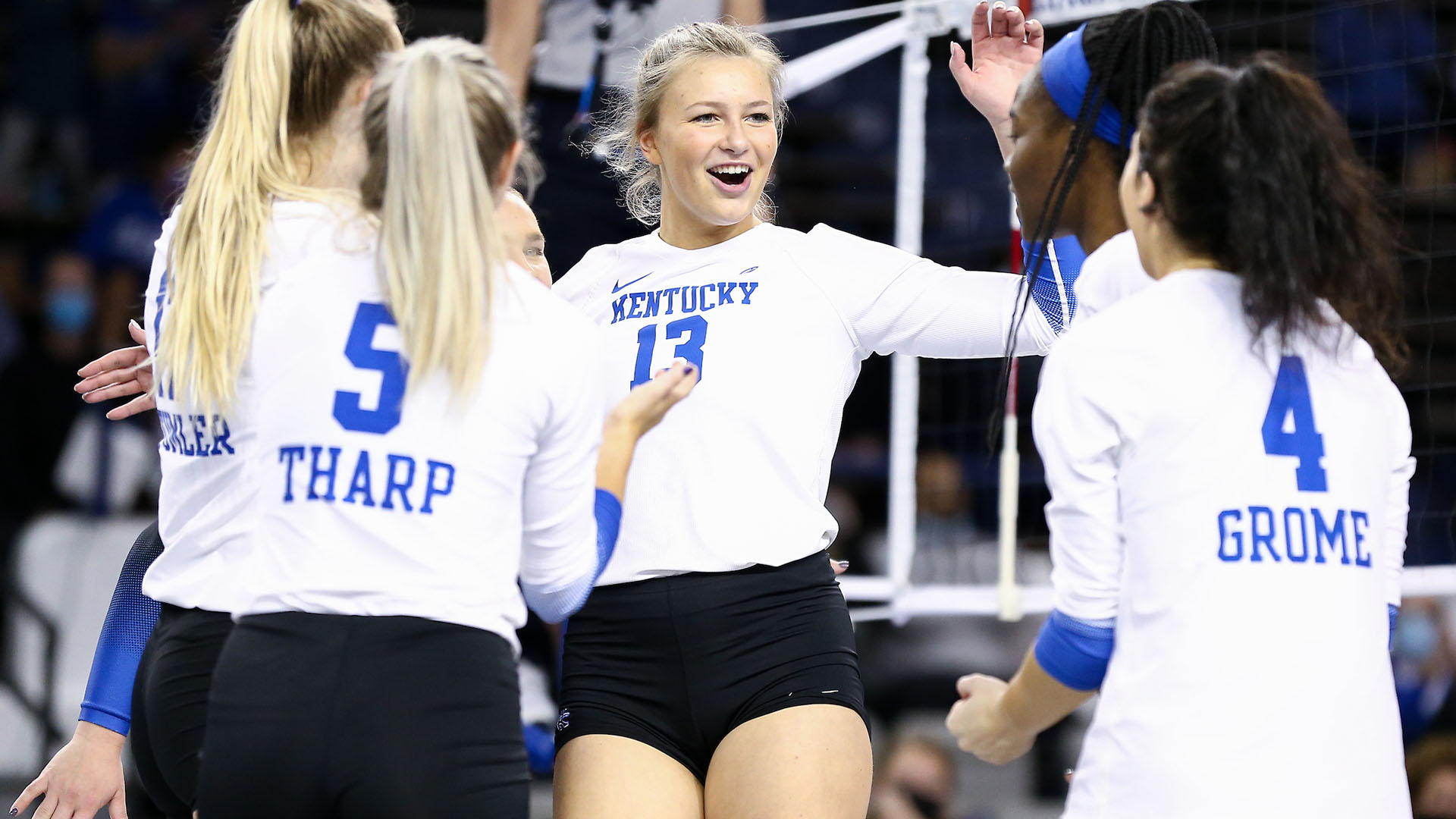 August 16, 2022 - 09:30 AM
Erin Lamb Prepared for Sophomore Season with UK Volleyball
Transitions have become a normal part of life for Kentucky volleyball sophomore Erin Lamb. Both Lamb and the UK coaching staff hope that the next transition she makes will be a success for both her and the team.
Lamb was always one of, it not the tallest, players on any team for which she played. So naturally, she was positioned at middle blocker, where she became a standout. But upon her arrival at Kentucky, she made the switch to outside hitter. How has that gone?
"Definitely, it's a transition. I played middle until I was a senior in high school," Lamb said. "So, when I came here, I switched to outside. Definitely a huge transition but I have learned to love it a lot. It's completely different than the middle. You wouldn't think it would be that different, but it is. I've had a lot of fun with it and I'm definitely growing my confidence as well."
Lamb did not have a great deal of opportunities last season, largely due to the fact that she was playing behind All-American Alli Stumler. However, when Lamb's number was called, she was ready.
That was never more evident than in UK's win last season at Tennessee. There, Lamb transitioned into a starting role, in for the injured Madi Skinner, and proceeded to record a career-high 12 kills while hitting .550 as the Cats swept the Vols in Knoxville.
Lamb hopes that she can have more performances like that this season, although she admits to being more focused on the team's goals than her own.
"I think just taking it one game at a time, doing the best that I can for my teammates," Lamb said. "Taking every opportunity and doing my best with those opportunities."
Lamb missed spring practice due to an injury that is now healed. Having to sit out was yet another transition for the Minnesota native. However, she used that transition to see the game, and her team, from a totally new angle.
"I have actually been out most of the spring and summer, so I was able to take some time off of volleyball and be on the sidelines," Lamb said. "It definitely puts it into a new perspective, so I was able to grow my IQ of the game from watching so much."
She was also able to build some relationships during her time away from the game.
"Relationships with teammates, I was able to focus on that relationship on the court and not as much on the court," Lamb said. "So, I think that has really helped me."
This season, Lamb figures to make the transition to major contributor and/or starter for the Cats. Her goal is to be the biggest part of the team's success that she can.
"To win another natty and bring it back to Kentucky," Lamb said of her goals for this season. "I think we're putting in the work every day to get there. My goal is to be a part of that team goal."
If she and the Cats can pull that off, Lamb would be more than happy to make the transition to national champion.