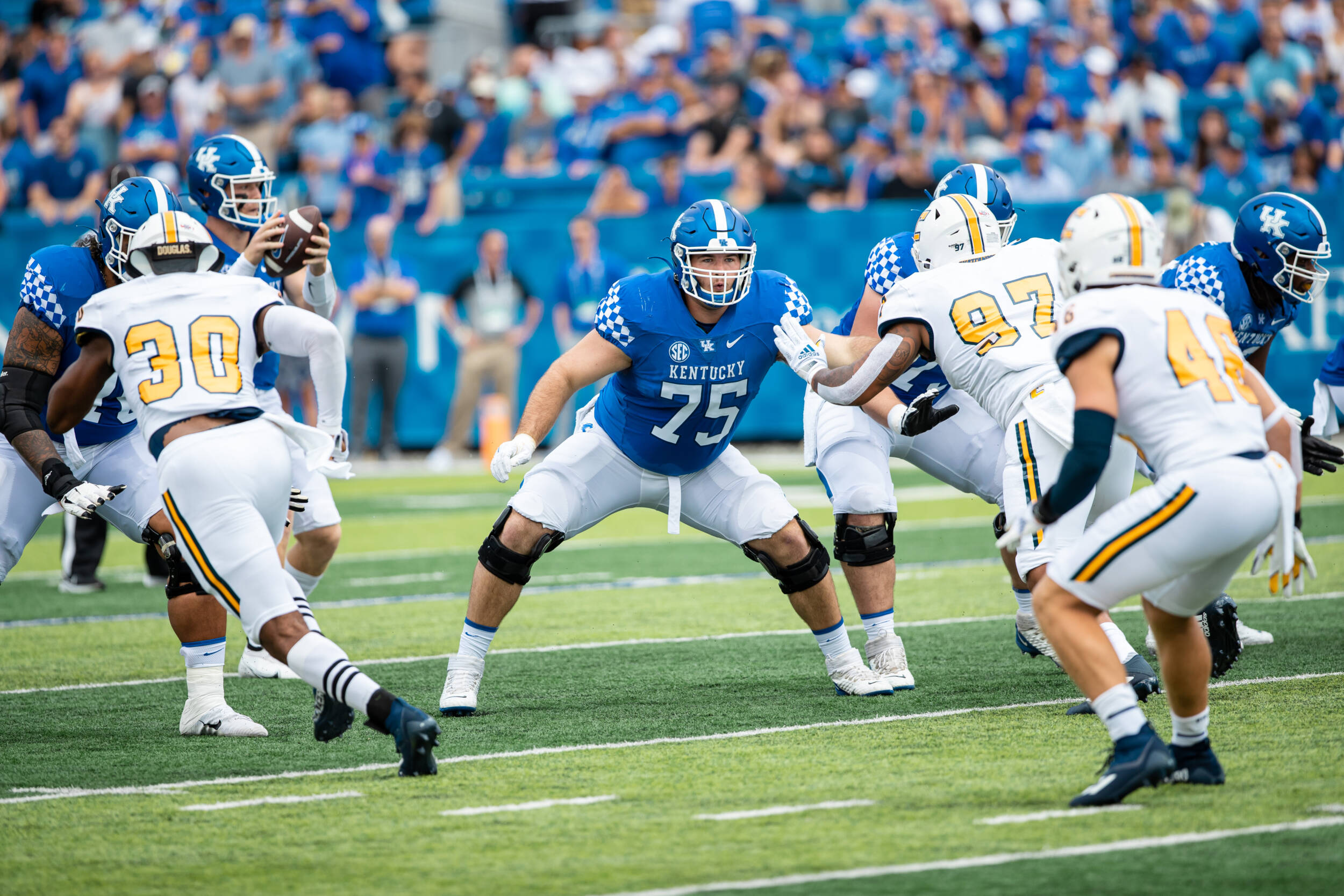 The Kentucky offensive line, which has earned the title of Big Blue Wall over the past few seasons, will have a new look in 2022.
Gone from last year's team are starters Darrian Kinnard, Luke Fortner, Austin Dotson and Dare Rosenthal. That means there is, and will continue to be, lots of competition for playing time during UK's fall camp.
Offensive coordinator Rich Scangarello knows that most of the spots up front are still open at this point in time.
"We've had a lot of guys play up there," Scnagarello said. "I feel very good about where we're at at center. Eli (Cox) is an outstanding player and that helps the solidity of the whole group. There's been some good guard play. I think we've got a good young one. It's been competitive in there. The tackle situation, there's four guys taking a lot of the reps. One of them, I know for sure. The other one, we're going to find out."
Offensive line coach Zach Yenser liked how some of the younger players fared in Saturday's scrimmage.
"We had three starters that didn't participate in the scrimmage," Yenser said. "It's great for the young guys, for them to get reps, because they're going to play in the season. It was great for those guys to get some reps against the 'one' defense."
Yenser does like the core of his offensive line, which includes Cox at center, along with veterans Kenneth Horsey and Auburn transfer Tashawn Manning.
"When you put Tashawn, Eli and Horsey in there together, they've played a lot of SEC snaps," Yenser said. "Them together, that unit together, is really good."
Manning has been especially impressive to Yenser.
"He's just a powerful human being," Yenser said. "When he's in there, we know we can run behind him. He's doing a really good job with pass protection."
Among those competing for playing time, Yenser was asked about both Deondre Buford, a 6-3, 312-pound sophomore, and Jager Burton, a 6-4, 301-pound redshirt freshman, who have both had positive reps during fall camp.
"I want Deon to be under control," Yenser said. "He just overthinks some stuff in protection, he panics a little bit. The more reps he gets, the more calm he becomes with it. He needs to just calm down, use his athletic ability, trust himself a little bit more and he should be good."
Burton has impressed with his athletic ability.
"The way he bends. The way that he can shut down (opponents)," Yenser said. "He's very powerful, plays with really good leverage. He's just very, very athletic, and he's strong, so that helps him. He can recover very, very well."
As far as who will play, Yenser said his philosophy is simple.
"The best guys are going to play," he said. "I feel comfortable with playing seven, probably eight guys right now up front. I want to keep guys fresh, but I don't want to put the O-line in jeopardy."
Who fills those remaining spots remains to be seen but it appears that Yenser and Scangarello have a number of solid options.