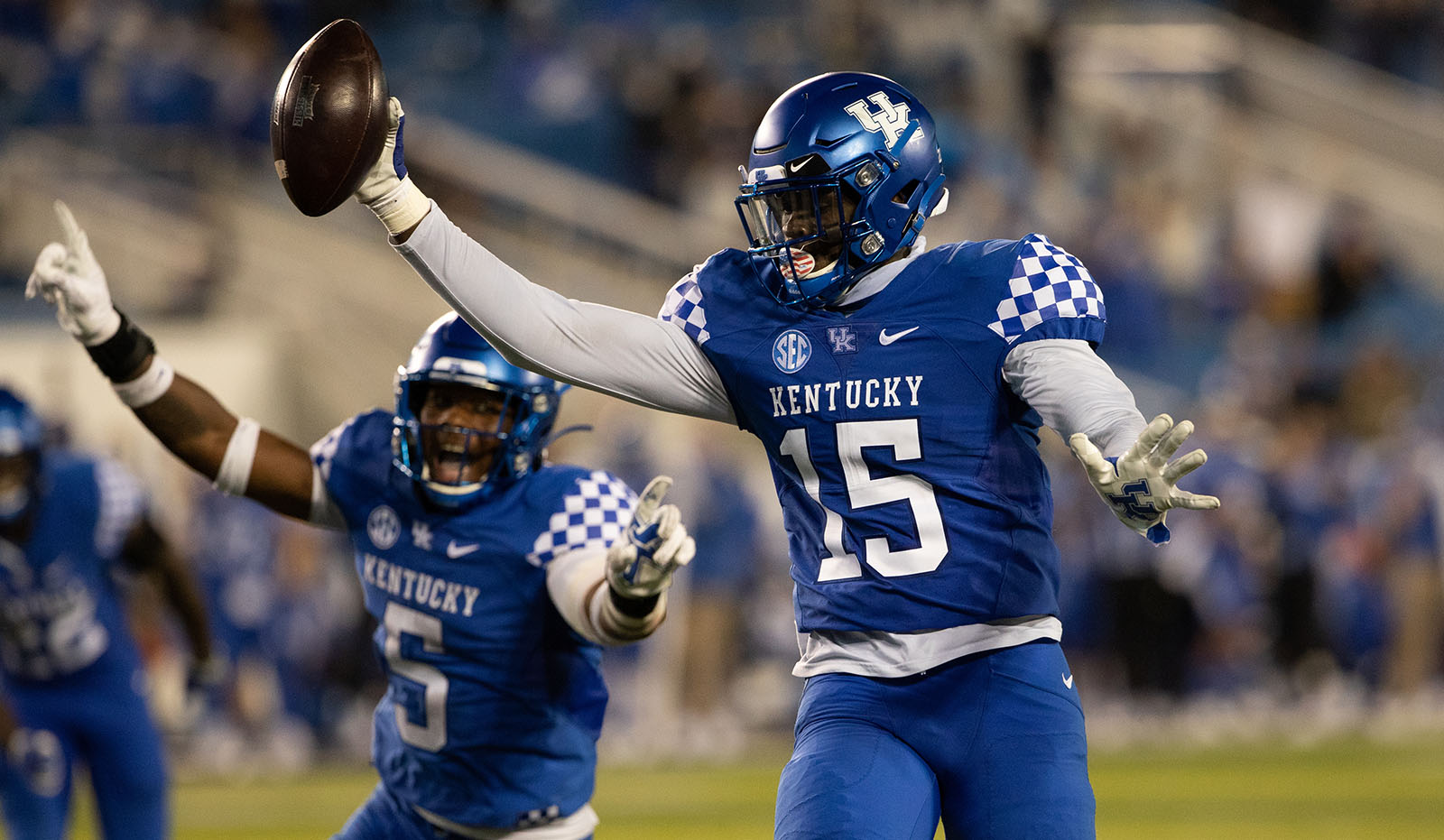 Kentucky defensive coordinator Brad White has a bit of a dilemma this fall. White and the Cats have quite a bit of experience coming back on defense but they also have a number of talented young players, who have zero to little game experience, on that side of the ball. White is trying to coach the veterans while teaching the youngsters, which can be a bit of a balancing act.
"We're throwing a lot at them right now, especially the young guys," White said. "The key is, they can't hit the panic button right now. This is probably as much as we've put in defensively this quick. We've got some older guys on that first team and I don't want to slow those guys down but it becomes a lot on the younger guys. But I want them to have this, to feel what we do defensively and then we'll start slowing it down for them."
There are a number older players that White and head coach Mark Stoops will be counting on to be those leaders on defense. Among those are linebackers Jacquez Jones, DeAndre Square and Jordan Wright.
Those three players each have a ton of experience in college football. Jones has played in 44 career games and made 268 total tackles. Square has participated in 49 games and has registered 244 tackles. And Wright has played in 42 games and made 106 tackles.
The three have also proven to be big-play defenders. Wright has a fumble return for a touchdown (against Virginia Tech in the 2019 Belk Bowl) and an interception return for a score (against Mississippi State in 2020. Square had the game-clinching interception in UK's Citrus Bowl win over Iowa. Jones had a key interception against Missouri last season, setting up a UK touchdown.
White and his staff hope that the older players in the group can help to break things down for the younger guys, and maybe even teach them in the course of fall drills.
"We're a group that, especially the older guys that have been in the system, they understand what we're trying to get done," White said. "But what I need those guys to do, especially those old guys, is to pass that on. Because where you've got a lot with that smaller group of older guys, I need that to get dispersed all across that whole bunch of young guys that are underneath it. Because for those guys, these first seven days of install feels like a foreign language."
While giving the young players a lot to consume, White is looking for a few things.
"I want to see who can retain," White said. "I do think we've got some intelligence in that way."
How's it going so far this fall? Clearly, it's been a mixed bag.
"It's been good, it's been bad, it's been really ugly at times," White said. "But that's OK. That's why you practice."
Those practices will continue to be a balancing act for White and his defensive staff, at least for the time being.