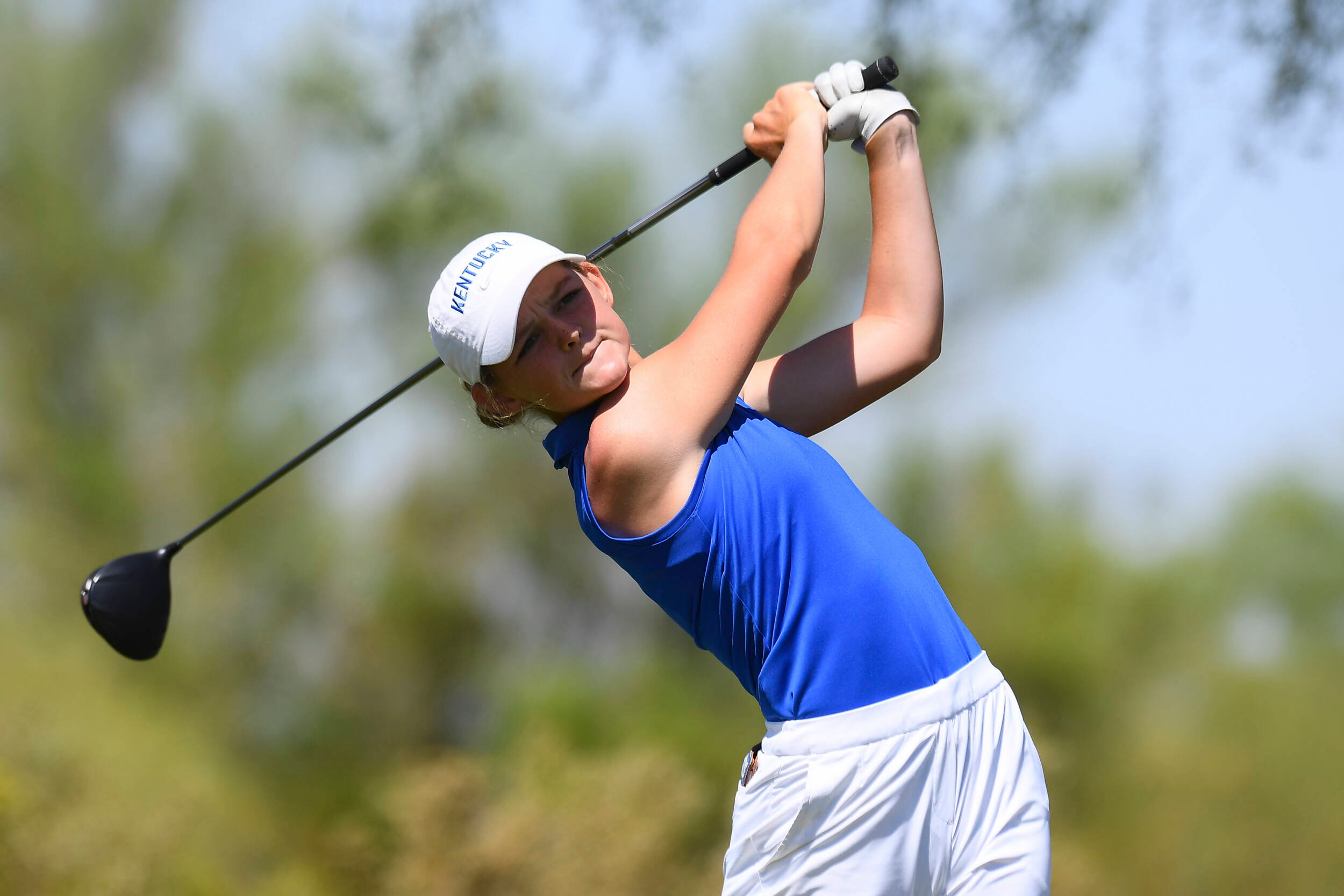 August 10, 2022 - 11:05 PM
Laney Frye Advances to 2022 U.S. Women's Amateur Round of 32
UNIVERSITY PLACE, Wash. – University of Kentucky junior and co-medalist Laney Frye has advanced to the 2022 U.S. Women's Amateur Round of 32 Match Play after defeating her opponent 1up Wednesday, while reigning champion Jensen Castle's time at Chambers Bay (par 73, 6,541 yards) has come to an end.
Less than 24 hours after topping the leaderboard in the stroke play portion of the tournament, Frye held a commanding lead for majority of her match in the round of 64 Wednesday. She took a 1up lead after the first hole, before temporally stretching to a 2up lead through four holes and again through nine holes. The junior held on to some sort of lead through 13 holes, before her opponent Jennifer Rosenberg tied the match on the par-4 No. 14. Frye managed to regain her lead on the par-4 No. 16, holding on to that advantage through the final hole.
Frye will compete against amateur Leigh Chien in the round of 32 Thursday at noon ET. The winner will advance to the round of 16 tomorrow evening, which will broadcast live on Golf Channel from 7-10 p.m. ET.
Castle, who was in Frye's shoes just a year ago, bid farewell to her time at the 2022 U.S. Women's Amateur at Chambers Bay, falling to Ohio State's Aneka Seumanutafa 1up Wednesday.
Castle helped herself to a lead at the start of the round, going 1up on the par-5 No. 1. The Wildcat held on to that advantage through the first three holes, until Seumanutafa tied the match with an eagle on the par-5 No. 4. From that point on it became a back-and-forth affair, as the pairing experienced three leader changes and nine ties.
Down the stretch, the two amateurs were tied for three straight holes, Nos. 13-15, before Castle rallied a birdie on the par-4 No. 16 to go 1up. In response, Seumanutafa made a birdie on the next hole to tie the match ahead of the final hole. On the par-5, 527-yard No. 18, Castle skirted a five-footer for par, helping Seumanutafa to a 1up lead at the end of regulation.
Schedule of Events
Monday, Aug. 8 (18 holes, stroke play)
Tuesday, Aug. 9 (18 holes, stroke play)
Wednesday, Aug. 10 (Round of 64, match play)
Thursday, Aug. 11 (Rounds of 32 and 16, match play)
Friday, Aug. 12 (Quarterfinals, match play)
Saturday Aug. 13 (Semifinals, match play)
Sunday, Aug. 14 (Championship match, 36 holes)
Results
Stroke Play
T1 Laney Frye – 68, 68 … 136 (-10)
T14 Jensen Castle – 73, 69 … 142 (-4)
Match Play
Laney Frye def. Jennifer Rosenberg 1up
Aneka Seumanutafa def. Jensen Castle 1up
For the latest on the Kentucky women's golf team, follow the team on Twitter, Facebook, and Instagram, as well as on the web at UKathletics.com.