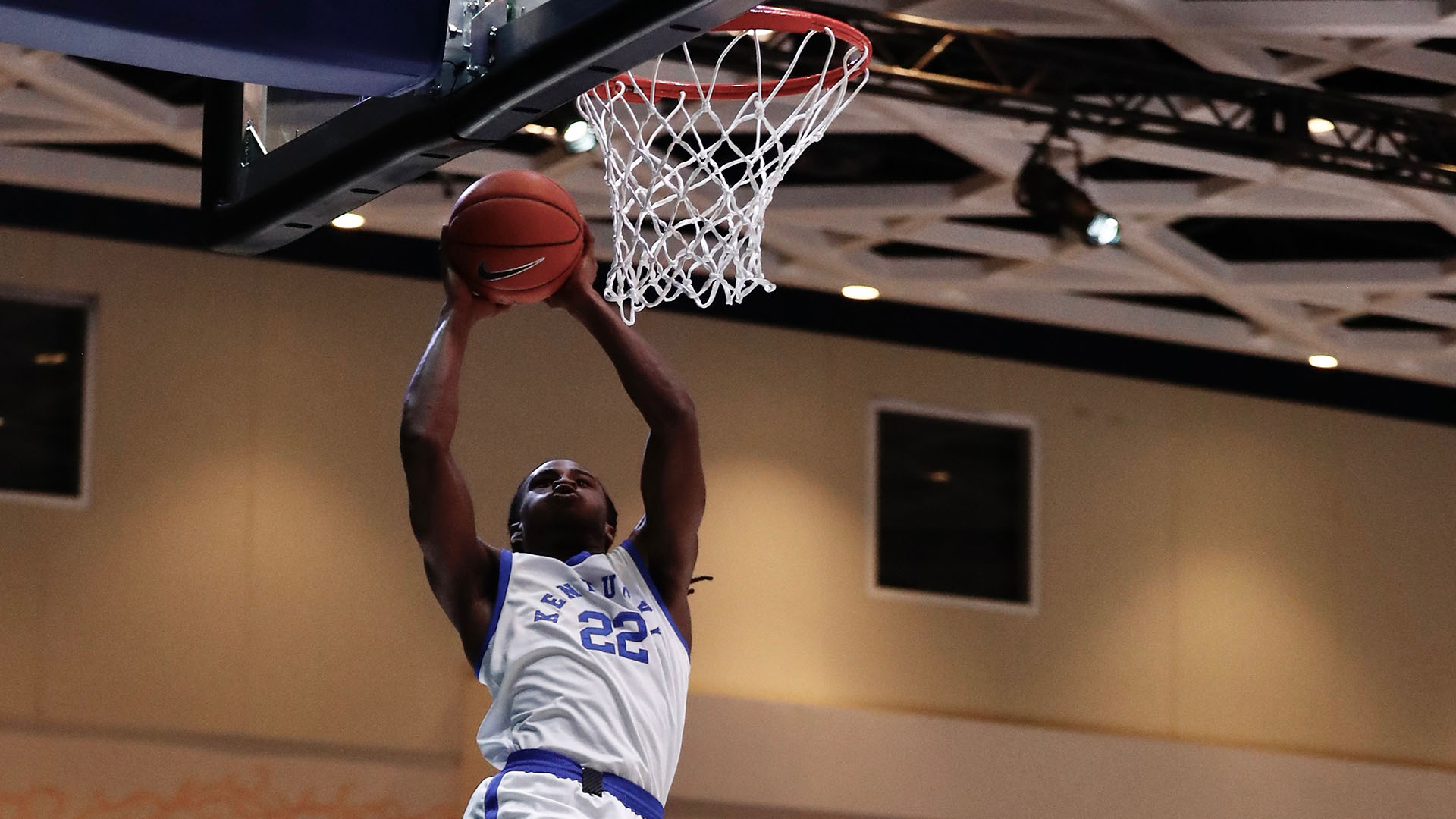 August 10, 2022 - 09:07 PM
Kentucky Cruises Past Dominican Republic on Wednesday
NASSAU, Bahamas – Defending national player of the year Oscar Tshiebwe scored 17 points and grabbed six rebounds as Kentucky cruised past the Dominican Republic National Select Team 108-56 on Wednesday night in exhibition basketball action at Baha Mar Resort.
Tshiebwe led six Kentucky players who scored in double figures in the win. Sophomore Daimion Collins had 15 points, five rebounds and five assists in the win, while freshman Cason Wallace had 15 points, five rebounds and three assists.
Antonio Reeves had 12 points for UK, while Chris Livingston and Lance Ware each had 11.
Kentucky made 42 of its 74 shots from the floor (56.8 percent) from the floor in the game, including 11 of 26 (42.3 percent) from behind the arc. The Cats also made 13 of their 14 free throws (92.9 percent) in the contest.
Kentucky got on the board first on a pair of Toppin free throws. The Dominican Republic would take a 3-2 lead on a three from Justin Minaya but the Cats would score the next seven points, on a basket by Collins, a three from Reeves and a hook shot by Tshiebwe to grab a 9-3 advantage.
The Dominican Republic would score the next four but the Cats would answer with a 6-2 run, capped by a Lance Ware dunk, to lead 15-8 with 12:50 left in the first half.
After Minaya hit a three to cut the UK lead to 15-11, the Cats went on an 8-2 run, keyed by a Reeves three and a Collins baseline dunk and subsequent free throw, to give UK a 23-13 advantage with 8:43.
The Cats would lead by as many as 20 in the first half and would take a 43-25 lead into the break. Reeves led all scorers with nine points in the first half, while Ware and Wallace each had six points.
In the second half, the Cats picked up right where they left off in the first 20 minutes. Kentucky got a three from Chris Livingston and dunks from Ware, Collins and Wallace to extend the lead to 52-25.
Kentucky would lead by 33 (64-31) on a three by Livingston and the lead would hover around that number for the next seven minutes. But UK would mount a 9-0 run, capped by a pair of Tshiebwe dunks, to extend the lead to 86-47 with 6:41 to play.
The onslaught continued late, as Kentucky closed the game on a 12-2 run, including scoring the final eight points of the game, to close out the easy victory.
Kentucky returns to action on Thursday, facing Tec de Monterrey at the Baha Mar Resort in Nassau. Tipoff is set for 7 p.m. ET and the game can be seen on the SEC Network.