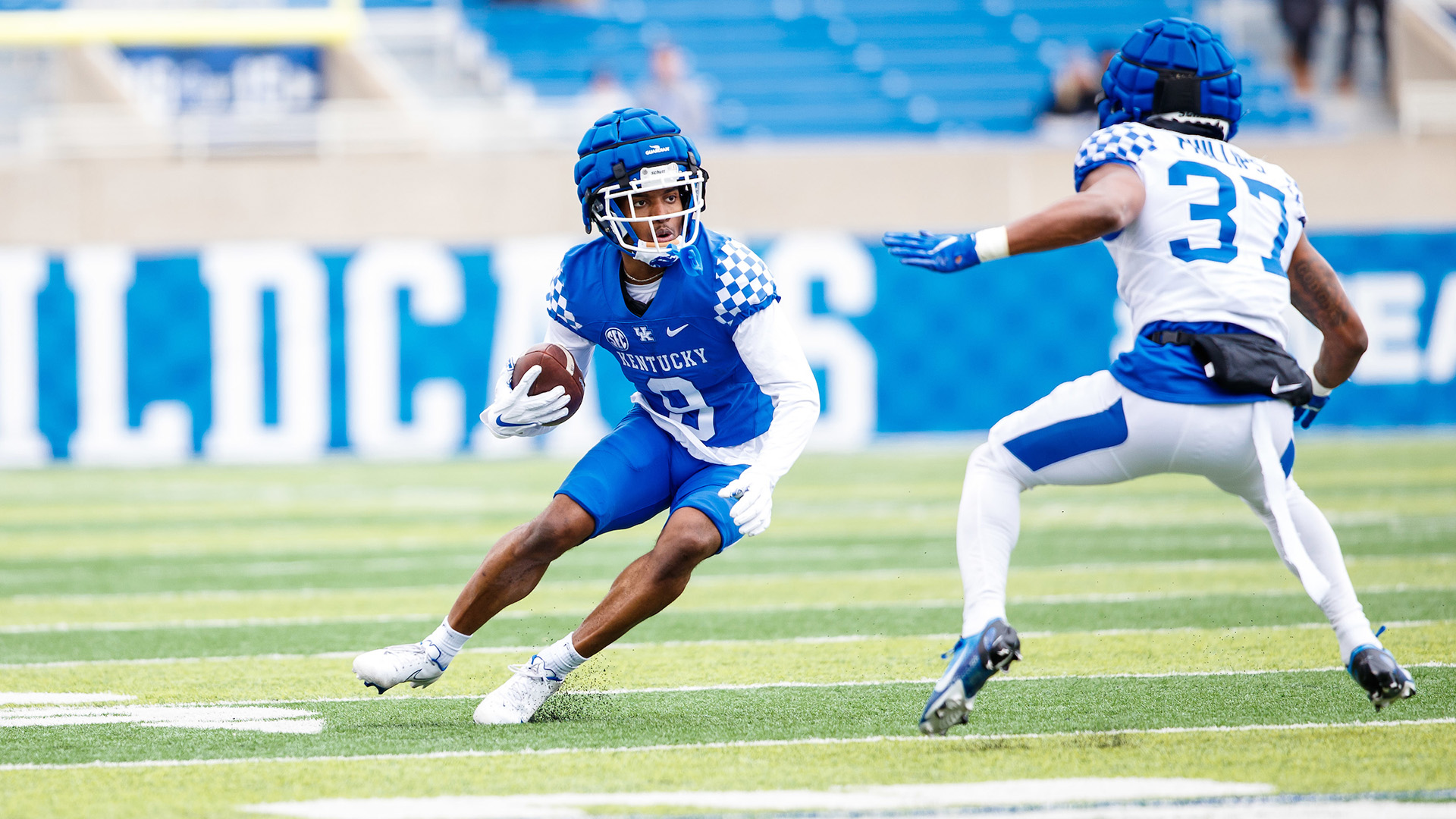 Last season, when Kentucky quarterback Will Levis put the ball in the air, there was a good chance that Wan'Dale Robinson would be on the receiving end. Of the 242 receptions made by Wildcats in 2021, Robinson accounted for 104 of those. Out of the 2,933 yards the Cats had receiving last season, Robinson had 1,334.
This season, things will be much different for the UK receivers. Levis is back but Robinson is in training camp with the New York Giants, leaving a big hole to fill in the Kentucky offensive attack. Even UK wide receivers coach Scott Woodward is not sure, just yet, what will happen.
"I don't know, when we line up on September 3, how it's going to work out," Woodward said following Tuesday's practice. "Who's going to make the catch? I don't know. That's the exciting thing. Last year, you kind of knew Wan'Dale is going to get this amount of catches. But if you ask me the stats for the coming (game) on September 3rd, I have no clue."
One thing that Woodward and offensive coordinator Rich Scangarello are sure of is that there won't be just one dominant option at receiver this season.
"Since coach Scang has got here, we've made it clear that it's not going to be a Wan'Dale or Josh Ali show," Woodward said. "There's going to be six, seven, eight guys that are going to be playing."
Among the receivers returning this season, DeMarcus Harris had the most production in 2021. Harris caught 12 passes for 150 yards and a touchdown last season.
After Harris, no other returning receiver had more than two catches last season. But that doesn't mean there are not options for Levis in 2022.
Virginia Tech transfer Tayvion Robinson is expected to be a major contributor this year. In three seasons in Blacksburg, Robinson caught 113 passes for 1,555 yards and eight touchdowns.
True freshman Dane Key, who played at Frederick Douglass High School in Lexington, is expected to make a run at a starting position. The Kentucky 5A Player of the Year, Key is a playmaking wideout who practiced with the team in the spring.
After redshirting last season, both Dekel Crowdus and Chris Lewis could contribute at receiver this year. Among newcomers who could see time on the field are Tennessee transfer Dee Beckwith, along with true freshmen Jordan Anthony, Barion Brown and Brandon White.
That's a large number of receivers who are all trying to get on the field. While the competition among them is fierce, Woodward likes how the group interacts with one another.
"They mesh really well. All of those guys are awesome," Woodward said. "It's a good group. They love each other. They all want to see each other be successful, they all want to see each other be on the field and catch the ball. And that's rare to see in a wide receiver room. There's usually a lot of selfish guys but not in this one."
While there may not be a Wan'Dale Robinson among this group, at least not yet, there appears to be a number of options for Scangarello and Woodward at the receiver position.