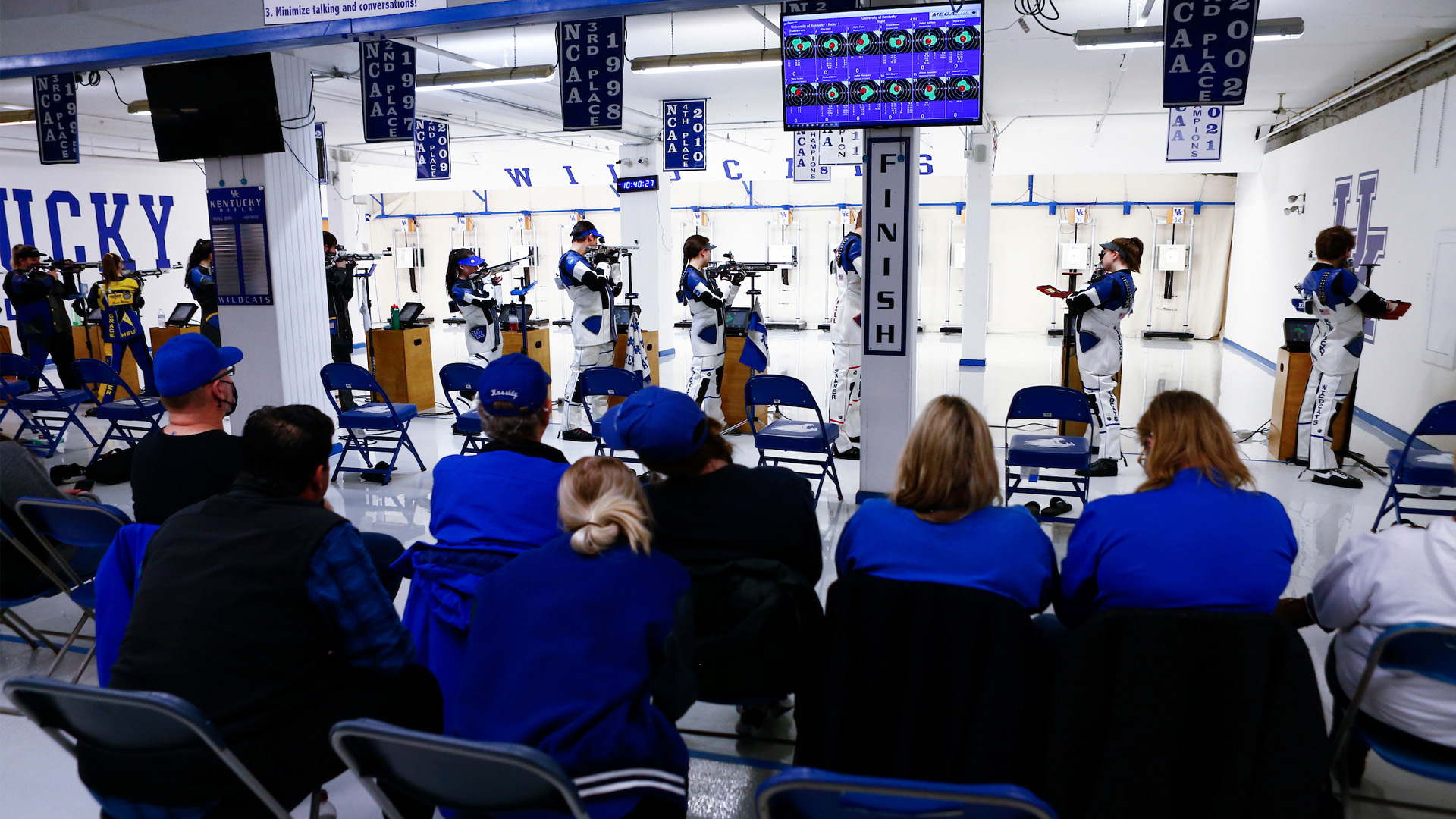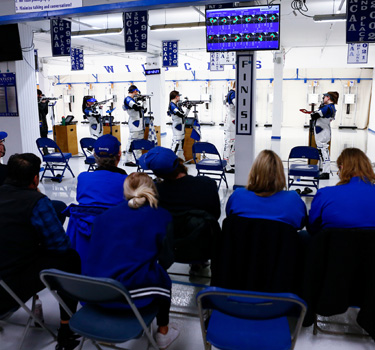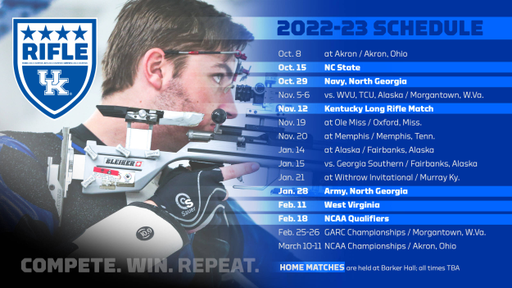 LEXINGTON, Ky. – The University of Kentucky rifle team – winners of three of the last four NCAA national championships – have announced its 2022-23 regular season and postseason schedule, featuring six home matches for Big Blue Nation inside the UK Rifle Range.
"This is an exciting time of year as we announce our schedule, get our athletes back on campus and get the 2022-23 season officially underway," UK head coach Harry Mullins said. "This year's schedule will be very challenging for our squad, but it will also prepare them for the postseason, which is important. We are looking forward to our home matches and getting to shoot in front of our fans."
The Wildcats will begin the season on Oct. 8 at Akron before returning to Lexington the following weekend for their home opener vs. NC State on Oct. 15. After a weekend off, UK will host Navy and North Georgia on Oct. 29 before traveling to West Virginia to compete against WVU, TCU and Alaska on Nov. 5-6. UK will host the Kentucky Long Rifle Match on Nov. 12 with Murray State and Morehead State. The fall schedule will conclude Nov. 19 at Ole Miss and Nov. 20 at Memphis.
The winter schedule will start in Fairbanks, Alaska for the Wildcats against Alaska Fairbanks on Jan. 14 and Georgia Southern on Jan. 15. The following weekend, UK will go to Murray State to compete in the Withrow Invitational. The winter regular-season slate ends with UK hosting matches vs. Army and North Georgia on Jan. 28 and West Virginia on Feb. 11. The Wildcats will host a NCAA Qualifier on Feb. 18 to begin postseason competition.
The Great America Rifle Conference Championships will be held Feb. 25-26 in Morgantown, West Virginia. The NCAA Championships are schedule for March 10-11 in Akron, Ohio.
Kentucky is coming off – literally – a banner 2021-22 season. The 2022 crown for Kentucky marked back-to-back national championships for the program after winning the top spot in 2021 as well. The 2022 title was Kentucky's fourth national championship in program history – 2011, 2018, 2021 and 2022 – all coming under Mullins. UK has won three of the last four titles and were the undefeated favorites in 2020 when the championships were canceled due to COVID-19. UK's four national titles is the hird most in NCAA history.
Kentucky is the first program to win back-to-back national titles since West Virginia won five straight from 2013-2017. The 2022 title came as UK scored a 4739 team score, which was the best team score at the NCAA Championships in the 60-shot era. The previous best was UK's 4731 it scored to win the title in 2021.
UK returns a majority of its 2021-22 roster, including gold medalist and national champion Will Shaner. UK also returns All-American Richard Clark, along with lineup regulars Jaden Thompson, Mitchell Nelson and Allison Buesseler. Mason Hamilton and Emmie Sellers return as well, along with last year's two other freshmen Kayla Kalenza and Tori Kopelen.
The Wildcats add three stars to this year's team in Norwegian star Martin Voss, Italian star Sofia Ceccarello and American star Anthony Hotko.
For more information on the Kentucky rifle team, visit UKathletics.com or follow UKRifle on Twitter, Instagram and Facebook.