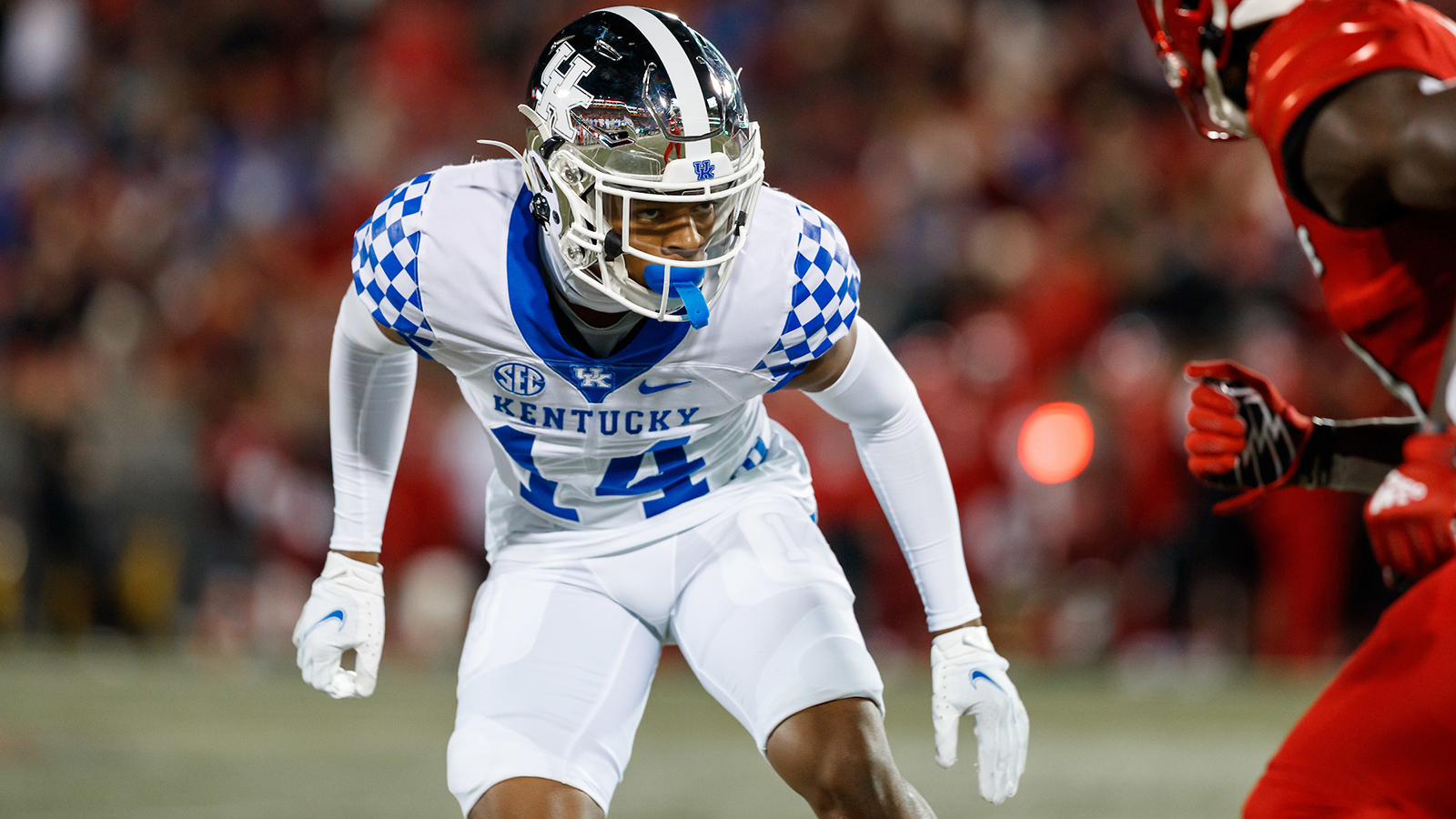 Most of the talk of the Kentucky football offseason has been about the offense, and rightfully so. The Cats return starting quarterback Will Levis as well as several other key pieces from last year's 10-3 squad.
There has been much less discussion of the 2022 UK defense, but that does not mean that the unit doesn't deserve some chatter.
UK head coach Mark Stoops, who has a defensive background, likes his group of experienced linebackers. The outside group is led by JJ Weaver and Jordan Wright.
"We have some really good young players (outside), but with Jordan (Wright) and J.J. (Weaver) back at full strength," Stoops said. "Him being a year further removed from (injury) and healthy will make a big difference in his play.
"The same with Jordan, back a little heavier, got full strength, going at it, and then we feel like we have some young players there in Noah Matthews, Keaten Wade and Tyreese Fearbry," Stoops said. "They're all good players, good young guys that have different talents, and we've got to bring them along."
The inside linebackers will be led by Jacquez Jones and DeAndre Square, two players who each have a ton of collegiate experience.
"Inside linebacker we're really deep with Jacquez and DeAndre anchoring that but getting (D'Eryck Jackson) back at 100 percent and then Trevin (Wallace) is a guy we've got to get on the field," Stoops said. "He's too good of a football player and the same with Martez (Thrower), and really Luke (Fulton) is playing well, so I feel like we could go three deep there, which is good because that's a very physical position and you're going to get banged up."
In the defensive backfield, Stoops thinks that junior Carrington Valentine can be a difference maker this season.
"We need him to continue to elevate," Stoops said. "We were just in there watching film after early morning practice this morning, and just some of the things you see him working on day one, he took a lot of good coaching. He's got a lot more confidence. He's playing with a lot more patience, just in day one."
In addition to Valentine, Stoops has seen things he likes from some of the newcomers.
"Really the guys we brought in all have good length with Keidron (Smith) and Jordan (Robinson) and then Alex Afari is a guy that we're really high on, too," Stoops said. "Great size, and he's very versatile. Just seeing some things early in him that I really like."
Defensive coordinator Brad White likes the experience that the Cats added in the secondary this offseason.
"I think we've got depth there," White said. "Obviously, (Wednesday) was just the first day of practice but I think there's veterans that we picked up that have played a lot of football. You think of Keidron starting for four years in the SEC. He's smart, he's savvy, how quickly he picked up our defense. Same with Zion (Childress) back there at safety."
White thinks that the defensive backfield could prove to be a strength for the team this season.
"I feel strongly about this group," White said. "Now, do they have a lot to prove? Absolutely. But I think this group can do it and I think that unit, in particular, they've all checked their egos at the door. I have a sneaky suspicion that group is going to do a lot of good things for us this year."
On the defensive line, the Cats are replacing some key contributors from last season. Despite not having a "star" on the d-line, White likes how that unit is progressing.
"That might be the place that there's going to be a lot of competition. And there's going to have to be a lot of guys rotate through and a lot of guys that get snaps," White said. "This is not a situation right now where you've got a guy like Josh Paschal, where you knew you were just going to put a huge workload on him and let him go. This is going to be more of a rotational group but there's some talent in there. And as long as we can continue to build on that, keep them fresh, that's another position where I think we're deeper. Maybe we don't have the headliners that we've had in the past up there, but I think we can go deeper in the rotation than we have."
While the offense is getting the majority of the headlines this offseason, there's plenty to talk about with the UK defense. That should be the case all season long.