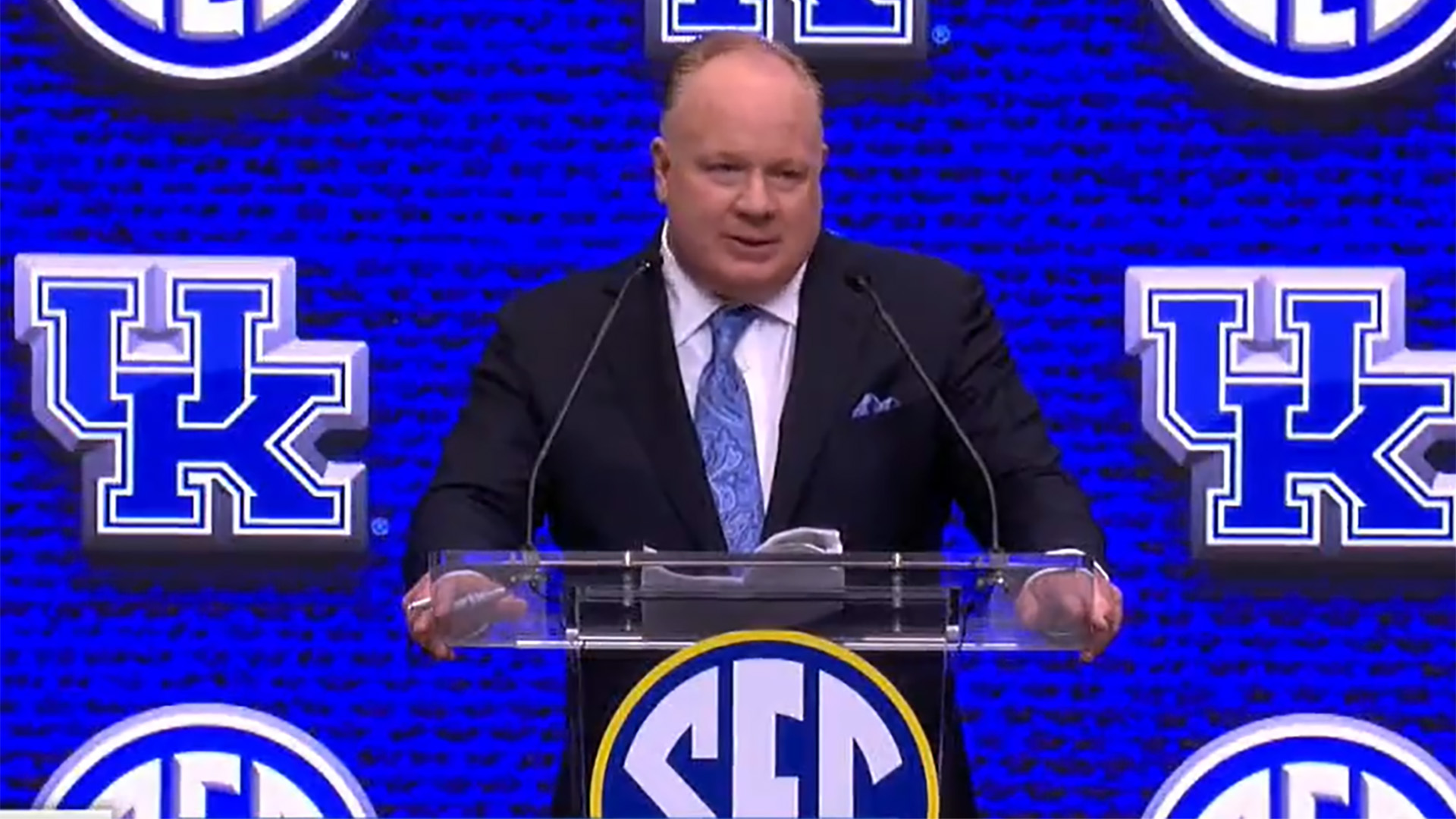 Kentucky football head coach Mark Stoops knows that the world of college sports is changing today unlike it has ever changed before.
"I don't know if there's ever been a more volatile, uncertain and ever-changing period within college athletics," Stoops said on Wednesday at the SEC's annual Football Media Days. "And much of this, we have very little or no control over as a head coach."
Stoops only knows one way to handle such turbulent times.
"However, when everything is swirling and changing in the outside world and outside of our building, I think it's more important than ever to have that stability within our program," Stoops said. "Those roots that we planted, those roots that we've grown, the stability that we've had for these past nine years has to help us during these turbulent times. Just like anything, we will always grow, adapt and overcome any situation."
Stoops likes when he, his staff and his players keep their heads down and keep believing in what they are doing.
"Continue to stay the course, adapt and adjust when you can," Stoops said. "You're going to be accused of being hard-headed at times. You have to stay to your core beliefs. Just be authentic. To me, it's staying true to who I am, my core beliefs, what I know is right. But also, adjusting and adapting when you have to."
Stoops, entering his school-record 10th season as the head coach at Kentucky, has built a formula that works. And he has stayed consistent with that formula since arriving in Lexington.
"Each and every year, I talk about build, select and develop. That's what we are," Stoops said. "We may change the narrative, change how we do it, different tactics each year. But the bottom line is, continue to build that attitude, continue to build the culture that we're looking for at Kentucky."
Stoops knows that the second part of his philosophy, selecting (or recruiting) players is key.
"Selecting the right players – recruiting – never more important," Stoops said. "Turbulent times, different times right now with the money grabs, or recruiting or relationships. Selection is extremely important."
Perhaps the piece that Stoops and his staff excel the most is the development aspect of the game.
"The last piece, and always will be extremely prominent at Kentucky as long as I'm the head coach is the development piece," Stoops said. "We are super active and motivated to develop these young men in all areas of their life. We've been very successful at that and we need to continue to do that. That's who we are."
All of these things, combined with his passion for the game, have helped Stoops build a winner in the Bluegrass.
"I really control the things that I can control," Stoops said. "I'm really passionate about building a program that people want to come watch, both locally and nationally. That's what my focus is."
And what's next for Stoops and the UK program?
"What the next step is – continue to build on the good things that we're doing," Stoops said. "Stay consistent with what the good is. And where we're falling short, address them and try to get better."
While times in the college sports world continue to evolve, Stoops is standing by a formula that continues to produce results at Kentucky.