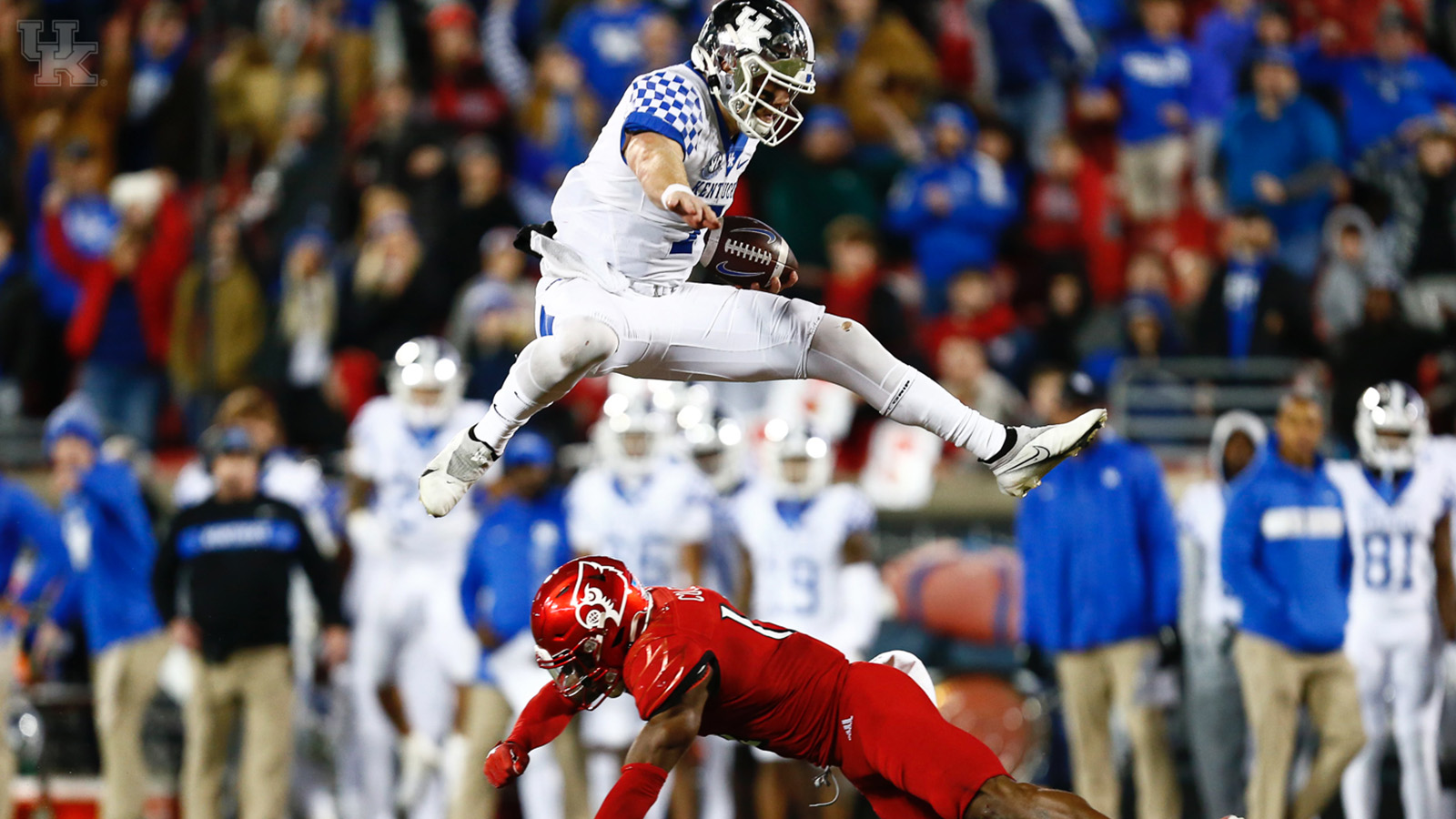 Kentucky head coach Mark Stoops is not afraid to say good things about his starting quarterback, Will Levis. And that's because Stoops knows that his QB1 has the maturity and the drive to handle anything that's thrown his way.
"I don't worry talking about him like that because he's very self-driven," Stoops said on Wednesday at the SEC's annual Football Media Days. "He's worried about getting better. He works his tail off every day. And all you have to do is watch how he plays the game. If you put on a film and watch the way he plays the game, you have to respect that because he cares. He cares about winning, he cares about competing. He'll do whatever is necessary and will put the team on his back and carry them to victory. Guys can respond to people like that."
Stoops admits that he sometimes marvels at the things Levis can do.
"With Will, I knew what he was capable of," Stoops said. "What he's done – when I watch him, at times, it does kind of blow you away. You just watch him, maybe on a windy day and there's gusts coming at you and the way he rips the football, the way he throws it, the way he works, everything about him, he's exceptional."
"So excited about @will_levis. Not only a great player and super talented, but unbelievable leader." – @UKCoachStoops @SECNetwork x #ForTheTeam 😼 pic.twitter.com/670ofS0lYb

— Kentucky Football (@UKFootball) July 20, 2022
Levis thrived last season in the pro-style offense employed by then-offensive coordinator Liam Coen. When Coen departed for the Los Angeles Rams in the offseason, Stoops hired San Francisco 49ers quarterbacks coach Rich Scangarello to continue the continuity without losing the blue-collar mentality that Stoops has built in Lexington.
"Offensively, just excited about where we can go," Stoops said. "We're always going to be a team that's going to be physical, that can pound the football. But where we were falling short a couple of years ago, we got better a year ago and we want to continue to build on that and that is with the success of the running the game is pushing the ball down the field. And when you've got a quarterback like this, there's not a throw he can't make. So, very excited to build on that and continue to grow."
If there is a concern on the offensive side of the ball, it could be at wide receiver.
"We have to have some playmakers step up at the wide receiver position because we have a beast of a quarterback," Stoops said. "(So), we have to get some playmakers to step up and compete. And we're going to have to depend on a few younger guys there. And the older guys need to continue to step up. We feel like, as a group, we're probably as talented as we've been in a long time. But there definitely is some youth there and we've got a lot of work to do."
Among the younger receivers, Stoops pointed out a talented pair, Barion Brown and Dane Key.
"Barion has all the tools," Stoops said. "Super excited about him. Was just talking with Will, on the way down here and Will mentioned it right away – how special Barion is with the ball in his hands. Can do some special things and has a lot of juice. So, we've really got to get him caught up. He just got on campus a couple of weeks ago. So, we need to get him plugged in and get the ball in his hands because he's a total playmaker."
Key is a Lexington native and the son of former UK linebacker Dante Key.
"One of the guys came in in the spring, so we had the opportunity to watch him all winter and through spring practice, is Dane Key," Stoops said. "He's a special young man, definitely an impact player. You could see right away he has the mindset that he can pick things up."
Stoops also mentioned three veterans that he's counting on this season.
"Tayvion Robinson, bringing him in as a transfer from Virginia Tech. He has a lot of experience, we needed that as well," Stoops said. "Demarcus Harris has been waiting for his role, we really feel like he's going to have a big year."
The third is Tennessee transfer Dee Beckwith, a 6-3, 230-pound athlete who can play multiple positions.
"With Dee, he is a large athlete. He's a big boy," Stoops said. "He's a guy who can confuse you at times because he can play so many positions. But that's what Rich really liked about him and what we liked about him as a staff was that we could be very multiple with him."
As for Levis, the guy who will be getting the ball to these weapons this season, Stoops thinks the sky is the limit.
"His talent kind of speaks for itself," Stoops said. "He has all the intangibles to be a franchise guy at the next level. I know he is with us. He's a special player."