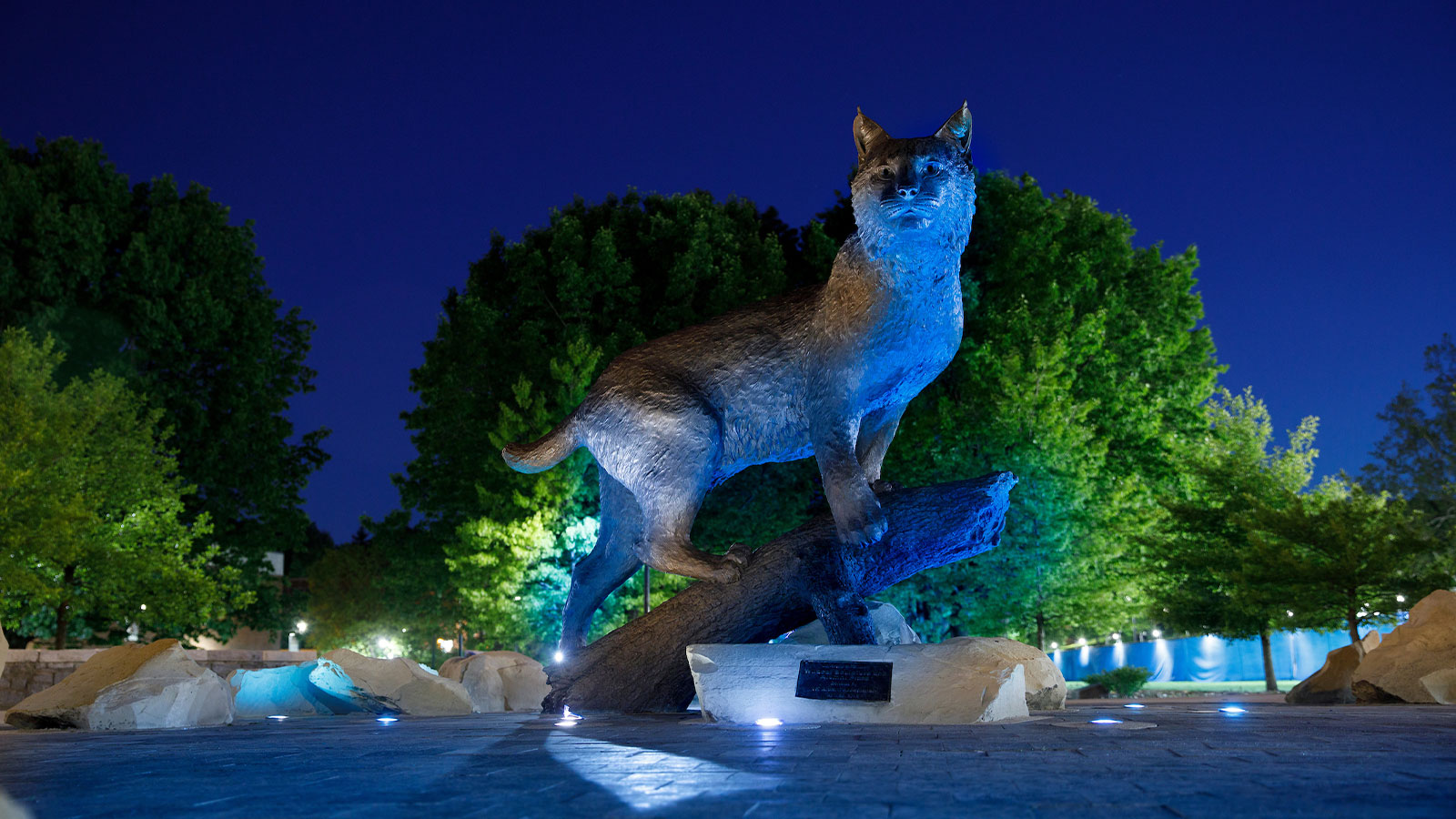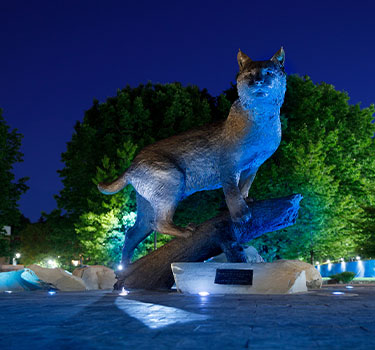 LEXINGTON, Ky. – With July marking the one-year anniversary of student-athletes being able to benefit from their name, image and likeness (NIL) in collegiate athletics, the University of Kentucky Athletics Department is providing a facts-and-figures look back at the first year of the "BBNIL Era," while intensifying its commitment to providing best-in-class experiences and opportunities.
A total of 176 Kentucky student-athletes earned 1,329 NIL deals, as disclosed in the "INFLCR Compliance Ledger" reporting software between July 1, 2021 through June 30, 2022.
UK Athletics administration provides educational "BBNIL" open house sessions throughout the year with local businesses alongside multimedia partners JMI Sports, helping many of the University's blue-chip commercial partners, as well as potential associates, understand how they can navigate the NIL space.
Educational outreach sessions also ensure industry leaders know UK student-athletes could be exceptional representatives for their brands, as evidenced by the above numbers showing so many mutually beneficial partnerships over the past 12 months.
"We are strong advocates for our student-athletes embracing NIL opportunities and have been assisting in every way we can," Athletics Director Mitch Barnhart said.  "Our student-athletes have taken NIL and run with it in innovative and exciting ways. I'm proud that so many of our young people have done the hard work to benefit in this new era. We're also gratified that so many local and national businesses see our student-athletes as attractive ambassadors for their brands.
"We pride ourselves in developing leaders at Kentucky, and so many Wildcats have been leaders in the NIL space. We work hard to meet the needs of young people to empower them to achieve their dreams. As the NIL space evolves, we too will continue to do the work to put our student-athletes in the best-possible position to succeed."
The fact that 176 student-athletes, including at least one from each of UK's sports that compete in NCAA Championships sports, were the recipients of deals in the first year of the BBNIL era also illustrates how Wildcats of varying notoriety and athletic success levels were able to realize gains.
UK Athletics strives to offer a world-class student-athlete experience, with a strong emphasis on helping athletes maximize their personal branding to position themselves to monetize their NIL.
"The fanbase and the local market of people who are bought into the team and bought into us players, those are going to be where most of the opportunities come from," football quarterback Will Levis said. "There's definitely going to be opportunities for some guys on a national scale, but I think that the local markets are really the most important pieces of the puzzle for this because those are the people that are most passionately connected to the team and are willing to pour into us."
With "Year Two" of NIL well under way, UK Athletics looks forward to announcing even more opportunities for benefits, education, competitive greatness and innovative strategies through the "BBNIL" program in the coming weeks and months.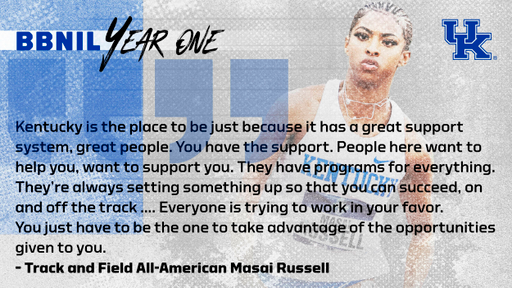 "Kentucky is the place to be just because it has great support system, great people," Track and Field All-American Masai Russell, whose Instagram following went from 13,700 followers as a freshman to now more than 185,000, said. "You have the support. People here want to help you, want to support you. They have programs for everything. 
"They're always setting something up so that you can succeed, on and off the track … Everyone is trying to work in your favor. You just have to be the one to take advantage of the opportunities given to you."
The BBNIL enhanced suite of benefits includes, but is not limited to: 
Representing one of college athletics' most iconic and nationally recognizable brands.

 

Access to licensing partnership with Fanatics, UK's industry-leading sports merchandise partner, alongside specialist agency OneTeam Partners.

 

The opportunity to be an influencer in the diverse and vibrant Kentucky economic market.

 

Providing industry-leading support for leveraging individual social media presence through education, data-backed insights and first access to content created by UK's elite team of media professionals.

 

Professional advice on potential deals that have already been proposed.

Extended scholarships until a bachelor's degree is achieved.

 

Financial education. 

 
 The BBNIL program will also include a multimedia campaign featuring testimonial videos with Kentucky student-athletes testifying in their own words how the first year of NIL went for them. Some of UK Athletics' most recognizable athletes will be featured throughout the coming weeks telling their own stories of how they've benefited and what they've learned.
"I think being from Kentucky and having such a reputable school behind you kind of helps the companies look at you as sort of an individual that's worth their time." Rifle National Champion and Olympic gold medalist Will Shaner said. "(They know) That you're going to represent their brand in the way that they want because you've represented the school so well." 
"I think Kentucky Athletics has done an amazing job with it all. Once a semester we go in, we do our financial training preparing us for after school. We went through all the NIL contract stuff, what we can and can't do, basically listing them out loud, and then listing our resources and how they're going to help us."
The "BBNIL" program builds upon Kentucky's college-sports leading suite of benefits featuring opportunities to enhance each student-athlete's personal brand.
The Kentucky Road, which describes the incomparable developmental experience provided for student-athletes during their time as Wildcats, also remains a key aspect of UK Athletics' comprehensive approach to NIL.
The Kentucky Road brings together resources available through the University of Kentucky's world-class academic and student-development professionals alongside the best external vendors and blue-chip business relationships.
Kentucky athletics has a proven track record of expanding student-athlete financial opportunities after their playing days at UK, whether through helping develop athletes to excel in the world's best professional sports leagues, post-eligibility sponsorship and networking opportunities, job placement programs and lucrative touring opportunities where Kentucky alumni interact with the best fans in college sports: the Big Blue Nation.
UK continues to build on existing innovations like prioritizing first-access delivery of compelling media content to student-athletes directly to their smartphones. UK will also continue improving hands-on education geared toward maximizing personal branding leverage in addition to business and financial literacy programs.
BBNIL, alongside the Kentucky Road program, will continue to position student-athletes for personal and professional growth outside of the classroom and athletics facilities.