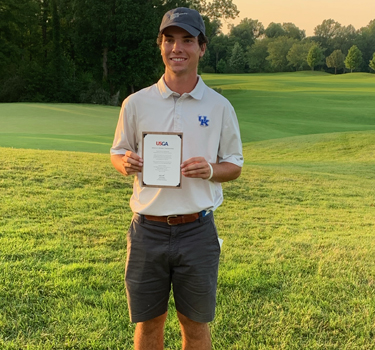 Garrett Wood Wins USGA Qualifier, Advances to 2022 U.S. Amateur
LEXINGTON, Ky. – University of Kentucky men's golfer Garrett Wood ended the 2021-22 season playing exceptional golf and that has carried over into the summer as he finished on top of the leaderboard at Monday's USGA U.S. Amateur Qualifier at TPC River's Bend, punching his ticket to the 2022 U.S. Amateur.
In the 36-hole qualifier, Wood started with an impressive 67 in the first round and clinched the top qualifying spot with a 69 in the second round. His overall winning score was an 8-under par 136. The native of Mason, Ohio, had five birdies in the first round and five birdies and an eagle in the second round.
Wood will now set his sights on the 2022 U.S. Amateur Championship, which will be held Aug. 15-22 at The Ridgewood Country Club and Arcola Country Club in Paramus, New Jersey. This is the second straight year that he had qualified for the event. More information on the event can be found at USGA.org.
Wood started all 10 events for the Wildcats in 2021-22 and also played in the Genesis Open Collegiate Showcase. On the year, he led the team with a 71.55 stroke average with 18 par-or-better rounds. Wood, who had four top-10 finishes and six top-20 finishes during the season, tied for 14th at the Old Town Collegiate Invitational with a 5-under scorecard and a career-low-tying 205 54-hole total. The 205 scorecard ranked as the sixth-lowest tournament score in the Brian Craig era. He also registered a career-low-tying 65 during the final round, which was the fourth-lowest round in the Craig era.
Wood followed that impressive showing with a runner-up finish at the Steelwood Collegiate Invitational. He had rounds of 70-72-65 and played 9-under par for the event. He also tied for sixth in the spring opener at the Lake Las Vegas Intercollegiate with rounds of 70-68-71 and played 7-under. Wood tied for 18th at the Schenkel Invitational where he played even par for the tournament. At the NCAA Columbus Regional, he tied for seventh individually to lead the Wildcats. He shot 70-72-70 and was 1-under for the tournament.
For the latest on the Kentucky men's golf team, follow @UKMensGolf on Twitter and on the web at UKathletics.com.