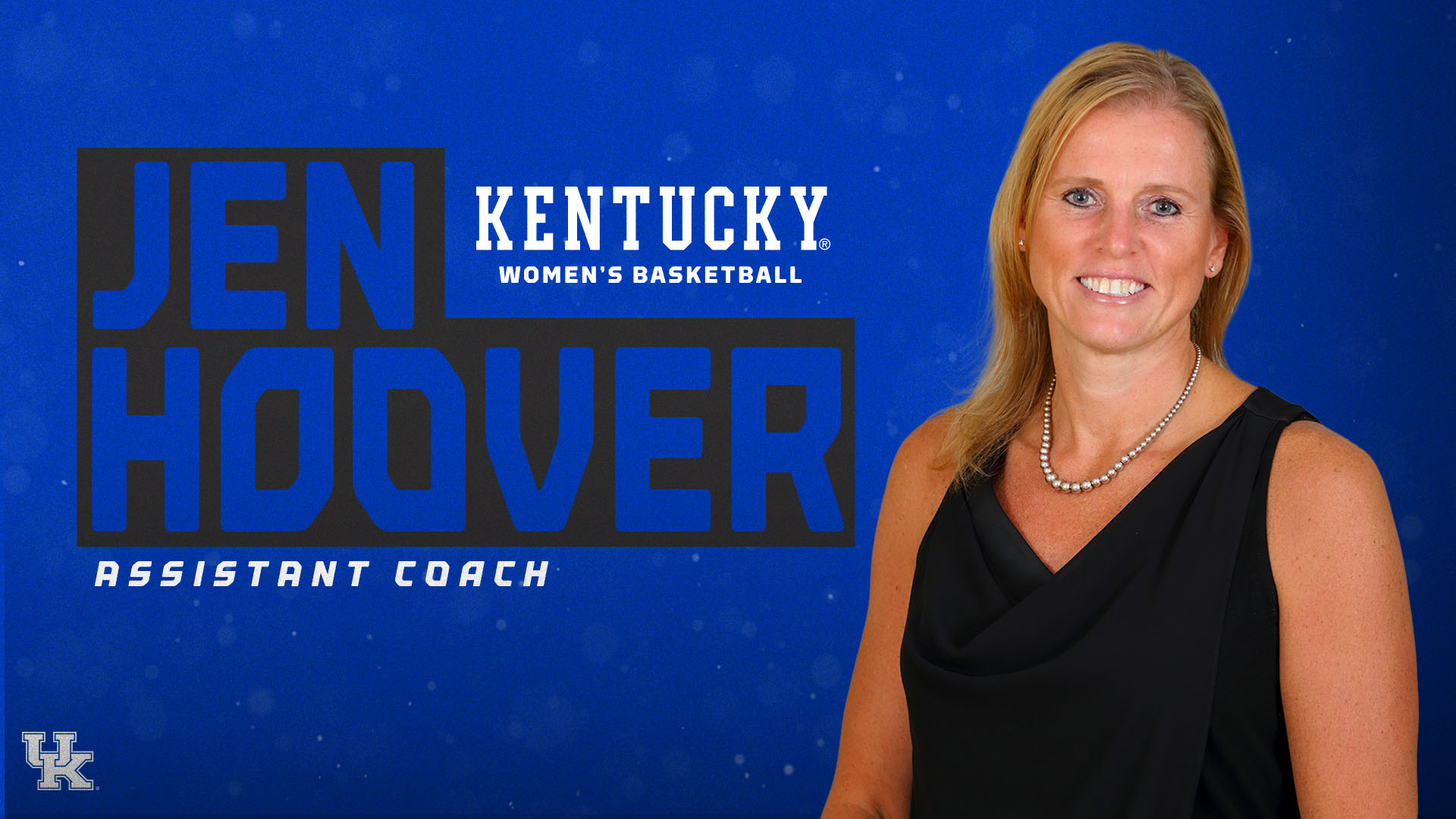 Jen Hoover Named Kentucky Women's Basketball Assistant Coach
LEXINGTON, Ky. – The University of Kentucky women's basketball program has hired Jen Hoover, Wake Forest Sports Hall of Famer and Demon Deacons' all-time winningest head coach, as its new assistant coach, it was announced by head coach Kyra Elzy on Monday.
"We are thrilled to welcome Jen Hoover to the Big Blue Nation as an assistant coach," said Elzy. "She has 20 years of experience in Division I coaching, 11 in which she was a head coach. Jen brings a wealth of knowledge, a competitive spirit and a contagious energy to the Bluegrass. These are vital attributes that will make an immediate impact on our program. Jen's coaching philosophy on and off the court align with our core values at Kentucky. She is excited to get to work, and she will hit the recruiting trails later on this summer."
Hoover comes to Lexington after serving 10 years as the women's basketball head coach at Wake Forest, where she became the all-time winningest head coach in program history with her 126th triumph in the 2020-21 Atlantic Coast Conference Tournament Second Round against North Carolina. In her tenure at Wake Forest, which spanned from 2012-22, Hoover led the Demon Deacons to four postseason appearances, including an NCAA Tournament berth in 2020-21.
"I am incredibly excited for the opportunity to join this elite-level program at the University of Kentucky," said Hoover. "From the moment Coach Elzy and I began conversations about this position, I could feel the passion and energy she has for her players, and I could see her vision for the program, which is to win championships both on and off the court. The Kentucky women's basketball program has proven to be one of the best in the country and I am looking forward to being a part of this special family."
Under her leadership, the Demon Deacons had back-to-back All-ACC First Team selections in Ivana Raca in 2021 and Jewel Spear in 2022. Moreover, Wake Forest produced two WNBA Draft picks under Hoover, including recent selection, Raca, who was taken by the Los Angeles Sparks in 2021. While at Wake Forest, Hoover also developed five 1,000-point scorers.
Before her time in Winston-Salem, Hoover spent one year as the head coach at High Point in 2011-12. During that season, the Panthers earned a 20-13 record, including a 13-5 mark in the Big South. The 20 wins tied for the most in a single season since High Point moved to Division I in 1999. Hoover was named the 2012 Spalding Maggie Dixion Division I Rookie Coach of the Year after the season.
Hoover's assistant coaching career began in 1994 and included stints at California, Virginia, Memphis, James Madison, East Carolina, VCU and Missouri-Kansas City.
In three seasons as an assistant coach at California, from 2008-11, she helped the Golden Bears to a combined 69-36 record, their first-ever NCAA Tournament Sweet 16 in 2009 and a WNIT Championship in 2010. She also helped bring in back-to-back, top-10 recruiting classes at California, including the No. 1 class in 2009. While at Cal, Hoover helped coach Kentucky alumna and current coaching video coordinator DeNesha Stallworth, among All-Americans such as Ashley Walker and Devanei Hampton.
Before her time at California, Hoover was an associate head coach at Memphis in 2007-08 and an assistant coach with the Tigers in 2002-03. Between those two stops at Memphis, she spent four years as an assistant coach, including two years as a recruiting coordinator, under Hall of Farmer Debbie Ryan at Virginia from 2003-07. There, she helped produce a pair of top-15 recruiting classes in 2005 and 2006 and guided the program to a couple of 20-win seasons, an NCAA Tournament appearance and two WNIT berths. She also helped Virginia ink junior college All-American Aisha Mohammed and McDonald's All-American and 2006-07 ACC Rookie of the Year Monica Wright.
Hoover started her coaching career at the University of Missouri-Kansas City from 1994-96, before becoming an assistant coach at Virginia Commonwealth for two seasons in 1996-98. She then spent two seasons at East Carolina from 1998-00, before moving on to James Madison in 2000-02, where she helped the Dukes to the WNIT Final Four.
Hoover has an impressive reputation for developing forwards at the highest level, in part because of her own playing career. A post player herself, she starred for Wake Forest from 1987-91. She was a three-time All-ACC selection and is still second on the school's career charts for points (1,728) and rebounds (1,006). Hoover led the Demon Deacons to their first NCAA Tournament appearance in 1988, and the next year, she helped the South Team win a bronze medal at the Olympic Festival in Oklahoma City, Okla., in 1989. Hoover was later inducted into the Wake Forest Sports Hall of Fame in 2002.
Following her collegiate career in Winston-Salem, she played professionally overseas for the Solna IF Basketball Team in Stockholm, Sweden, from 1991-92. She then played with Athletes in Action on the USA Fall Exhibition Tour in 1993, followed by the Australian Spring Tour the following year, before beginning her career in coaching.
The Roanoke, Virginia, native married her husband John in 2001 and the two have one daughter, Maggie.
"I can't wait to get to work with Coach Elzy, the incredible staff at Kentucky, and the players who have a clear vision of their goals and have set high standards in order to achieve those goals," said Hoover. "A huge thanks to Coach Elzy for allowing me to be a part of the Wildcat family! Go Cats!"
For more information on the Kentucky women's basketball team, visit UKathletics.com or follow @KentuckyWBB on Twitter, Instagram and Facebook.