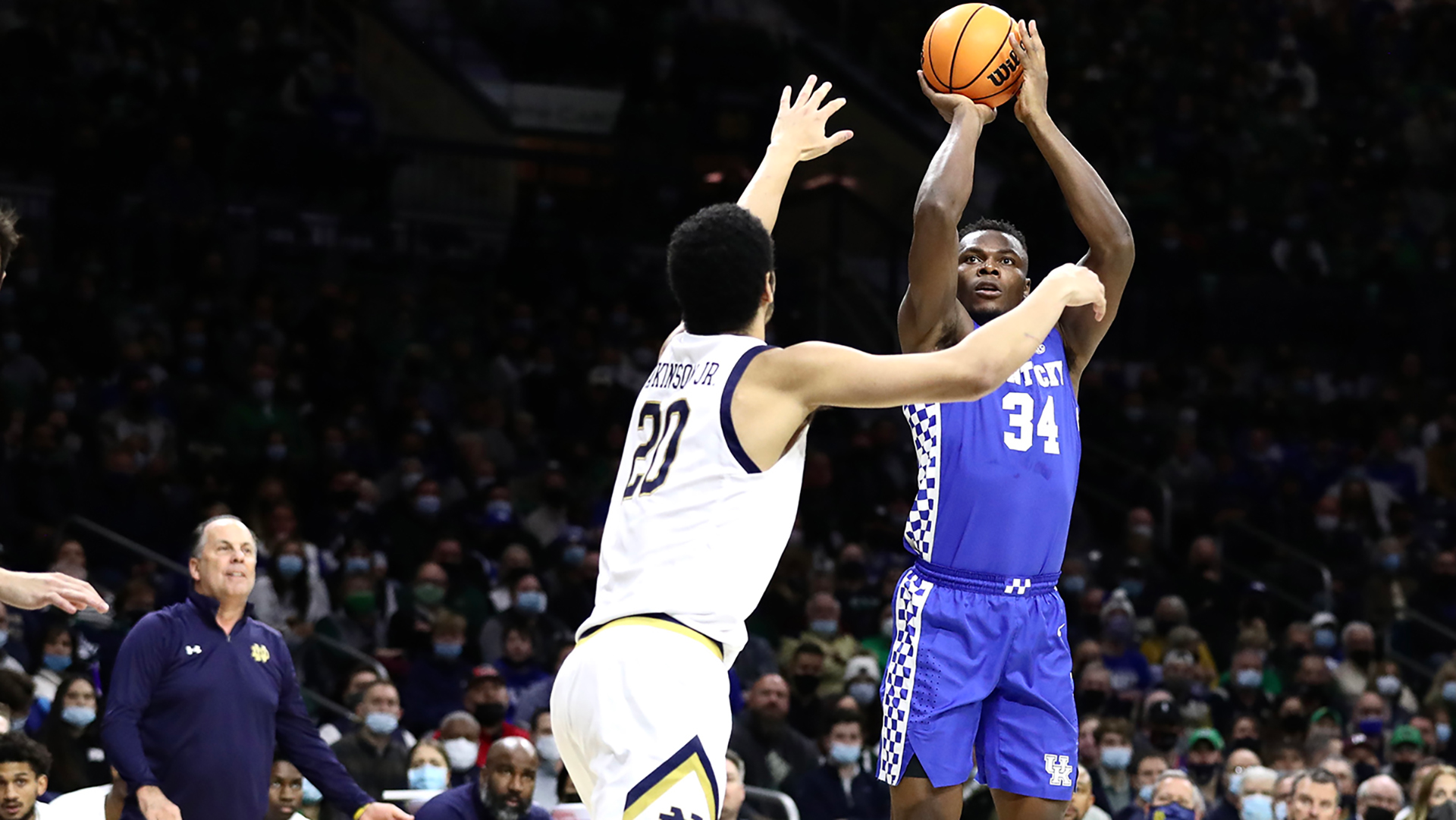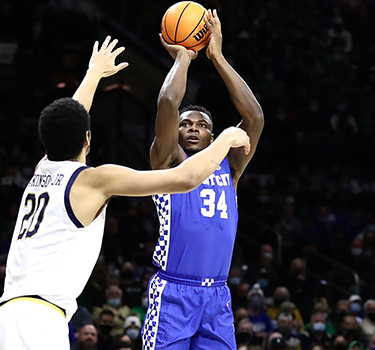 Oscar Tshiebwe Solely Focused on a Single Digit
After announcing that he would return to Kentucky for his senior season, Oscar Tshiebwe wanted to change his uniform number. But a college basketball rule prevented him from donning the new digit he hoped to wear.
"I asked them, why does the NCAA stop (uniform) numbers at five," Tshiebwe said. "You cannot go up. I was trying to get number nine, I was trying to wear number nine. This is my number for this year, I've got a purpose. But I can't wear number nine."
As UK fans know, nine is significant because the 2022-23 Cats will be chasing the school's ninth NCAA Men's Basketball championship. If Kentucky is to reach that lofty goal, Tshiebwe will be a central reason why they get there. Thus, Tshiebwe has made the number nine a key part of his every day life.
"I've put the number nine everywhere, on the board in my room, so I can remember," Tshiebwe said. "I've got a purpose with that number."
Tshiebwe averaged 17.4 points and 15.1 rebounds per game last season. He was the Southeastern Conference Player of the Year and was named the consensus national player of the year as well. He elected to come back to UK instead of staying in the NBA Draft. And he's putting last year in the rear-view mirror.
"For me, the player of the year is gone," Tshiebwe says. "Now, we're in a new season."
He knows that, despite all of the accolades from last season, he still has plenty of aspects of his game on which he can improve.
"Passing, dribbling. I have to be able to catch the ball at the top of the key, open up, jump fake and attack the rim," Tshiebwe said when asked what skills he is developing. "Making passes. And trying to make one, two three-pointers a game. I'm working on that."
While shooting three-pointers may sound like a stretch (he attempted zero shots behind the arc last season), Tshiebwe doesn't plan on spending a large amount of time on the perimeter.
"I'm not going to be over there just trying to shoot. I'm going to still do exactly what I always do," he said. "Coach (John Calipari) just has my game at another level because if you're trying to play professional, in the NBA, you've got to show them that you can take it and shoot them. But my game is not changing. I'm going to be the same Oscar. I am still going for my 20 rebounds. I'm fighting this year for 20."
Tshiebwe is well aware that things won't be easy for him this season. He will be the focus of opponents' game plans all year long. He's prepared for that challenge and knows how he will combat it.
"Everybody says 'we're not letting Oscar do what he did last year.'" Tshiebwe says. "Everyone is asking me why I came back to school, 'you can't' do more than you did last year.' I tell them that the only limits are what you place in front of you. It's going to be a battle because everyone is going to come at me and try to box me out. But the only limits are in my head."
""I didn't just come here to pick up my trophy and go home. I want to leave something here, like a trophy, too. Number nine – that's my purpose.""

Oscar Tshiebwe
One of the things that Tshiebwe has worked on improving for this season is his leadership. It's something he continues to develop.
"This year, I am telling (teammates) to do the right things. Make sure you be where you're supposed to be, make sure you're in the gym working," Tshiebwe said. "If you don't understand anything, come ask the question. If you don't ask the questions, you're not going to know what to do. If I don't know how to help you, I will tell you to go see coach. Just make sure you get to where you're supposed to be, make sure you do your school work and make sure you stay on track."
He knows that keeping himself and his teammates on the proper path is the only way that the Cats will be able to reach their championship dreams.
"If I see somebody not doing good (I tell them), because this is not a year to joke around," Tshiebwe said. "It's a year that everybody's got to do what they are supposed to do. To stay focused. I'm here to help my teammates because together, we are stronger. I told them that this is not a time for rest. This is a time we've got to come together. We've all got one goal – number nine."
Tshiebwe has already notched his name among the greats to ever play at Kentucky. But for him, the individual honors are not the only thing he wants to be remembered by in Lexington.
"I didn't just come here to pick up my trophy and go home," Tshiebwe said. "I want to leave something here, like a trophy, too. Number nine – that's my purpose."
As for reaching his goal to play in the NBA one day, Tshiebwe is putting his team goals above his individual ones.
"For me, it is just work to make sure we get that number nine," Tshiebwe said. "The rest is going to take care of itself."