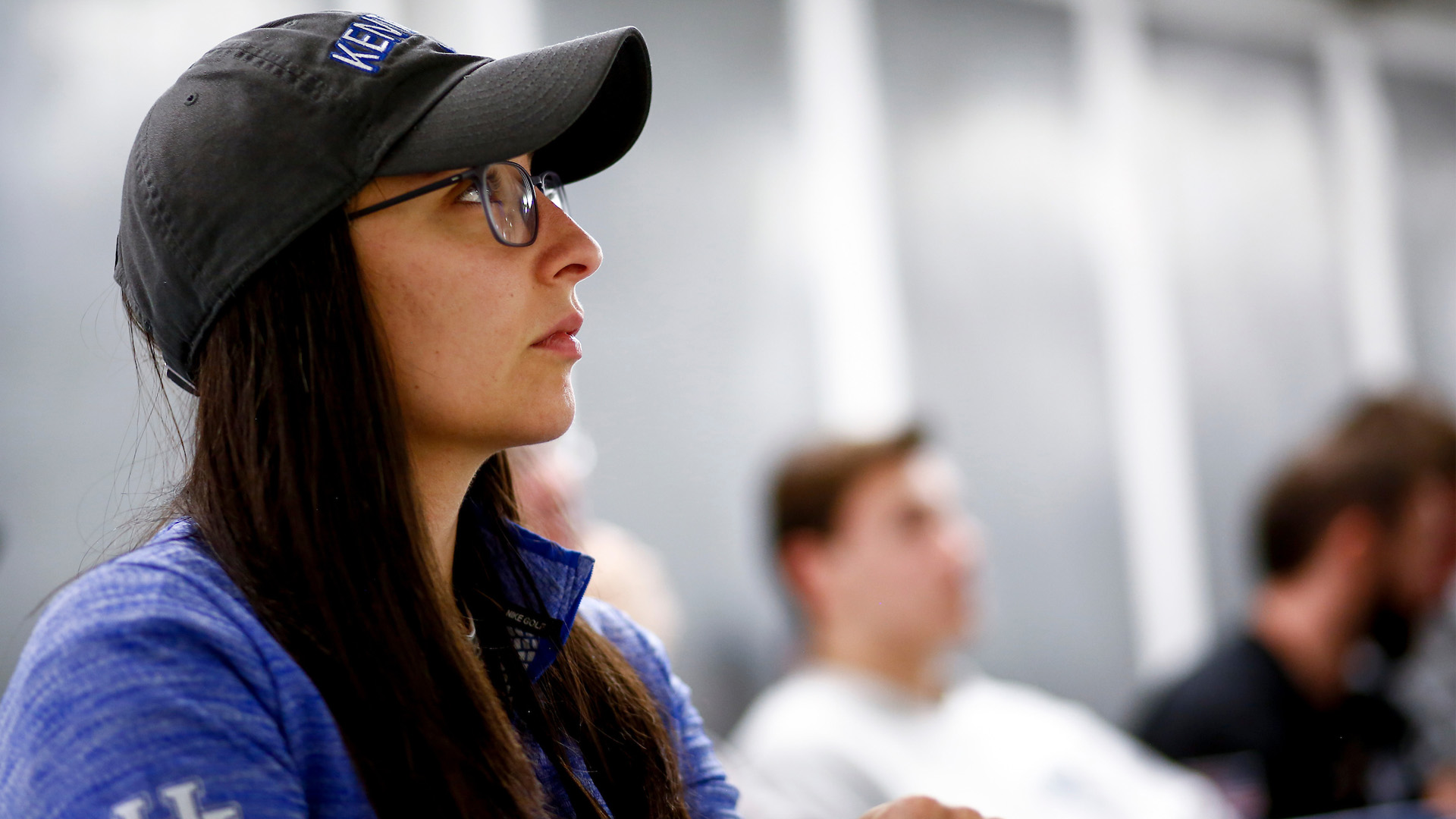 LEXINGTON, Ky. – Future Dr. Rena Curvey, who helped the University of Kentucky rifle team cement itself as the nation's top program with three national championships during her tenure as assistant coach, will close the book on her time with the program at the end of June as she pursues a career related to her doctoral degree in counseling and sport psychology.
"Rena was the perfect coach at the perfect time for our program, helping us achieve not only tremendous success competitively, but academically and culturally," UK head coach Harry Mullins said. "She worked tirelessly with our student-athletes daily in so many areas, which ultimately led to our overall team success during her tenure. As much as I hate to see her go, I know that her work with sports psychology is very important and I cannot wait to see what advancements she can make in that area in the future. She will always be a Wildcat and we cannot thank her enough for all her contributions."
Curvey, who came to Lexington and joined the rifle program in 2014, leaves the program after an unprecedented list of success, including the 2018 National Assistant Coach of the Year honor and 2019 Great America Rifle Coach Assistant Coach of the Year title.
"It has been a privilege to serve as Kentucky rifle's assistant coach the past eight years," Curvey said. "I want to thank UK Athletics, Mitch Barnhart and Coach Mullins for allowing me to chase my dreams both professionally and academically. To all the athletes I've worked with over the years, you are what makes Kentucky rifle a special place. I am grateful for getting to be a small part of your journey as athletes and young adults. While I am very excited to pursue the next step of my professional career at Auburn University, I will greatly miss my Kentucky family."
Curvey's tenure with the rifle team saw the Wildcats win their second, third and fourth national championships. The 2018 title was Kentucky's first since 2011 and set the stage for Kentucky to dominate the collegiate rifle scene the next four years.
Curvey had a major impact on the 2020 team that went on a perfect run through the regular season and was the top qualifier for the 2020 NCAA Rifle Championships. The 2020 squad had five All-Americans and won the GARC regular-season and tournament championships.
Her calming presence and experience was paramount on the 2021 and 2022 teams, helping the Wildcats finish their unfinished business in 2021 and handle the pressure to repeat as champions in 2022. The accomplishment made the program the first at UK to claim back-to-back NCAA national titles since the men's basketball team in the 1940s.
She also helped UK to two GARC tournament crowns and three GARC regular-season championships. Dozens of athletes during her tenure earned All-America and All-GARC honors and succeeded at the highest level.
During her stint, she coached an Olympic gold medalist, Olympic silver medalist, two NCAA Smallbore National Individual Champions and two NCAA Air Rifle National Individual Champions. All told, with her tutelage, UK players earned four National Shooter of the Year honors, three GARC Shooter of the Year honors, three National Rookie of the Year honors, three GARC Rookie of the Year honors, two GARC Smallbore Individual Championships and four GARC Air Rifle Individual Championships.
Before her time at UK, Curvey was a member of the Ole Miss rifle team for four years, serving as team captain for the last two. She obtained a bachelor's degree in Exercise Science from the University of Mississippi. She excelled on and off the range in Oxford and was part of a generation that redefined the definition of success for the Ole Miss rifle program.
For more information on the Kentucky rifle team, visit UKathletics.com or follow UKRifle on Twitter, Instagram and Facebook.