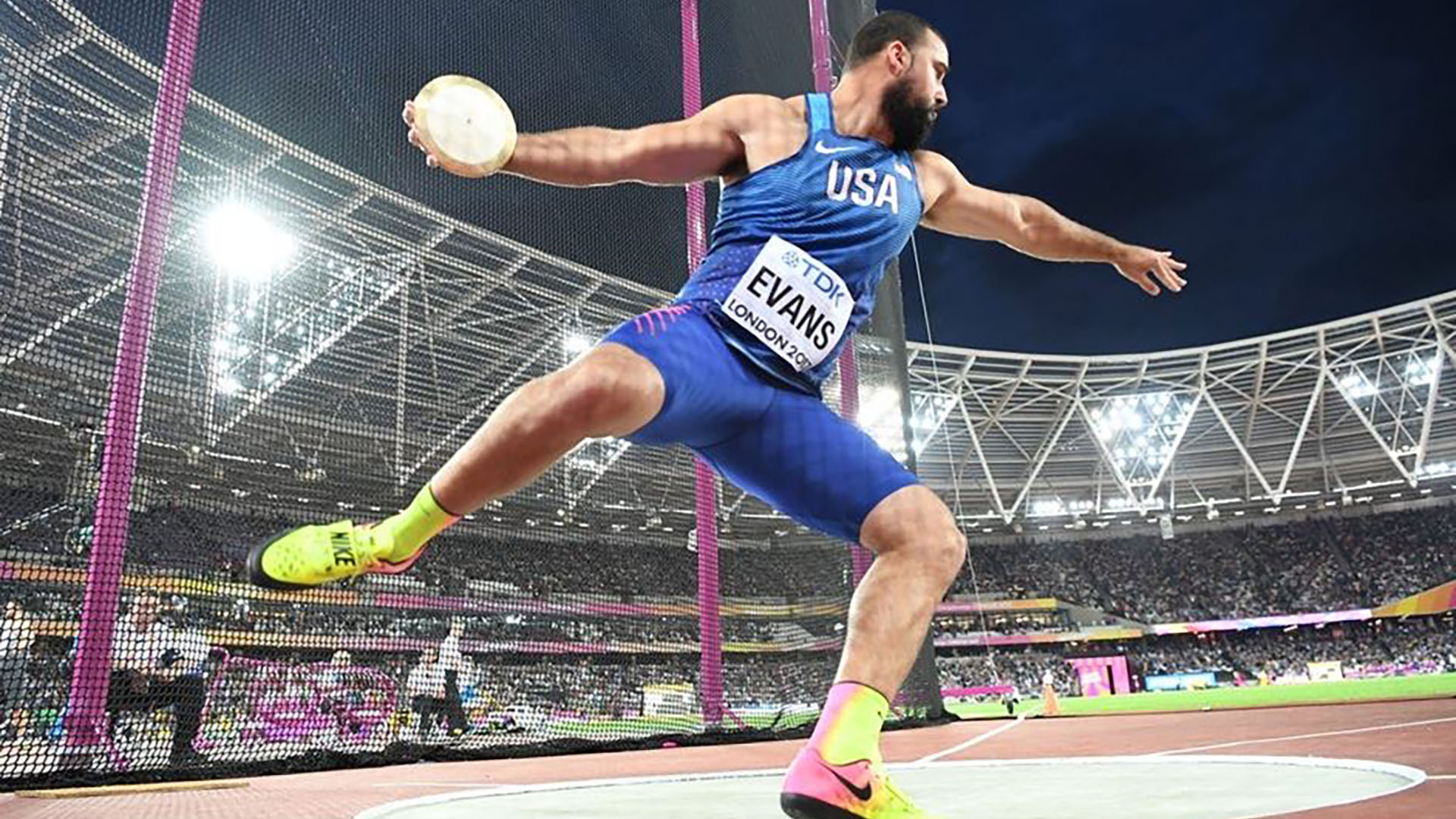 UKTF Alumnus Andrew Evans Qualifies for World Championships, McLaughlin Runs Top 400H Time
EUGENE, Ore. — Twelve current and former members of Kentucky track & field competed on the first day of USA Track & Field Outdoor Championships on Thursday at Hayward Field highlighted by five qualifying for the semifinal rounds and one alumnus qualifying for World Athletics Championships with Team USA.
Sydney McLaughlin had one of her usual top performances, running the fastest time of 400H prelims at 54.11. Masai Russell won heat two to automatically qualify for semifinals with a time of 56.51.
Andrew Evans, a Rio 2016 Olympian and UK Class of 2014, placed first in the discus and will compete for Team USA at the World Athletics Championships.
UK volunteer assistant coach Christian Coleman ran the third fastest time of 100m prelims at 10.08 (-.7) and will compete in semifinals on Friday.
UKTF Alumnae Javianne Oliver and Celera Barnes qualified for 100m semifinals, tying for fifth with times of 11.02 apiece. Barnes earned a big Q while Oliver, who ran in the fastest heat of the evening, qualified based off time.
Sha'Keela Saunders placed sixth in the long jump with a season best 21'4.25″/6.51m jump.
Jade Gates was not able to record a mark in the hammer throw.
Alexis Holmes ran the 400m in 52.68 in prelims and will not advance to semifinals. UKTF alumna Chloe Abbott will also not advance to semifinals.
Four more current members of Kentucky track & field, eight alumni and one volunteer assistant coach have yet to finish competing at USAs.
In addition, two more current UKTF student-athletes, Megan Moss and Dwight St. Hillaire, are competing in the Bahamas National Championships and Trinidad & Tobago National Championships this weekend, respectively, from Friday to Sunday. Moss will be joined by volunteer assistant coach Devynne Charlton at the Bahamas National Championships.
UKTF signees Jordan Anthony, Brandon Miller and Victoria Perrow will be competing in the USATF U20 Outdoor National Championships, also in Eugene, starting on Friday.
The top three in each event at both USATF Outdoor National Championships and the U20 Championships will qualify to compete for Team USA in the World Athletics Championships from July 15 through July 24.
Below is a list of current UKTF student-athletes and UKTF alumni that are competing at USATF Outdoor National Championships.
Men
Keaton Daniel – pole vault

Brian Faust – 400m

Josh Sobota – shot put

Christian Coleman (UK volunteer coach, UT alum) – 100m, 200m

Daniel Roberts (UK Class of 2019) – 110m hurdles

Andrew Evans (UK Class of 2014) – discus
Women
Jade Gates – hammer throw

Alexis Holmes – 400m

Masai Russell – 100m hurdles, 400m hurdles

Abby Steiner – 200m

Chloe Abbott (UKTF 2018-2020) – 400m

Celera Barnes (UK Class of 2021) – 100m

Dezerea Bryant (UK Class of 2015) – 200m

Olivia Gruver (UKTF 2015-2018) – pole vault

Keni Harrison (UK Class of 2015) – 100m hurdles

Sydney McLaughlin (UKTF 2017-2018) – 400m hurdles

Javianne Oliver (UK Class of 2017) – 100m

Sha'Keela Saunders (UK Class of 2017) – long jump
USATF Outdoor National Championships Meet Information 
The meet begins on Thursday at 7:50 p.m. ET for the Wildcats with the 400m hurdles first round and concludes Sunday with the men's 110m hurdles final at 5:54 p.m.
Live results can be found at results.usatf.org.
Tickets can be bought on Ticketmaster for each day of the competition.
Click here for a full list of entries.
The meet will be streamed live on USATF.tv each day. On Friday, the meet will also air on CNBC from 10 p.m. to midnight ET, on NBC from 4 p.m. to 6 p.m. ET on Saturday, on NBC from 4 p.m. to 5 p.m. ET and USA from 5 p.m. to 6 p.m. ET on Sunday.
USATF U20 Outdoor National Championships Meet Information 
The meet begins Thursday with the decathlon and heptathlon events, but UKTF signees Miller and Anthony will take the track for the first time on Friday at 5:12 p.m. ET for the 100m first round. The men's 100m final is at 7:37 p.m. ET.
Perrow, a transfer from Georgia, will run in the women's 100m first round at 4:52 p.m. ET and potentially the final at 7:29 p.m. ET.
Both men will also compete in the 200m first round on Saturday at 7:05 p.m. with finals starting at 8:37 p.m. ET.
Live results can be found at results.usatf.org.
Click here for a full list of entries.
The meet will be streamed live on USATF.tv.
Anthony is an incoming freshman who will compete for both UK football and UK track & field.
Miller, a rising sophomore, is the reigning indoor and outdoor 200m Division II national champion from Grand Valley State who is transferring to UK in the fall.
Bahamas and Trinidad & Tobago National Championships Meet Information 
The Bahamas Track & Field National Championships will be held on Friday and Saturday with the relay carnival happening on Sunday in the Tar National Stadium in Nassau, Bahamas.
Sunday's relay carnival will give Megan Moss a chance to run in the Bahamas 4x400m team at world championships, in addition to running the open 400m during the first two days of competition.
St. Hillaire is one of Trinidad & Tobago's fastest 400m runners and will compete in his country's national meet from Friday through Sunday in the Hasley Crawford Stadium in Port of Spain, Trinidad.
He will compete in both the 200m and 400m prelims on Friday afternoon, hopefully advancing to the final in each race on Saturday (400m) and Sunday (200m).
UKTF Alumni at USAs 
Nine Wildcat alumni are set to compete at USATF Outdoor National Champions, including four Olympians and three more NCAA medalists.
Sydney McLaughlin, two-time Olympic gold medalist and world record holder, will highlight UKTF alumni this week by competing in her signature event, the 400m hurdles. McLaughlin became Olympic champion in the 400m hurdles in world record time (51.46) last summer in Tokyo, in addition to running in the gold medal 4x400m relay.
Most recently, McLaughlin came close to her world-record time at the Music City Track Carnival in Nashville with a 51.61 world-leading time for this year. It was the third-fastest time in world history in the event, in which McLaughlin holds three of the four fastest times ever.
Olympic silver medalist and world record holder in the 100m hurdles, Keni Harrison, will be running in the same event. Harrison placed second at the Tokyo Olympics (12.52) to fellow UKTF alum Jasmine Camacho-Quinn who competed for Puerto Rico. Harrison ran the world record in July 2016 (12.20) despite not making the 2016 Rio Olympics that year.
Javianne Oliver, also an Olympic silver medalist, will be competing in her best event, the 100m. She earned silver in the 4x100m relay for Team USA in Tokyo.
World silver medalist and 2019 60m hurdles NCAA runner-up Daniel Roberts will run the 110m hurdles. He also competed at the Tokyo Olympics in the same event after finishing third at trials. He has the second fastest 60H time in collegiate history and both the 60H and 110H program records.
Sha'Keela Saunders, Olivia Gruver and Dezerea Bryant all earned NCAA medals during their time at UK. Saunders was a three-time NCAA runner-up in long jump and holds UK's indoor and outdoor program records. At the U.S. Olympic Team Trials in 2021, Saunders finished fourth with a 22-foot jump.
Gruver holds UK's indoor and outdoor pole vault school records, in which she became NCAA champion in 2017 and 2018 before transferring to University of Washington. Dezerea Bryant will compete in both the 100m and 200m this week. She finished ninth in the 100m at last year's U.S. Olympic Trials and sixth in the 200m. She currently sits second all-time for UK in the 60m, 100m and 200m, second only to Abby Steiner.
NCAA Championships Recap 
Kentucky track & field earned 32 All-America honors coming from 19 Wildcats at 2022 NCAA Outdoor Championships.
The women's team led the way with 13 first team honors which is the second most of any women's program. Four of those 13 honors came from Abby Steiner – the most of any athlete in the meet.
The men's team earned 14 total All-America honors with five first team honors from nine Wildcats while the women's team earned 18 total All-America honors from 10 Wildcats.
Seven of those 19 Wildcats at NCAA Championships will be competing at USATF Championships.
The UK women's team placed third overall, earning a top-four (trophy) team finish at the Outdoor NCAA Championships for the fourth time ever, and the first time since 2018, when the Wildcats were fourth for the second year in a row. UK scored its most points at the NCAA Outdoor Championships since tallying 50 in a national runner-up finish in 2015.
Steiner won the NCAA 200m title in one of the meet's most anticipated events, finishing in 21.80 seconds. It will be her sole event at this week's Championships as the wind-legal world leader so far this year. She's coming off a recent Honda Sport Award for Track & Field win, was recently named USTFCCCA Outdoor Women's National Track Athlete of the Year and is a Bowerman semifinalist.
Steiner got off to a great start and then unleashed one of her trademark late acceleration performances down the stretch and raising her arms in triumph at the finish line to outduel LSU's Favour Ofili. The LSU Tiger had set the previous NCAA record (21.96 in April) and won their showdown at the Southeastern Conference Championships in Oxford, Miss., last month.
"I don't think it's sunk in yet," Steiner said. "Just looking back on the meet from last year, I was watching it from my couch, and so much has gone into just being at this meet in the first place. I'm just surrounded by so many amazing people at Kentucky, my family was able to be here, so these are moments I'm going to hold onto forever."
UK's collegiate-record-holding 4x400m relay of Karimah Davis, Dajour Miles, Steiner and Alexis Holmes won the Championship's last event with a time of 3:22.55.
Steiner made up about a 25-meter deficit on the third leg, eventually clocking a 48.92 split before Holmes hammered out a dominant 50.22 anchor leg to give the Wildcats the first outdoor 4×4 national title in program history.
The 4x400m victory was also especially sweet for Coach Greene.
"That's one of the individual events I've been chasing for 30 years, and to finally win one, that was a heck of a feeling as a coach. I'm excited for the young people to be national champions in the 4x400m," said Greene.
The women's 4x100m relay of Shadajah Ballard, Steiner, Masai Russell and Davis claimed NCAA silver with a time of 42.55 to score eight points.
Masai Russell earned her first individual NCAA top three finish, a bronze in the 100m hurdles, running 12.81. Russell came back and scored five more points in the 400m hurdles, running 55.83 for fourth place. Combining her share of silver-medal points in the 4×1 (two points), Russell earned 12 for the meet. She will compete in both hurdles events this week, just as she did at 2021 U.S. Olympic Team Trials.
Steiner claimed bronze in the 100m with a time of 11.08 (+0.2).
Sophomore pole vaulter Keaton Daniel scored six points for the Kentucky track and field team, earning a bronze medal on the first night of the 2022 NCAA Outdoor Championships. At last year's Olympic Trials, Daniel placed eighth while tying his personal best, looking to make the final once again at national-level competition.
Daniel, the two-time defending Southeastern Conference outdoor champion, cleared a season best 18'6.5″/5.65.
Alexis Holmes ran a brave and powerful first half of the 400m and came off the final turn in the lead, before finishing in a personal best 50.71 for fourth place and five points. Her time moved her past Chloe Abbott for No. 2 on the UK all-time list, only behind double Olympic gold medalist Sydney McLaughlin's school record that has stood since 2018. Holmes will race Abbott in the 400m this week for her first national competition in three years.
The Kentucky track and field team's 4×400-meter relay of Dwight St. Hillaire, Lance Lang, Kennedy Lightner and Brian Faust finished sixth to score three points on the final day of the men's team competition at the 2022 NCAA Outdoor Championships.
Faust overtook three teams on the anchor leg to earn three points for the Wildcats as they finished in 3:02.98. He will run in the 400m this week, coming off solid runs in the open 400m at NCAA Championships and a personal best 45.94 at NCAA East Preliminary Championships.
Josh Sobota placed ninth in the men's shot put with a mark of 64'8.75″/19.73m on his second attempt. He was knocked out of the eighth and final scoring place in the last round of the final. His season best of 65'9.75″/20.06m from NCAA East Prelims earned him a spot at this week's meet.
Moss ran a personal best 51.73 in the 400m semifinal to move to No. 4 on the UK all-time list even though she was 15th fastest of the heats and did not advance.
Jade Gates wrapped her collegiate career with three fouls in the first flight of the hammer throw. She qualified for the NCAA Championships with a ninth-place finish at NCAA East Prelims (215'5″/65.66m) after she set a school record with a silver medal performance at SEC Championships in (220'0″/67.05m).
Follow Kentucky Track and Field and Cross Country on Facebook, Instagram, Twitter and at UKathletics.com.
All times are in eastern standard time. Competitors are in pacific daylight time.
Thursday Events

Time

Round

UK entry

Women's 400m Hurdles

7:50 p.m. ET

1st Round

1. Sydney McLaughlin – 54.11Q

10. Masai Russell – 56.51Q

Women's Hammer Throw

8 p.m.

Final

Jade Gates – Foul

Women's Long Jump

8:15 p.m.

Final

6. Sha'Keela Saunders – 21'4.25″/6.51m, SB

Women's 100m

8:15 p.m.

1st Round

5. Celera Barnes – 11.02Q (+2.0), PB

5. Javianne Oliver – 11.02q (+1.5), SB

Dezerea Bryant – DNS

Men's 100m

8:40 p.m.

1st Round

3. Christian Coleman – 10.08Q (-.7)

Men's Discus

8:45 p.m.

Final

1. Andrew Evans – 207'8″/63.31m, World Championships Q

Women's 400m

10:26 p.m.

1st Round

19. Alexis Holmes – 52.68

28. Chloe Abbott – 55.11

Men's 400m

10:52 p.m.

1st Round

Brian Faust – 47.06
Friday Events

Time

Rnd

Status

Women's 100m Hurdles

8:10 p.m.

1st Round

Masai Russell

Keni Harrison

Women's 100m

8:35 p.m.

Semis

Javianne Oliver

Celera Barnes

Men's 100m

8:50 p.m.

Semis

Christian Coleman

Women's Pole Vault

8:55 p.m.

Final

Olivia Gruver

Men's Shot Put

9:42 p.m.

Final

Josh Sobota

Women's 400m Hurdles

10:04 p.m.

Semis

Masai Russell

Sydney McLaughlin

Women's 100m

10:21 p.m.

Final

Javianne Oliver

Celera Barnes

Men's 100m

10:30 p.m.

Final

Christian Coleman
Saturday Events

Time

Rnd

Status

Men's 200m

2:45 p.m.

1st Round

Christian Coleman

Men's Pole Vault

3 p.m.

Final

Keaton Daniel

Women's 200m

3:10 p.m.

1st Round

Abby Steiner

Dezerea Bryant

Men's 110m Hurdles

3:35 p.m.

1st Round

Daniel Roberts

Women's 100m Hurdles

4:04 p.m.

Semis

Masai Russell

Keni Harrison

Women's 100m Hurdles

5:41 p.m.

Final

Masai Russell

Keni Harrison

Women's 400m Hurdles

5:51 p.m.

Final

Masai Russell

Sydney McLaughlin
Sunday Events

Time

Round

Status

Men's 200m

3:30 p.m.

Semis

Christian Coleman

Women's 200m

3:46 p.m.

Semis

Abby Steiner

Dezerea Bryant

Men's 110m Hurdles

4:04 p.m.

Semis

Daniel Roberts

Men's 200m

5:38 p.m.

Final

Christian Coleman

Women's 200m

5:46 p.m.

Final

Abby Steiner

Dezerea Bryant

Men's 110m Hurdles

5:54 p.m.

Final

Daniel Roberts