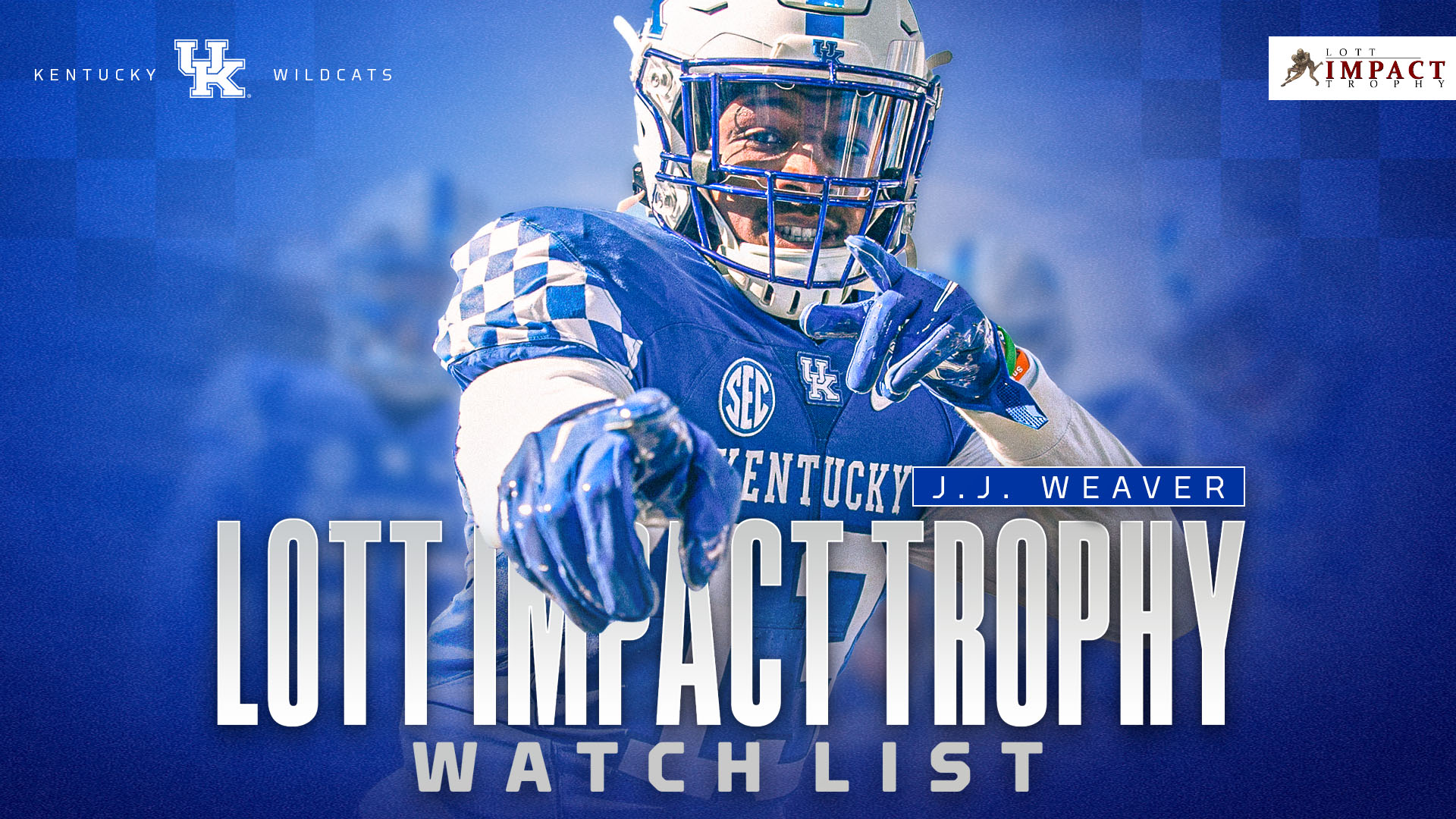 Junior outside linebacker J.J. Weaver was one of 42 candidates named to the 2022 Lott IMPACT Trophy Watch List, announced by the Pacific Club IMPACT Foundation on May 19 in Newport Beach, California.
 
The Lott IMPACT Trophy is the only major college football award that considers character.
Named after NFL Hall of Famer Ronnie Lott, The Lott Trophy annually goes to the Defensive IMPACT Player of the Year, a player who has had the biggest impact on his team both on and off the field.  IMPACT stands for Integrity, Maturity, Performance, Academics, Community and Tenacity, all characteristics exhibited by Lott during his illustrious playing career.
Weaver, a 6-foot-5, 231-pounder from Louisville, Kentucky, played in all 12 games for the 22nd-ranked Wildcats last season, earning six starting assignments. He totaled 34 tackles, 10.0 tackles for loss (second on the team), a team-high 6.0 sacks, four quarterback hurries, two interceptions, one forced fumble and one pass breakups. He was named third-team All-Southeastern Conference by Phil Steele.
Weaver was having a breakout freshman campaign with 33.5 tackles and 6.5 tackles for a loss through nine games of the 2020 season when he suffered a torn anterior cruciate ligament in his right knee at Florida. Despite missing the final two games, he still earned All-SEC Freshman Team honors.
 
That injury was just one part of a very difficult year for Weaver, who also lost his father to homicide and then in the fall of 2021 lost his beloved high school coach, Rob Reader, to liver cancer. As a result, his challenging off-season included both the rehabilitation of his knee and undergoing counseling to deal with his grief. Both were successful as he returned to the field with a strong knee and a clear mind. He was named the Mayo Clinic Comeback Player of the Year Award and was a Capital One Orange Bowl Courage Award nominee in 2021 because of his resolve on and off the field.
 
Another interesting note about Weaver is that he has polydactyly, a condition in which a person has more than five fingers or toes on one, or on each, hand or foot. Weaver plays with six functioning fingers on his right hand. He now not only uses his platform to speak to elementary school kids on the importance of mental health but also how to embrace being different.
 
The annual winner of the Lott IMPACT Trophy is selected by a national voter panel, consisting of former winners, members of the media, coaches, and members of the Board of Directors of The IMPACT Foundation.
The winner is announced at a gala black-tie event at The Pacific Club in Newport Beach, California. The 2022 banquet will be Dec. 11.
Kentucky's Josh Allen won the Lott IMPACT Trophy in 2018, while Yusuf Corker was a semifinalist for the award last season.