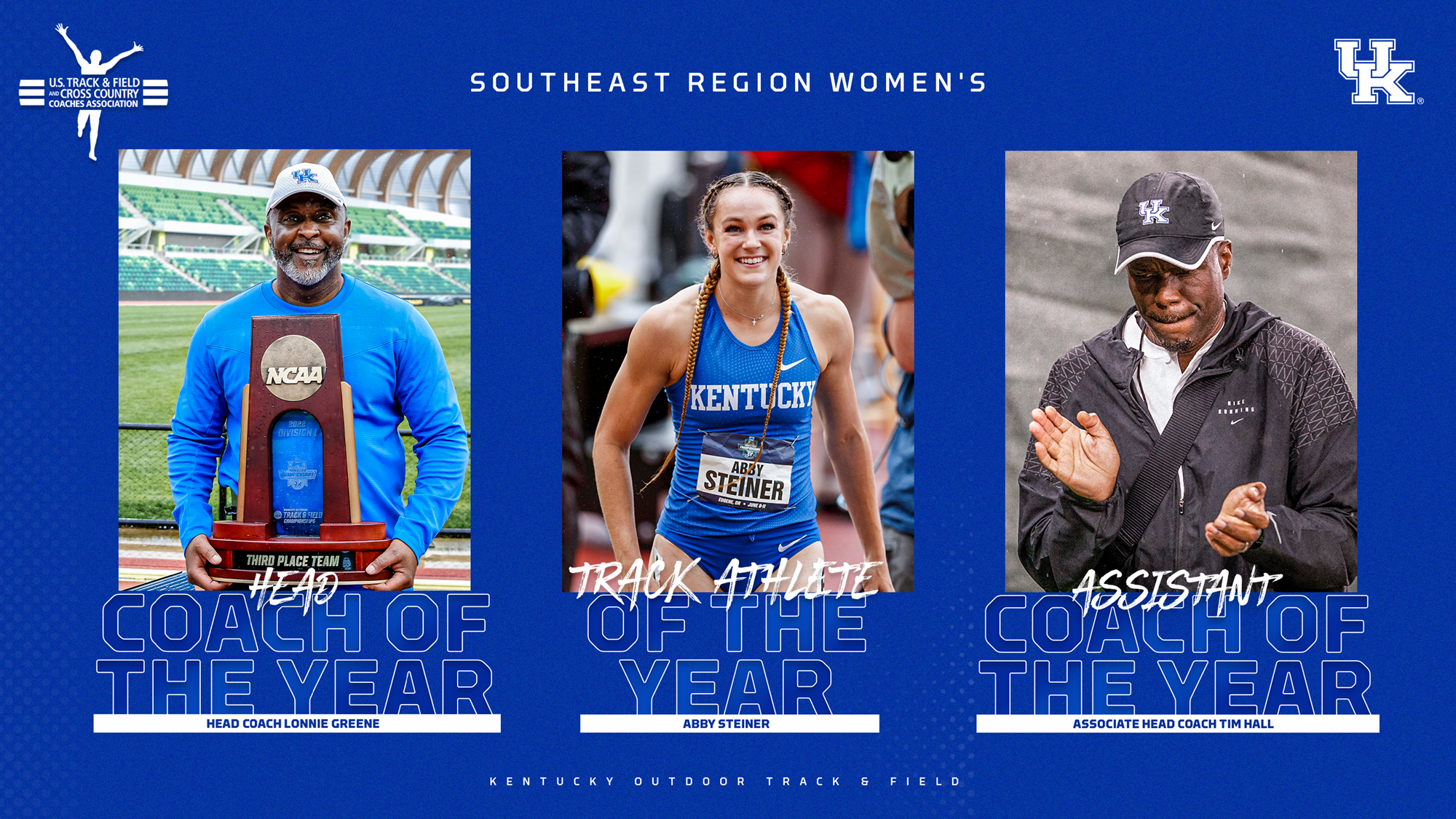 Lonnie Greene, Tim Hall, Abby Steiner Win USTFCCCA Regional Awards
LEXINGTON, Ky. — Kentucky track & field's Abby Steiner, Head Coach Lonnie Greene and Associate Head Coach Tim Hall earned United States Track & Field and Cross Country Coaches Association Southeast Region awards for the second year in a row Thursday afternoon.  
Steiner was named the Women's Runner of the Year, Coach Greene the Women's Coach of the Year and Coach Hall the Women's Assistant Coach of the Year.  
The Southeast Region is comprised of 35 Division I schools in Virginia, North Carolina, South Carolina and Kentucky, in which the women's team finished the outdoor season ranked first.  
This is the seventh time that Greene has won a men's or women's Regional Coach of the Year Award from the USTFCCCA, his third at Kentucky.  This is the 11th regional men's or women's assistant coach of the year award for Hall, seven of which have come at Kentucky. 
Greene's fearless leadership of the men's and women's teams earned multiple program records.  
The women's team tied a program record 50 points at NCAA Outdoor Championships, placing third as a team for Coach Greene's first NCAA outdoor team trophy (top-four finish at NCAA Championships) as a head coach.  
The Wildcats earned 32 All-America honors, 18 first-team honors and five second-team honors from 19 student-athletes, including both men and women. Thirteen of those first-team honors came on the women's side with 18 total All-America honors for the women's team. 
At SEC Championships, the women's team placed fourth. 
Greene closely coaches the 400m and hurdles runners and trained UKTF standouts Alexis Holmes, Masai Russell and Megan Moss.  
Russell ran for bronze in the 100m hurdles and fourth in the 400m hurdles at NCAA Championships while also earned two bronze medals in the same races at SEC Championships, and silver in the 4x100m at both SECs and NCAAs. 
Holmes ran for SEC bronze in the 400m and fourth at NCAA Championships with a personal best 50.71 run, which is second all-time for UK. 
Megan Moss also ran the 400m at NCAA Championships, placing 15th with a personal best 51.73 (fourth all-time for UK) for second-team All-America honors. 
Steiner earned this award through consistent record-breaking performances in the 100m, 200m and 4x400m. During the outdoor season, she earned four SEC medals and four NCAA trophies: earning hardware in each final in which she competed. 
The senior from Ohio recently won her first and second outdoor NCAA titles with her collegiate record-breaking and world leading run of 21.80 in the 200m, coupled with a 4x400m title win thanks to her 48.92 split. 
She also ran in the collegiate record/SEC champion 4x400m relay (3:21.93), running a 48.7 split as the third leg. 
Steiner ran for 100m bronze at NCAAs and silver at SECs while also earning silver in the 4x100m at both post season meets. Her 100m semifinal at NCAAs was a personal best of 10.90. 
She now has four collegiate records (200m indoor and outdoor, 300m and outdoor 4x400m) and seven program records (60m, 100m, indoor and outdoor 200m, 300m, indoor and outdoor 4x400m). 
Hall, Steiner's coach in the short sprints, helped train her for this historic season and impressive performances from the rest of the women's sprinters. 
Hall's sprinters Karimah Davis, Dajour Miles joined Steiner in the 4x400m at SECs and NCAAs to earn first team All-America honors with the addition of Russell and Shadajah Ballard in both 4x100m relays. 
In total, the women's sprinters coached by Hall earned 34 points at NCAA Outdoor Championships and 12 first-team All-America honors. 
Follow Kentucky Track and Field and Cross Country on Facebook, Instagram, Twitter and at UKathletics.com.