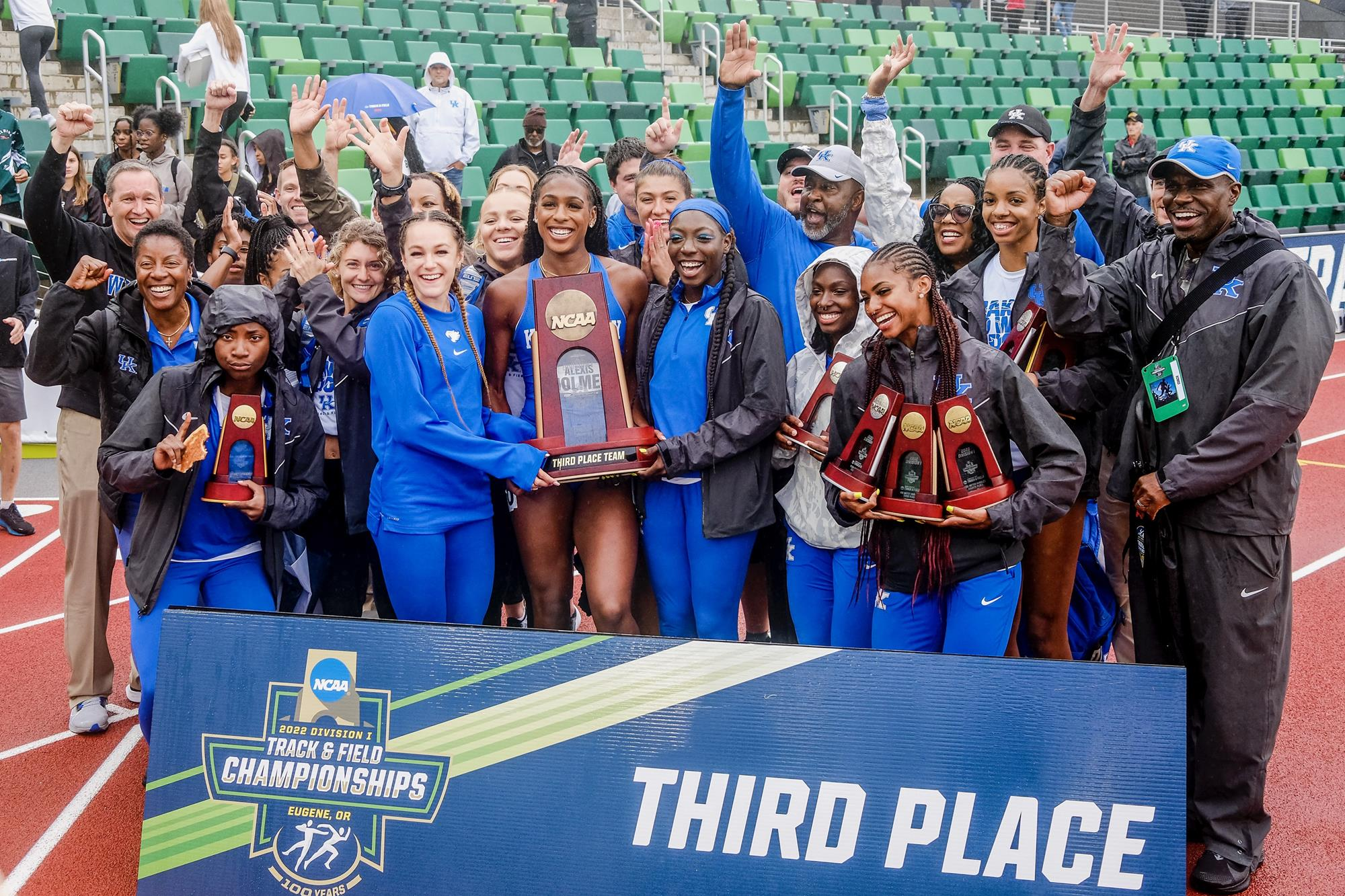 UKTF Women's Team Third at NCAA Championships, Steiner, 4x4 Win Event Titles
EUGENE, Ore. – The Kentucky women's track and field team finished third at the NCAA Outdoor Championships with 50 points, led by Abby Steiner's 200-meter individual title in collegiate-record time, and 4x400m relay of Karimah Davis, Dajour Miles, Steiner and Alexis Holmes' event crown on Saturday at Hayward Field.
"Any time you're at the end of the meet and you're one of the teams on the infield, that means you've had a successful outing," said Head Coach Lonnie Greene.
"We happened to be the third best team indoors and outdoors, and for that I'm very grateful to my staff, the student-athletes and everybody that's connected to the program, including all the support staff," said Greene.
The UK women's team earned a top-four (trophy) team finish at the Outdoor NCAA Championships for the fourth time ever, and the first time since 2018, when the Wildcats were also fourth for the second year in a row. UK scored its most points at the NCAA Outdoor Championships since tallying 50 in a national runner-up finish in 2015.
Steiner won the NCAA 200m title in one of the meet's most anticipated events, finishing in 21.80 seconds.
Steiner got off to a great start and then unleashed one of her trademark late acceleration performances down the stretch and raising her arms in triumph at the finish line to outduel LSU's Favour Ofili. The LSU Tiger had set the previous NCAA record (21.96 in April) and won their showdown at the Southeastern Conference Championships in Oxford, Miss., last month.
"I don't think it's sunk in yet," Steiner said.
"Just looking back on the meet from last year, I was watching it from my couch, and so much has gone into just being at this meet in the first place. I'm just surrounded by so many amazing people at Kentucky, my family was able to be here, so these are moments I'm going to hold onto forever."
The two rivals showed incredible sportsmanship after the race, hugging at the finish line in a fitting embodiment of the SEC's "It Just Means More" slogan.
UK's collegiate-record-holding 4x400m relay of Karimah Davis, Dajour Miles, Steiner and Alexis Holmes won the Championship's last event with a time of 3:22.55.
"Honestly, competing with such amazing talent around me motivates me to want to be good," said Davis, the leadoff leg of the 4x400m.
"Seeing how all of them care and put their all into this, I think it's amazing to see how much we all come together and bring out amazing times."
Steiner made up about a 25-meter deficit on the third leg, eventually clocking a 48.92 split before Holmes hammered out a dominant 50.22 anchor leg to give the Wildcats the first outdoor 4×4 national title in program history.
"I was just thinking about my relay team, our teammates that were watching, our coaches, I just really wanted to do well and perform for them and bring it home, so I was just trying to focus on getting to the line first," said Holmes after anchoring the relay.
The 4x400m victory was also especially sweet for Coach Greene.
"That's one of the individual events I've been chasing for 30 years, and to finally win one, that was a heck of a feeling as a coach. I'm excited for the young people to be national champions in the 4x400m," said Greene.
The women's 4x100m relay of Shadajah Ballard, Steiner, Masai Russell and Davis claimed NCAA silver with a time of 42.55 to score eight points.
Masai Russell earned her first individual NCAA outdoor medal, a bronze in the 100m hurdles, running 12.81 for third place. Russell came back and scored five more points in the 400m hurdles, running 55.83 for fourth place. Combining her share of silver-medal points in the 4×1 (two points), Russell earned 12 for the meet.
Steiner claimed bronze in the 100m with a time of 11.08 (+0.2), out-leaned at the tape by Texas' Julien Alfred (11.020) and Oregon's Kemba Nelson (11.014).
Alexis Holmes ran a brave and powerful first half of the 400m and came off the final turn in the lead, before finishing in a personal best 50.71 for fourth place and five points. Her time moved her past Chloe Abbott for No. 2 on the UK all-time list, only behind double Olympic gold medalist Sydney McLaughlin's school record that has stood since 2018.
Freshman Sophie Galloway placed 22nd in the triple jump with a mark of 40'7.5″/12.38m (+0.6) in her NCAA Championships debut.
Points are awarded to the teams of the top-eight competitors in each event on a 10-8-6-5-4-3-2-1 basis.
Men's Team Report 
The Kentucky track and field team's 4×400-meter relay of Dwight St. Hillaire, Lance Lang, Kennedy Lightner and Brian Faust finished sixth to score three points on the final day of the men's team competition at the 2022 NCAA Outdoor Championships.
Faust overtook three teams on the anchor leg to earn three points for the Wildcats as they finished in 3:02.98.
The UK men's team finished in a three-way tie for 36th place with nine points after Keaton Daniel scored six with his pole vault bronze medal on Wednesday.
Day Two Report 
Seven Kentucky track and field Wildcats advanced to final races during Thursday's women's team competition at the NCAA Outdoor Championships in Hayward Field.
Kentucky earned eight chances to score points on Saturday's concluding day of the Championships as sprinters Steiner (100 meters, 200m), Russell (100m hurdles, 400H), Holmes (400m), the 4x100m relay and 4x400m relay advanced from their semifinal heats to join triple jumper Sophie Galloway on the final day start list.
Steiner tied the NCAA Championships 200-meter record with a qualifying time of 22.05Q (+0.5) while also qualifying for the 100m final with a sub-11-second semifinal time and running a great second leg in the 4x100m relay heats. Both runs were personal bests for Steiner
UK's 4x100m of Shadajah Ballard, Steiner, Russell and Karimah Davis had the second-fastest time of the semifinals earning a "big Q" automatic qualification spot into Saturday's final with a time of 42.53.
UK's 4x400m relay also had the second fastest time of the semifinals, qualifying automatically with a time of 3:25.67Q. The lineup of Davis, Dajour Miles, Megan Moss and Holmes were just .04 seconds off Texas A&M's 3.25.63 in the third and final head – a semifinal showdown between the two fastest collegiate 4×4 teams in history, although different lineups could feature in Saturday's NCAA final.
Russell cruised into both the 100m hurdles and 400m hurdles final. First in the 100H she ran the fastest time of the second semifinal heat, 12.77Q (+0.5). She was third fastest overall from the three semifinal heats.
She came back and took care of business as top qualifier out of 400H semifinal heat one with a time o 56.15Q,
Holmes earned a "Big Q" and moved on to the NCAA 400m final with the fastest time of the semifinals: 50.75Q.
Moss ran a personal best 51.73 in the 400m semifinal to move to No. 3 on the UK all-time list even though she was 15th fastest of the heats and did not advance.
Davis ran 22.81 in the 200m semifinal, a PB that moved her to No. 6 on the UK all-time list. She was 11th fastest and missed the final by a few places.
Jade Gates wrapped her collegiate season with three fouls in the first flight of the hammer throw. She qualified for the NCAA Championships with a ninth-place finish at NCAA East Prelims (215'5″/65.66m) after she set a school record with a silver medal performance at SEC Championships in (220'0″/67.05m).
Day One Report 
Sophomore pole vaulter Keaton Daniel scored six points for the Kentucky track and field team, earning a bronze medal on the first night of the 2022 NCAA Outdoor Championships.
Daniel, the two-time defending Southeastern Conference outdoor champion, cleared a season best 18'6.5″/5.65.
Daniel's six points vaulted Kentucky into a four-way tie for 16th place with six of 21 events scored.
UK's men's 4x400m relay of Dwight St. Hillaire, Lance Lang, Kennedy Lightner and Brian Faust earned a "little q" time qualification place for the NCAA final with the fifth fastest time of the semifinals, 3:01.68. They will race in the NCAA final on Friday at 8:21 p.m. PT/11:21 ET.
Josh Sobota placed ninth in the men's shot put with a mark of 64'8.75″/19.73m on his second attempt. Unfortunately, he was knocked out of the eighth and final scoring place in the last round of the final.
Meet Information 
The UK women's team entered the meet No. 7 on USTFCCCA's National Track and Field Ratings Index.
The meet was broadcast on the ESPN family of networks and streaming platforms.
Start lists and results are at flashresults.ncaa.com.
Below is a list of Wildcats that competed and what events they competed in.
Women:
Shadajah Ballard – 4x100m
Perri Bockrath – 3,000m steeplechase
Karimah Davis – 200m, 4x100m, 4x400m
Sophie Galloway – triple jump
Jade Gates – hammer throw
Alexis Holmes – 400m, 4x400m
Dajour Miles – 4x400m
Megan Moss – 400m, 4x400m (alternate)
Masai Russell – 100m hurdles, 400m hurdles, 4x400m (alternate)
Abby Steiner – 100m, 200m, 4x100m, 4x400m
Men
Keaton Daniel – pole vault
Brian Faust – 400m, 4x400m
Rodney Heath Jr. – 4x100m
Lance Lang – 200m, 4x100m, 4x400m
Kennedy Lightner – 200m, 4x400m
Jacob Smith – 4x100m, 4x400m (alternate)
Josh Sobota – shot put
Dwight St. Hillaire – 400m, 4x100m, 4x400m
Kenroy Williams – 400m hurdles
UKTF at the NCAA Championships 
A year ago, the Kentucky women's team totaled 13 points to finish in 21st place, the seventh-straight time that the Wildcats have placed in the top 25. UK's best NCAA Outdoor Championships finish was as national runner-up in 2015.
Indoors, the women's team placed third with the highest NCAA Indoor Championships point total in program history.
The men's team tied for 15th place – UK's best showing in seven years – at the 2021 NCAA Championships with 17 points. The UK men's team's best ever NCAA Outdoor finish was seventh in 1996 on 22 points.
Follow Kentucky Track and Field and Cross Country on Facebook, Instagram, Twitter and at UKathletics.com.
Thursday Events
Rnd
Status
Women Hammer
Finals
Jade Gates: Foul
Women 4×100 M Relay
Semis
2. UK (Shadajah Ballard, Abby Steiner, Masai Russell, Karimah Davis): 42.53Q
Women 3000 M Steeplechase
Semis
16. Perri Bockrath: 9:57.58
Women 100 M Hurdles
Semis
3. Masai Russell: 12.77Q (+0.5)
Women 100 M
Semis
2. Abby Steiner: 10.90Q (+1.0)| School record, No. 7 NCAA all-time
Women 400 M
Semis
5. Alexis Holmes: 50.75Q

15. Megan Moss: 51.73 | PB, No. 3 on UK all-time list

Women 400 M Hurdles
Semis
5. Masai Russell: 56.15Q
Women 200 M
Semis
1. Abby Steiner: 22.02 Q(+0.5) | PB, =NCAA Championship record, = No. 2 in collegiate history, lowers school record

11. Karimah Davis: 22.81 (+0.5) | PB, No. 6 on UK all-time list

Women 4×400 M Relay
Semis
2. UK (Karimah Davis, Dajour Miles, Megan Moss, Alexis Holmes): 3:25.67Q
| | | |
| --- | --- | --- |
| Friday Events | Rnd | Status |
| Men 4×400 M Relay | Final | 2. UK (Dwight St. Hillaire, Lance Lang, Kennedy Lightner, Brian Faust) |
| | | |
| --- | --- | --- |
| Saturday Events | Rnd | Status |
| Women 4×100 M Relay | Final | 2. UK (Shadajah Ballard, Abby Steiner, Masai Russell and Karimah Davis): 42.55 | 8 points |
| Women Triple Jump | Finals | 22. Sophie Galloway |
| Women 100 M Hurdles | Final | 3. Masai Russell: 12.81 (-0.2) | 6 points |
| Women 100 M | Final | 3. Abby Steiner:11.08 (+0.2) | 6 points |
| Women 400 M | Final | 4. Alexis Holmes: 50.71 | 5 points, PB, No. 2 on UK all-time list |
| Women 400 M Hurdles | Final | 4. Masai Russell: 55.83 | 5 points |
| Women 200 M | Final | 1. Abby Steiner: 21.80 (+1.3) | 10 points, Collegiate record, world leader |
| Women 4×400 M Relay | Final | 1. UK (Karimah Davis, Dajour Miles, Abby Steiner, Alexis Holmes): 3:22.55 |