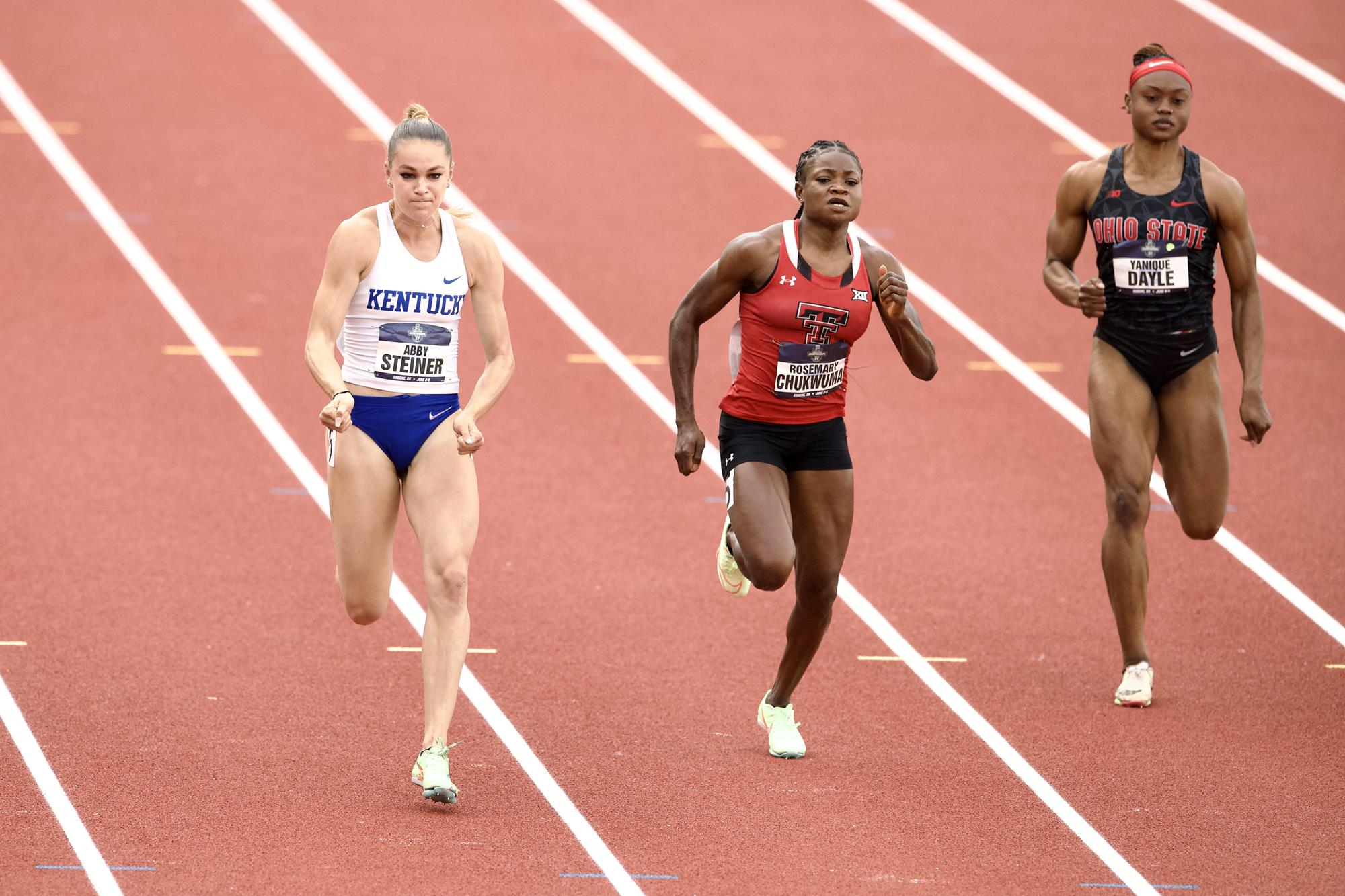 Seven Wildcats Advance to Finals on Night Two at NCAA Championships
Live Results | Broadcast Schedule + Links | Day One Recap 
 
EUGENE, Ore. – Seven Kentucky track and field Wildcats advanced to final races during Thursday's women's team competition at the NCAA Outdoor Championships in Hayward Field. 
 
Kentucky will have eight chances to score points on Saturday's concluding day of the Championships as sprinters Abby Steiner (100 meters, 200m), Masai Russell (100m hurdles, 400H), Alexis Holmes (400m), the 4x100m relay and 4x400m relay advanced from their semifinal heats to join triple jumper Sophie Galloway on the start list for competition in two days' time. 
 
Steiner tied the NCAA Championships 200-meter record with a qualifying time of 22.05Q (+0.5) while also qualifying for the 100m final with a sub-11-second semifinal time and running a great second leg in the 4x100m relay heats. Both runs were personal bests for Steiner 
 
UK's 4x100m of Shadajah Ballard, Steiner, Russell and Karimah Davis had the second-fastest time of the semifinals earning a "big Q" automatic qualification spot into Saturday's final with a time of 42.53. 
 
UK's 4x400m relay also had the second fastest time of the semifinals, qualifying automatically with a time of 3:25.67Q. The lineup of Davis, Dajour Miles, Megan Moss and Holmes were just .04 seconds off Texas A&M's 3.25.63 in the third and final head – a semifinal showdown between the two fastest collegiate 4×4 teams in history, although different lineups could feature in Saturday's NCAA final. 
 
Russell cruised into both the 100m hurdles and 400m hurdles final. First in the 100H she ran the fastest time of the second semifinal heat, 12.77Q (+0.5). She was third fastest overall from the three semifinal heats. 
 
She came back and took care of business as top qualifier out of 400H semifinal heat one with a time o 56.15Q,  
 
Holmes earned a "Big Q" and moved on to the NCAA 400m final with the fastest time of the semifinals: 50.75Q. 
 
Moss ran a personal best 51.73 in the 400m semifinal to move to No. 3 on the UK all-time list even though she was 15th fastest of the heats and did not advance. 
 
Davis ran 22.81 in the 200m semifinal, a PB that moved her to No. 6 on the UK all-time list. She was 11th fastest and missed the final by a few places. 
 
Jade Gates wrapped her collegiate season with three fouls in the first flight of the hammer throw. She qualified for the NCAA Championships with a ninth-place finish at NCAA East Prelims (215'5″/65.66m) after she set a school record with a silver medal performance at SEC Championships in (220'0″/67.05m). 
 
Day One Report 
Sophomore pole vaulter Keaton Daniel scored six points for the Kentucky track and field team, earning a bronze medal on the first night of the 2022 NCAA Outdoor Championships. 
 
Daniel, the two-time defending Southeastern Conference outdoor champion, cleared a season best 18'6.5″/5.65. 
 
Daniel's six points vaulted Kentucky into a four-way tie for 16th place with six of 21 events scored. 
 
UK's men's 4x400m relay of Dwight St. Hillaire, Lance Lang, Kennedy Lightner and Brian Faust earned a "little q" time qualification place for the NCAA final with the fifth fastest time of the semifinals, 3:01.68. They will race in the NCAA final on Friday at 8:21 p.m. PT/11:21 ET. 
 
Josh Sobota placed ninth in the men's shot put with a mark of 64'8.75″/19.73m on his second attempt. Unfortunately, he was knocked out of the eighth and final scoring place in the last round of the final. 
 
Meet Information 
The UK women's team entered the meet No. 7 on USTFCCCA's National Track and Field Ratings Index.  
 
The men's competition will conclude on Friday, while the women's competition will be held Thursday and Saturday. The first two days of the meet are prelim days for most of the running events plus prelims and finals for some distance track and field events. 
 
The meet will be broadcast on the ESPN family of networks and streaming platforms. The men's final day will be broadcast on ESPN2 and the women's final day on ESPN. 
 
Start lists and results will be at flashresults.ncaa.com. 
 
Below is a list of Wildcats competing and what events they will be competing in. 
Women: 
Shadajah Ballard – 4x100m 

Perri Bockrath – 3,000m steeplechase 
Karimah Davis – 200m, 4x100m, 4x400m 

Sophie Galloway – triple jump 

Jade Gates – hammer throw 

Alexis Holmes – 400m, 4x400m 

Dajour Miles – 4x400m 
Megan Moss – 400m, 4x400m (alternate) 

Masai Russell – 100m hurdles, 400m hurdles, 4x400m (alternate) 

Abby Steiner – 100m, 200m, 4x100m, 4x400m 
Men 
Keaton Daniel – pole vault 
Brian Faust – 400m, 4x400m 

Rodney Heath Jr. – 4x100m 

Lance Lang – 200m, 4x100m, 4x400m 

Kennedy Lightner – 200m, 4x400m 

Jacob Smith – 4x100m, 4x400m (alternate) 
Josh Sobota – shot put 

Dwight St. Hillaire – 400m, 4x100m, 4x400m 

Kenroy Williams – 400m hurdles 
 
UKTF at the NCAA Championships 
A year ago, the Kentucky women's team totaled 13 points to finish in 21st place, the seventh-straight time that the Wildcats have placed in the top 25. UK's best NCAA Outdoor Championships finish was as national runner-up in 2015. 
 
The men's team tied for 15th place – UK's best showing in seven years – at the 2021 NCAA Championships with 17 points. The UK men's team's best ever NCAA Outdoor finish was seventh in 1996 on 22 points. 
Follow Kentucky Track and Field and Cross Country on Facebook, Instagram, Twitter and at UKathletics.com. 
 
Wednesday Events 

Rnd 

UK entry 

Semis 

18. UK (Lang, St. Hillaire, Smith, Heath): 39.23  

Final 

3. Keaton Daniel: 18'6.5″/5.65m – 6 points | season best 

Semis 

10. Dwight St. Hillaire: 45.65 

16. Brian Faust: 46.08 

Semis 

21. Kenroy Williams: 54.74 

Finals 

9. Josh Sobota: 64'8.75″/19.73m  

Semis 

16. Lance Lang: 20.63 

Semis 

5. UK (St. Hillaire, Lang, Lightner, Faust): 3:01.68 
Thursday Events 

Rnd 

Status 

Finals 

Jade Gates: Foul 

Semis 

2. UK (Shadajah Ballard, Abby Steiner, Masai Russell, Karimah Davis): 42.53Q 

Semis 

16. Perri Bockrath: 9:57.58 

Semis 

3. Masai Russell: 12.77Q (+0.5) 

Semis 

2. Abby Steiner: 10.90Q (+1.0)| School record, No. 7 NCAA all-time 

Semis 

5. Alexis Holmes: 50.75Q 

15. Megan Moss: 51.73 | PB, No. 3 on UK all-time list 

Semis 

5. Masai Russell: 56.15Q 

Semis 

1. Abby Steiner: 22.02 Q(+0.5) | PB, =NCAA Championship record, = No. 2 in collegiate history, lowers school record 

11. Karimah Davis: 22.81 (+0.5) | PB, No. 6 on UK all-time list 

Semis 

2. UK (Karimah Davis, Dajour Miles, Megan Moss, Alexis Holmes): 3:25.67Q 
| | | | |
| --- | --- | --- | --- |
| Start (PT)  | Friday Events  | Rnd  | Status  |
| 5:30 PM  | | Final  | |
| 5:35 PM  | | Finals  | |
| 6:02 PM  | | Final  | |
| 6:12 PM  | | Final  | |
| 6:20 PM  | | Finals  | |
| 6:24 PM  | | Final  | |
| 6:42 PM  | | Final  | |
| 6:52 PM  | | Final  | |
| 7:02 PM  | | Final  | |
| 7:14 PM  | | Final  | |
| 7:27 PM  | | Final  | |
| 7:37 PM  | | Final  | |
| 7:55 PM  | | Final  | |
| 8:21 PM  | | Final  | UK  |
| | | | |
| --- | --- | --- | --- |
| Start (PT)  | Saturday Events  | Rnd  | Status  |
| 2:00 PM  | | Final  | |
| 2:05 PM  | | Finals  | |
| 2:32 PM  | | Final  | Ln. 8: UK  |
| 2:41 PM  | | Final  | |
| 2:50 PM  | | Finals  | Fl. 2, #3: Sophie Galloway  |
| 2:54 PM  | | Final  | |
| 3:12 PM  | | Final  | Ln. 4: Masai Russell  |
| 3:22 PM  | | Final  | Ln. 6: Abby Steiner  |
| 3:32 PM  | | Final  | Ln. 4: Alexis Holmes  |
| 3:44 PM  | | Final  | |
| 3:57 PM  | | Final  | Ln. 5: Masai Russell  |
| 4:07 PM  | | Final  | Ln. 6: Abby Steiner  |
| 4:25 PM  | | Final  | |
| 4:51 PM  | | Final  | Ln. 8: UK  |