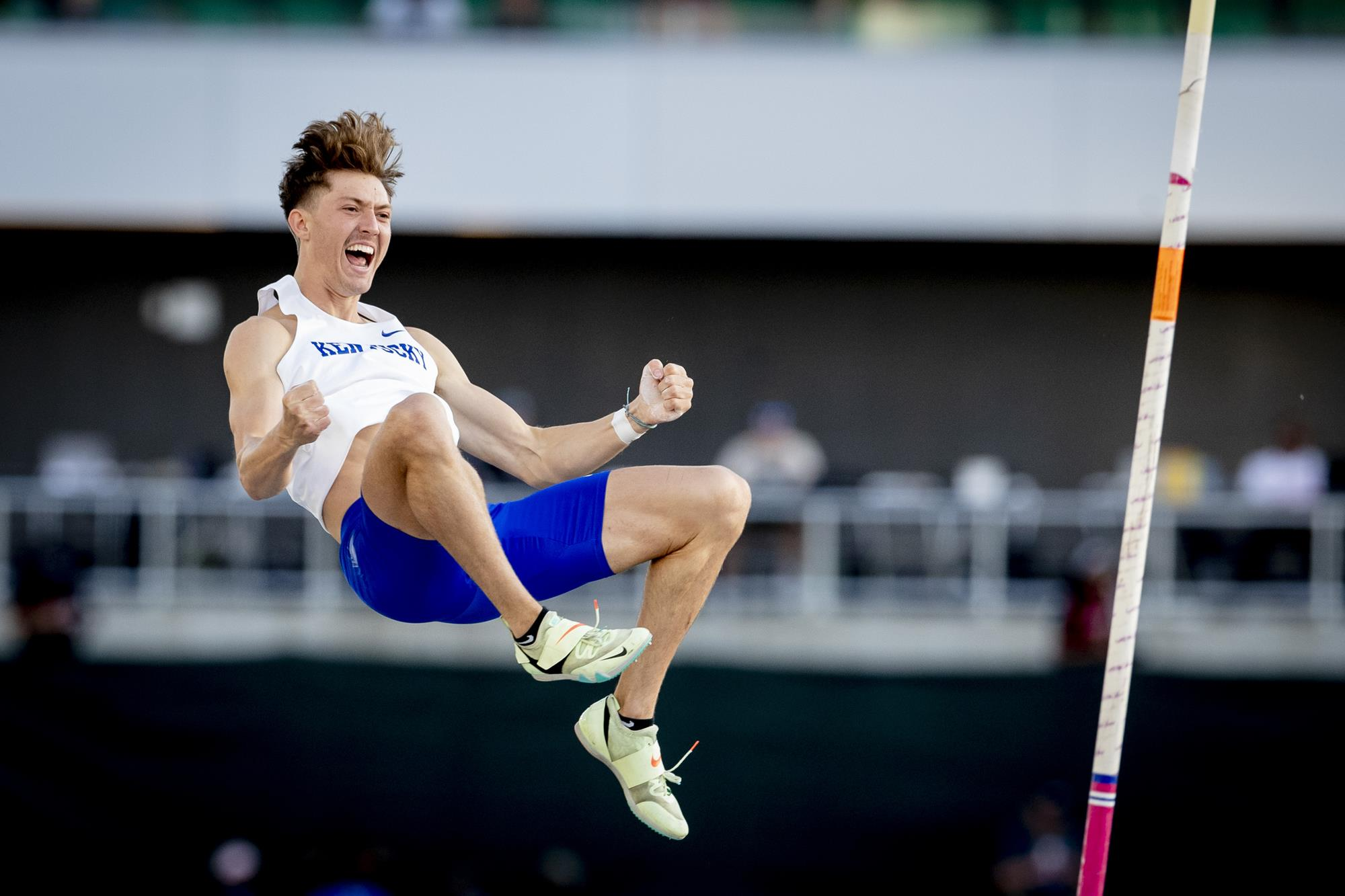 Keaton Daniel Claims PV Bronze Night One at NCAA Championships
EUGENE, Ore. – Sophomore pole vaulter Keaton Daniel scored six points for the Kentucky track and field team, earning a bronze medal to back up the silver he claimed last season, on the first night of the 2022 NCAA Outdoor Championships on Wednesday in Hayward Field. 
Daniel, the two-time defending Southeastern Conference outdoor champion, cleared a season best 18'6.5″/5.65 meters after making each of his previous three attempts of the series. He was unable to get over the bar at 18'8.25″/5.70m on one attempt and then passed up to 18'10.25″/5.75m once third place was assured but missed on each of those attempts.   
"It's a good feeling," Daniel said. "I definitely know I have more in me though. I went through clean, it was a good competition, and I came out with the bronze. All good.   
"It was a long competition. We were vaulting for about three hours, 30 minutes so I had to be strategic on when I was warming up and staying loose. Ultimately, we handled it well. Ended up clean throughout the competition and just got out a little bit too early."   
Daniel's six points vaulted Kentucky into a four-way tie for 16th place with six of 21 events scored.   
UK's men's 4x400m relay of Dwight St. Hillaire, Lance Lang, Kennedy Lightner and Brian Faust earned a "little q" time qualification place for the NCAA final with the fifth fastest time of the semifinals, 3:01.68. They will race in the NCAA final on Friday at 8:21 p.m. PT/11:21 ET.   
Josh Sobota placed ninth in the men's shot put with a mark of 64'8.75″/19.73m on his second attempt. Unfortunately, he was knocked out of the eighth and final scoring place in the last round of the final.   
St. Hillaire and Faust were 10th (45.65) and 16th (46.08) fastest of the semifinals, respectively, in the 400m semifinal. They did not earn one of the nine places in the final.   
Kenroy Williams was 21st fastest in the 400m hurdles semifinal (54.74). Lance Lang was 16th in the 200m semifinal (20.63 (+0.4)). They did not advance.   
UK's men's 4x100m relay of Lance Lang, Dwight St. Hillaire, Jacob Smith, and Rodney Heath had the 18th fastest time of the semifinals (39.23) and did not advance to Friday's final.   
Nineteen Wildcats qualified for the NCAA finals site by finishing in the top 12 of their respective individual and relay events at NCAA East Prelims in Bloomington, Indiana, over Memorial Day weekend.   
Meet Information 
The UK women's team goes into the meet
No. 7 on USTFCCCA's National Track and Field Ratings Index
.    
The men's competition will conclude on Friday, while the women's competition will be held Thursday and Saturday. The first two days of the meet are prelim days for most of the running events plus prelims and finals for some distance track and field events.   
On Thursday, the meet begins with the women's hammer at 6 p.m. ET and ends with the women's 4x400m at 11:48 p.m. ET. On Saturday, UKTF begins their day with the women's 4x100m final at 5:32 p.m. ET., and just like on Thursday, ends with the 4x400m at 7:51 p.m. Three of Kentucky's four field athletes compete in their respective event finals on the first two days of competition.   
The meet will be broadcast on the
ESPN family of networks and streaming platforms
. The first two days will be shown on ESPNU while the men's final day will be broadcast on ESPN2 and the women's final day on ESPN.   
Start lists and results will be at
flashresults.ncaa.com
. 
Below is a list of Wildcats competing and what events they will be competing in. 
Women: 
Shadajah Ballard – 4x100m 
Perri Bockrath – 3,000m steeplechase 
Karimah Davis – 200m, 4x100m, 4x400m 
Sophie Galloway – triple jump 
Jade Gates – hammer throw 
Alexis Holmes – 400m, 4x400m 
Dajour Miles – 4x400m 
Megan Moss – 400m, 4x400m (alternate) 
Masai Russell – 100m hurdles, 400m hurdles, 4x400m (alternate) 
Abby Steiner – 100m, 200m, 4x100m, 4x400m 
Men 
Keaton Daniel – pole vault 
Brian Faust – 400m, 4x400m 
Rodney Heath Jr. – 4x100m 
Lance Lang – 200m, 4x100m, 4x400m 
Kennedy Lightner – 200m, 4x400m 
Jacob Smith – 4x100m, 4x400m (alternate) 
Josh Sobota – shot put 
Dwight St. Hillaire – 400m, 4x100m, 4x400m 
Kenroy Williams – 400m hurdles 
Wildcats to Watch 
Women's team  
UK's women'x 4x400m relay of Karimah Davis, Megan Moss, Dajour Miles and Alexis Holmes, which set the collegiate record (3:21.93) en route to the Southeastern Conference title last month, earned the top qualifying spot out of East Prelims. 
Steiner also qualified in two individual events, running the top time of the 200m quarterfinal (22.01w, +2.1) in Bloomington. Steiner ran the second fastest time of 100m quarterfinals (11.04).  
The 4x100m featuring Steiner, Shadajah Ballard, Masai Russell and Davis was second fastest time of the first round (42.63). 
Russell qualified for NCAA Outdoors in the 100m hurdles and 400m hurdles for the second year in a row with her 12.84 (-1.5) 100m hurdles at NCAA East Prelims and a personal best in the 400m hurdles (55.36). 
 
Holmes is in the midst of an impressive streak of sub-52-second times, and qualified for the NCAA 400m outdoors for the first time in her career. 
 
Perri Bockrath ran the school record in the 3k steeplechase of 9:52.00 at East Prelims to make the NCAA Championships for the first time in her career. Freshman Sophie Galloway is an NCAA qualfier in the triple jump. 
 
Davis earned a qualification spot in the 200m and Moss made the individual 400m field. Jade Gates also made NCAAs for the first time in the hammer throw. 
 
UKTF at the NCAA Championships 
A year ago, the Kentucky women's team totaled 13 points to finish in 21st place, the seventh-straight time that the Wildcats have placed in the top 25. UK's best NCAA Outdoor Championships finish was as national runner-up in 2015. 
 
The men's team tied for 15th place – UK's best showing in seven years – at the 2021 NCAA Championships with 17 points. The UK men's team's best ever NCAA Outdoor finish was seventh in 1996 on 22 points.