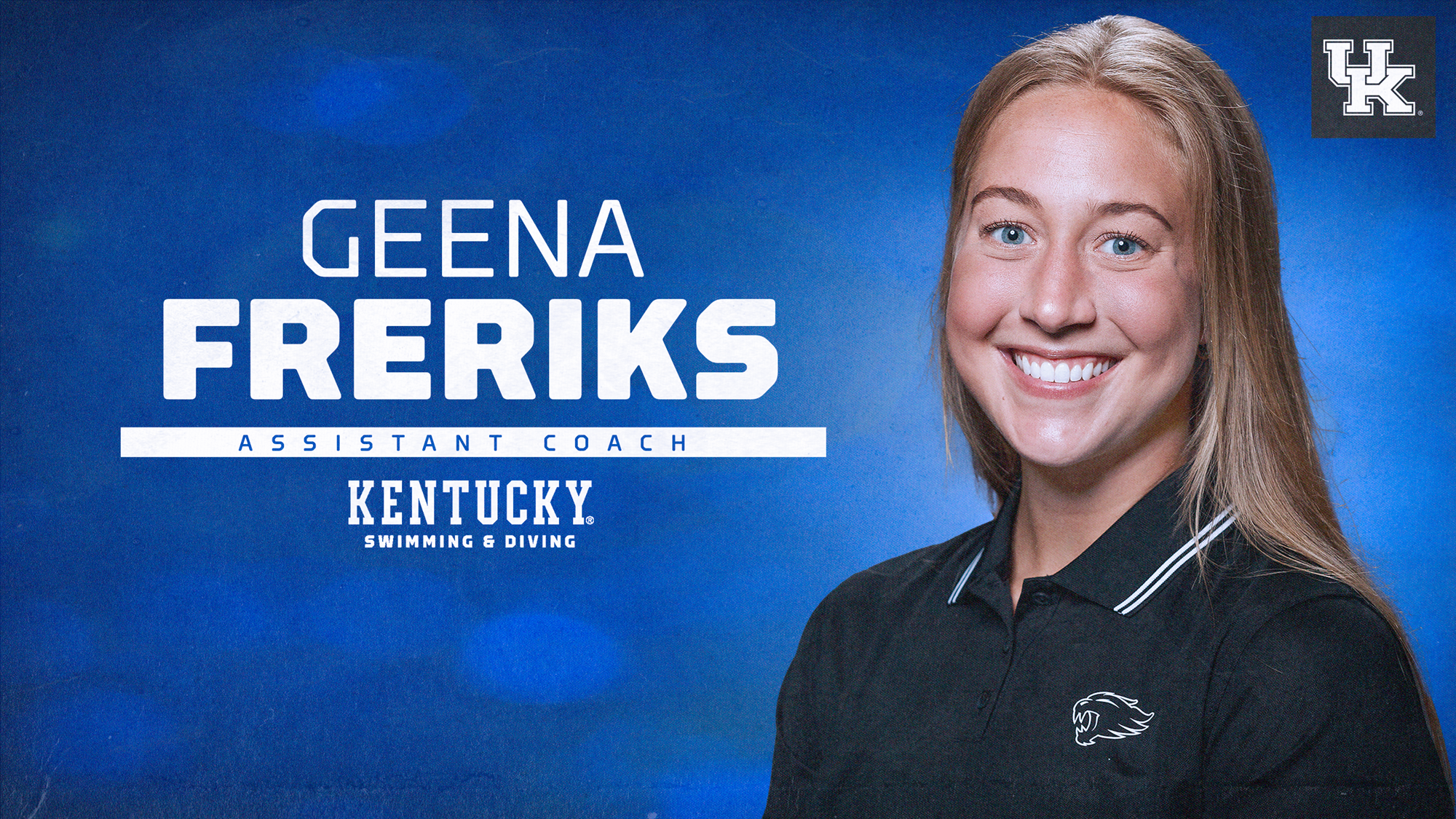 Geena Freriks Returns to Kentucky as Swimming & Diving Assistant Coach
LEXINGTON, Ky. – Former Kentucky swimming and diving team captain, two-time Southeastern Conference champion and 10-time school record holder Geena Freriks will return to Lexington ahead of the 2022-23 season as an assistant coach.
"We are incredibly excited to welcome back such an accomplished alumna of our program to join our coaching staff," said head coach Lars Jorgensen. "Geena has proven herself as a leader in and out of the pool, and her experience will benefit our student-athletes in countless ways."
Freriks spent the last two years as a graduate assistant coach at Ball State. She helped lead the women's team to a fifth-place showing at the Mid-American Conference Championships in her first season on staff in 2020-21, which was the program's best finish since 2005. The men's squad finished fourth at the league meet both seasons.
Ball State saw success at the MAC Championships in 2021 and 2022 with Freriks on staff. In total, the Cardinals collected a combined 18 medals and broke 21 school records at the conference meet during those two years. The team also produced its first men's individual swimming medalist since 2006 and its first on the women's side since 2014.
A standout swimmer for the Wildcats from 2015-19, Freriks was a four-time NCAA qualifier and earned All-America Honorable Mention recognition on nine occasions while garnering first team selection in 2017. She was an 11-time individual SEC finalist, winning the 200 free as a sophomore and the 500 free as a junior. The freestyle specialist also picked up one silver and four bronze medals during her career.
A 2016 U.S. Olympic Trials qualifier, she found herself on the All-SEC First Team in 2017 and 2018 as well as the All-SEC Second Team in 2016 and 2019. Freriks, who was named team captain during both her junior and senior campaigns, was also tabbed the SEC Female Swimmer of the Week on Feb. 5, 2019.
Additionally, Freriks is the current UK program record holder in 10 events: 500 free, 1000 free, 1650 free, 400 free relay, 800 free relay, 100-meter free, 200-meter free, 400-meter free, 800-meter free and 1500-meter free. She also ranks third all-time in the 200 free and fourth in the 100 free.
The Norwalk, Ohio native graduated from UK in 2020 with a degree in dietetics while minoring in business. Freriks was a four-time College Swimming & Diving Coaches Association of America Scholar All-America First Team selection and landed on the SEC Academic Honor Roll each of her four years in the blue and white. In 2022, she earned her master's in sport administration from Ball State.
For the latest on the Kentucky swimming and diving program, follow @UKSwimDive on Twitter and on Instagram, on Facebook and on the web at UKathletics.com.