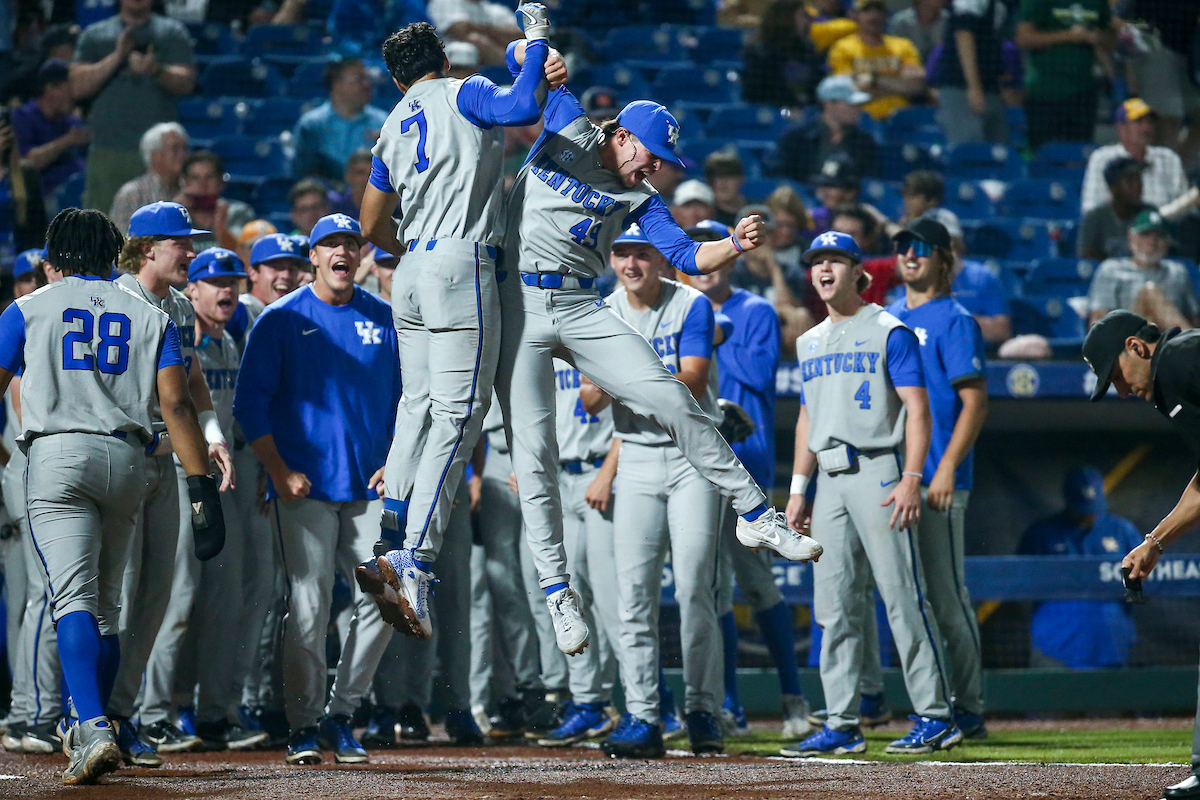 Devin Burkes smiled, pounded his chest and was met by a mob of genuinely excited teammates as he crossed home plate.
Kentucky was on the wrong end of an 11-6 ballgame but Burkes had just slammed an opposite field, three-run home run against storied LSU, his second blast of the night. In both at bats he fouled off numerous two-strike offerings before leaving Hoover Metropolitan Stadium in front of nearly 10,000 fans.
"You've just got to savor the moment," Burkes said a day later. "I just played baseball, man. I just play hard and just have fun. I think a lot of people just forget to have fun. It's a game; just have fun."
Burkes, who redshirted the 2021 season, bided his time behind starter Alonzo Rubalcaba for much of the 2022 season before getting his chance down the stretch. He hit his first career home run at Florida, an hour from his hometown of Ocala, Florida, had his handprints all over the series win vs. Auburn and then led the team in hitting and earned Southeastern Conference All-Tournament Team honors.
In Burkes, there's a lesson to be learned about patience and relentless positivity being virtues.
"Stuff might not always go your way, but you've just got to have fun," Burkes said. "Everybody calls me the energy magnet or whatever, but I just kind of be myself and then everybody feeds off each other. It kind of just keeps passing along."
Burkes finished the season at .378 in 37 at bats spread out over 20 games. He had four doubles, three home runs, 13 runs and 10 RBI while posting a 1.270 OPS. He also walked more times than he struck out and handled a injury-depleted pitching staff with notable aplomb. Now he's set to be UK's starter behind the plate in 2023 and a foundational piece of the program.
"Devo is what we are looking for in the recruiting process," UK coach Nick Mingione said. " A great student, amazing person, and sensational player. He makes everyone around him better with his positivity and genuine love for the game of baseball."