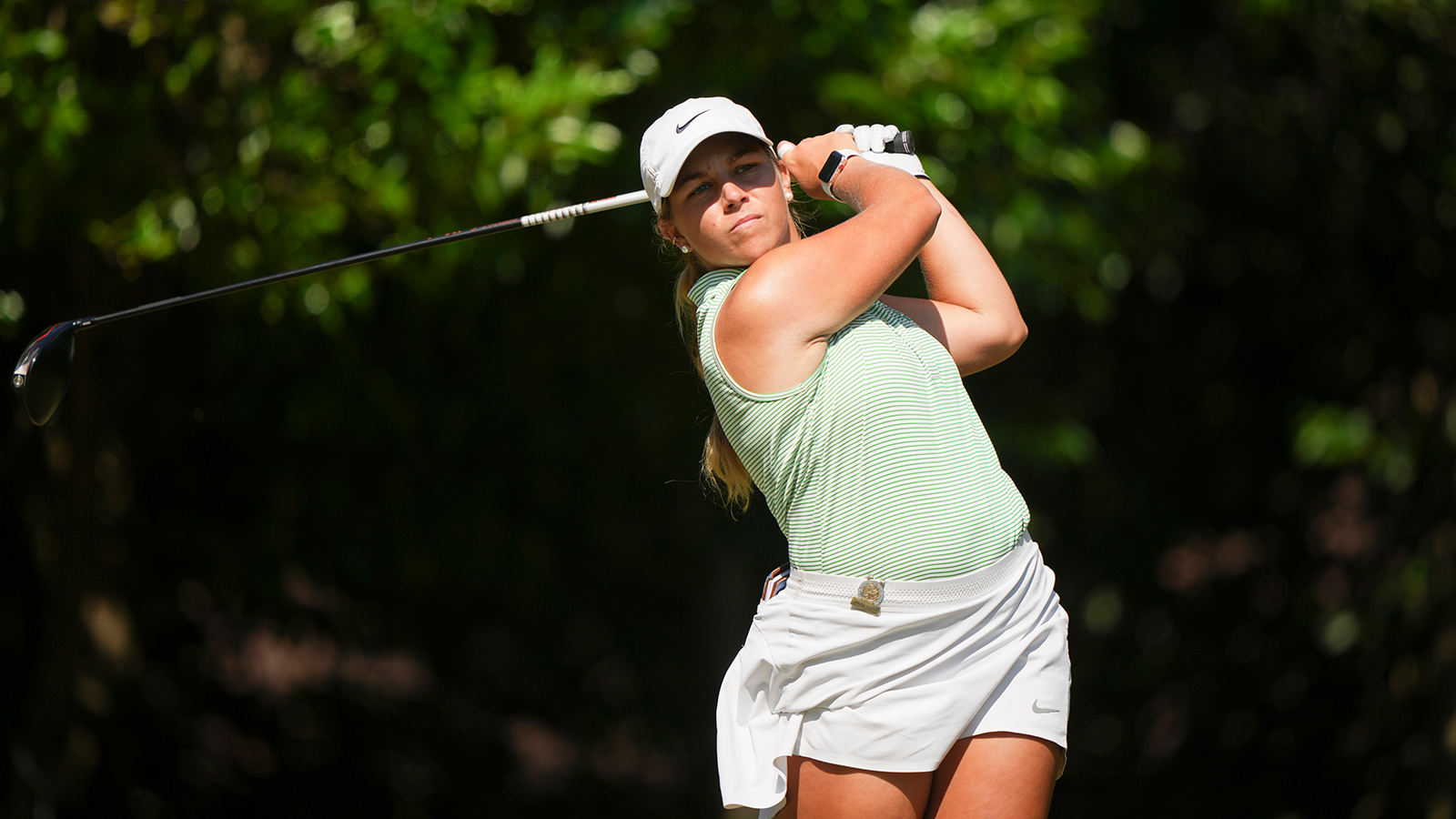 Jensen Castle, Laney Frye Complete Play at U.S. Women's Open
LEXINGTON, Ky. – Kentucky women's golfers Jensen Castle and Laney Frye completed play in the 2022 United States Women's Golf Open on Friday at Pine Needles Lodge & Golf Club in Southern Pines, North Carolina.
Both players needed to play well on Friday to make the cut and play the weekend.
Castle did not tee off until just before 2 p.m. on Friday afternoon. But the wait to start did not bother her one bit. Starting on the ninth hole, the defending U.S. Amateur champion carded pars on the ninth, 10th, 11th, 12th and 13th holes.
Then, on the par-4 14th hole, Castle cashed in with her first birdie of the day. In the process, she moved from 3-over par to 2-over for the championship.
Castle would par the 15th hole before running into difficulty at the par-3 16th. There, she would card a double bogey, dropping her back to 4-over for the championship and outside the cut line.
After a par on the 17th hole, Castle bogeyed the 18th to slip to 5-over par for the championship.
She started the front side with three consecutive pars before a bogey on the par-4 fourth hole. Castle would par the fifth hole before a double bogey on the sixth ended any hope of her making the cut. She was able to birdie the seventh hole and to par the eighth to finish Friday with a 5-over par 75 after shooting a 74 on Thursday.
Frye played in one of the earliest groups out on the course on Friday morning. She began on the ninth hole, recording pars on the ninth, 10th and 11th holes.
She bogeyed the 12th hole to slip to 1-over par for the day, but followed that with pars on the 13th and 14th holes. Then on the par-5 15th hole, Frye suffered another bogey, falling to 2-over on her round.
Frye bounced back nicely with a birdie on the par-3 16th hole, getting back to 1-over in the process. But she got into trouble on the par-4 16th hole and carded a double bogey, slipping to 3-over on her round. A par on the 18th hole left her with a 3-over par 39 on her first nine.
She started her second nine in fine fashion, with a birdie on the par-5 first hole. Frye would par the next four holes to remain at 2-over par for the day.
On the par-4 sixth hole, Frye carded a bogey. She then bogeyed the par-4 seventh hole before finishing with a par on the eighth. She shot a 4-over par 75 on Friday after carding a 76 on Thursday.