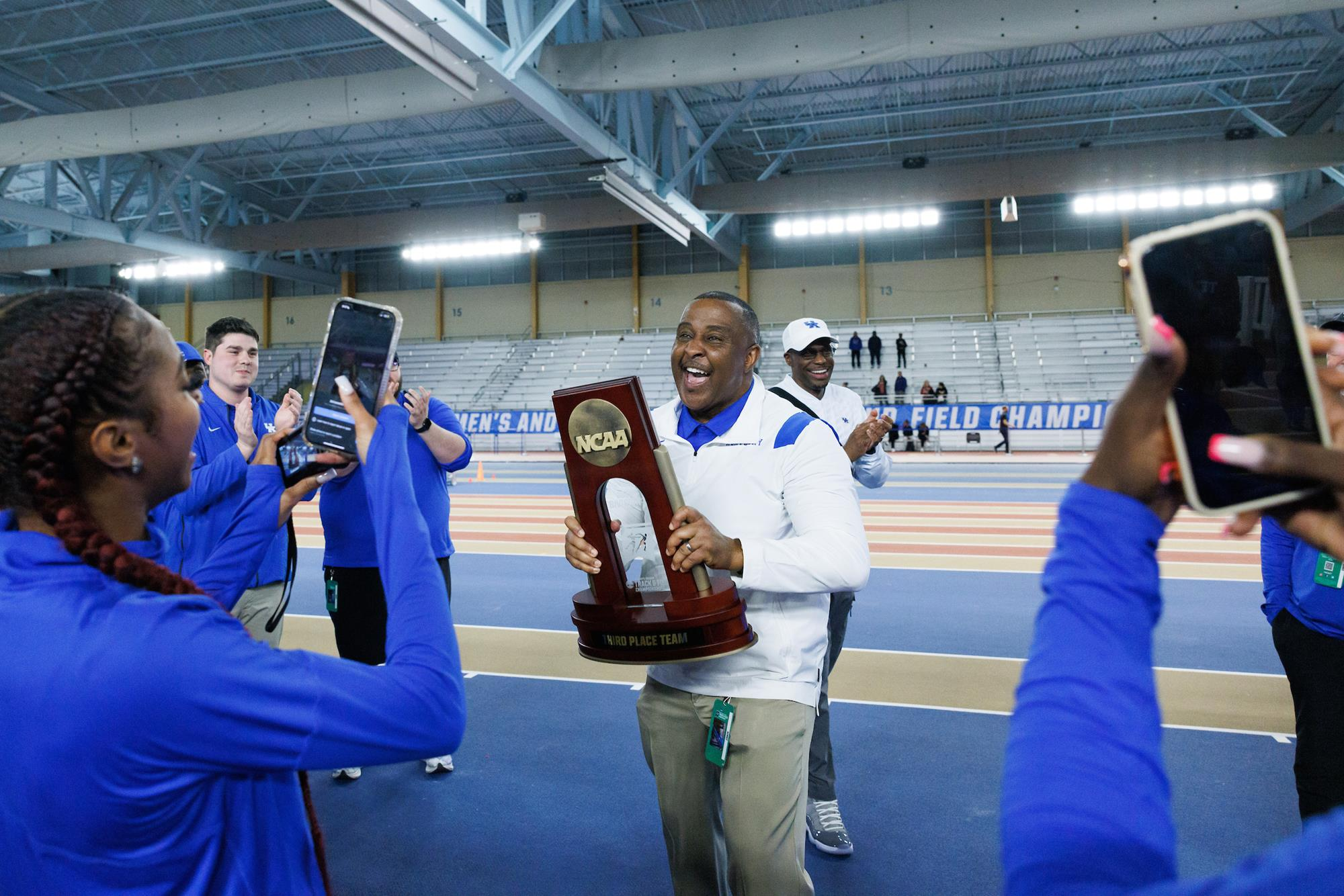 UKTF Head Coach Lonnie Greene Agrees to Contract Extension
LEXINGTON, Ky. – Lonnie Greene, who has coached the University of Kentucky track and field and cross country programs to sustained success, including a school-record points finish and podium place at the NCAA Indoor Championships earlier this year, has signed a contract extension running through 2027.
Since taking over as the head coach before the 2018-19 season, Greene has brought elite accomplishments and unparalleled character to the program. Wildcats have earned more than 120 All-America honors and dozens more All-Academic honors, coached an Olympic finalist, three Tokyo 2020 Olympians, 10 SEC champions, two individual NCAA Championships, 14 NCAA medals, a collegiate and American record holder, and a collegiate record relay.
As a team, both the men's and women's track and field teams have entrenched themselves as elite teams at the NCAA and SEC Championships level.
Earlier this season, the women's track and field team earned a school-record 44 points and third place as a team at the 2022 NCAA Indoor Track and Field Championships, equaling the best team finish at the competition in school history.
UK's men's team has also earned multiple top 25 finishes at NCAAs during Greene's tenure.
At the 2022 SEC Indoor Championships, the women's team finished third with 79 points, equaling the best finish in program history, and scoring the program's most points at the SEC Indoor Championships since 1989 when the team finished third with 92 points.
The men's team finished fourth with 64 points, improving their place by three spots and 17 points from a year ago. The men's team earned its best SEC Indoor finish since placing third in 1995 and 1996.
"We are so proud and appreciative of the job Coach Greene has done leading our young people," Barnhart said. "Lonnie has exhibited a tremendous commitment to competitive excellence, academic success and helping develop our young students into outstanding human beings. We are excited to build on the commitment we are making in track and field and cross country under Lonnie's direction. We look forward to continuing to make steps toward building a championship program."
Greene's ability to build an elite program in which athletic performance meets exceptional character is perhaps best exemplified by the team's stewardship of Abby Steiner, who in her four years at UK has won two NCAA 200-meter championships, three SEC titles, broke the American, collegiate and SEC records, earned six All-America honors all while excelling academically to the tune of Academic All-America status and the honor of being named SEC Indoor Track Scholar-Athlete of the Year.
Steiner represents just one example in a program full of outstanding student-athletes who combine elite athletic accomplishments with stalwarts of character such as selfless community outreach, academic success and uncommon leadership qualities.
"I want to thank UK President Eli Capilouto and Mitch Barnhart? from the bottom of my heart for their commitment and support of our philosophy and strategy as a staff and as a program," Greene said. "Their leadership, trust and support has been invaluable to me and my family, our staff and our student-athletes. I look forward to building on our success as we work to make even more strides toward championships."
Follow Kentucky Track and Field and Cross Country on?Facebook,?Instagram,?Twitter?and at?UKathletics.com.?