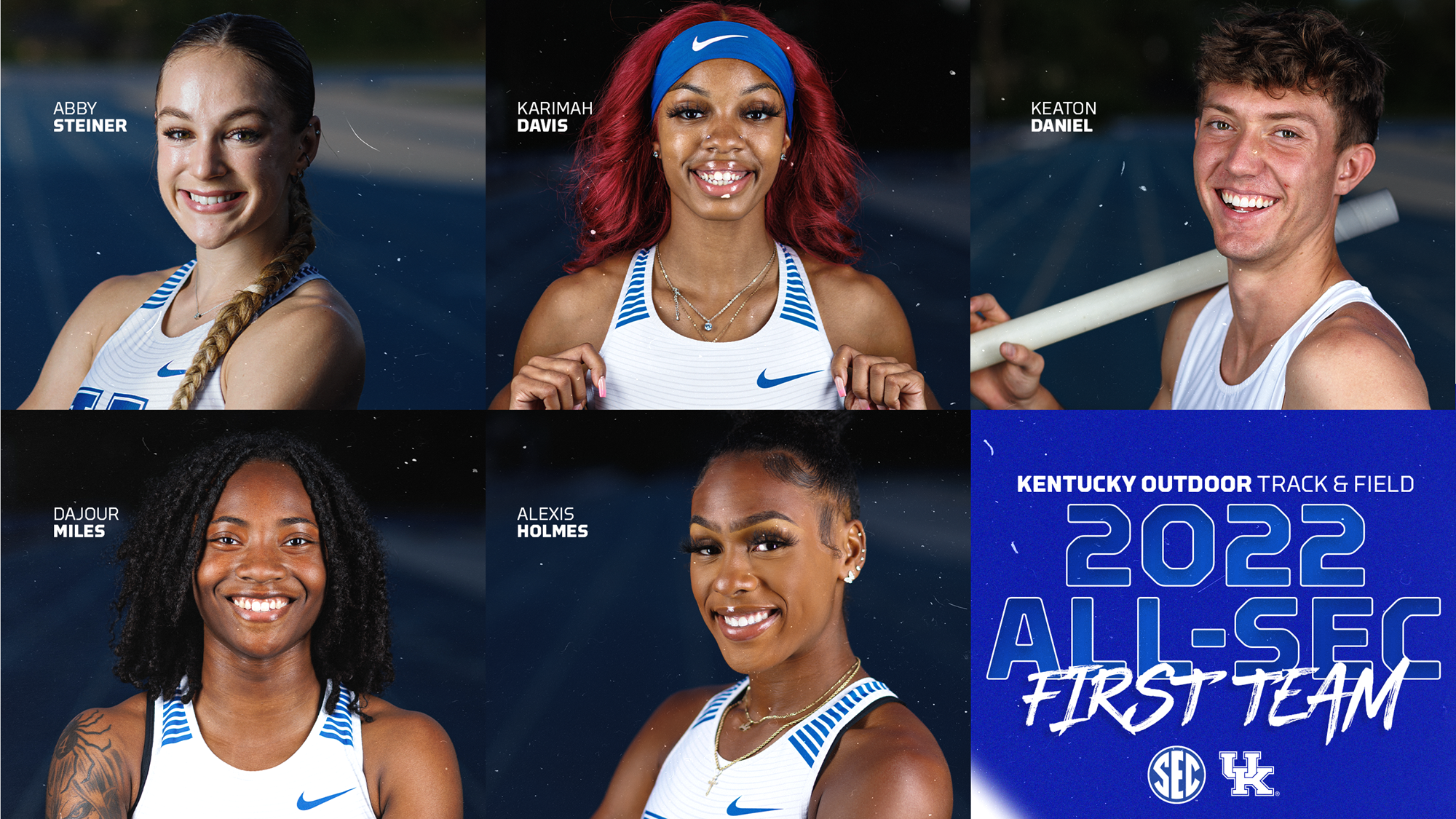 17 Wildcats Earn All-SEC Honors
LEXINGTON, Ky. – Kentucky track and field placed 17 Wildcats on the All-SEC first team, second team and All-Freshman team following an impressive Southeastern Conference Championships showing in Oxford, Mississippi in May, featuring 12 medals earned by UKTF. 
Sixteen of the 17 All-SEC recipients competed at NCAA East Preliminaries with 13 qualifying for the upcoming NCAA Championships from the All-SEC group and 19 in total.
The list of Wildcats awarded with All-SEC honors are below. 
First-Team All-SEC 
Keaton Daniel – pole vault gold 

Karimah Davis – 4x400m gold 

Alexis Holmes – 4x400m gold 

Dajour Miles – 4x400m gold 

Abby Steiner – 4x400m gold 
Second-Team All-SEC 
Shadajah Ballard – 4x100m silver 

Perri Bockrath – 3,000m steeplechase silver 

Brian Faust – 4x400m silver 

Jade Gates – hammer throw silver 

Lance Lang – 4x400m silver 

Kennedy Lightner – 4x400m silver 

Matt Peare – pole vault bronze 

Masai Russell – 4x100m silver, 400H bronze, 100H bronze 

Dwight St. Hillaire – 4x400m silver 
Freshman All-SEC 
Donsten Brown – high jump 

Logan Coles – hammer throw 

Areti Filipidou – discus 
The Honorees 
Karimah Davis, Dajour Miles, Abby Steiner and Alexis Holmes ran the fastest mile relay team in collegiate history, running 3:21.93 to score 10 points for SEC gold and earn first-team All-SEC honors. 
Keaton Daniel defended his SEC gold medal in the men's pole vault, clearing a season best 18'2.5″/5.55m to earn 10 points and first-team All-SEC honors. 
Steiner earned two individual silvers (plus a 4×1 silver) in the lightning fast 100m and 200m dashes. Steiner's 100m time was 11.02 (-0.7) and her 200m was 22.07 (+0.2), with her time being .02 off her PB and inside the collegiate all-time top 10. 
UK's men's 4x400m relay of Dwight St. Hillaire, Lance Lang, Kennedy Lightner and Brian Faust broke three minutes for the first time in school history running 2:59.93, more than two seconds better than the previous school record to earn SEC silver and second-team All-SEC honors. 
Kentucky's time made UK the seventh fastest outdoor mile relay school in collegiate history and earned eight points. Both Lightner and Faust ran sub-45-second splits with Faust going 44.49 in the anchor leg. The school record they broke was recorded in the SEC outdoor final last year in college station with three of the legs of the relay the same and Faust slotting into anchor leg. 
UK's women's 4x100m relay of Shadajah Ballard, Steiner, Masai Russell and Davis earned silver with a time of 42.63, fourth fastest in program history to begin Saturday's on-track action. 
Perri Bockrath earned a silver medal in the women's 3,000m steeplechase in school record time (9:52.48). It was also below Ole Miss's facility record, an eight second personal best and the 14th fastest in the NCAA this season. 
Jade Gates threw for silver in the hammer throw with a school record mark of 219'11″/67.05m. The previous school record, which also belonged to Gates, was 219'1″/ from the Kentucky Invitational. 
Holmes claimed bronze in the 400m for second-team All-SEC honors, running a personal best 50.74 to gain the World Championships standard, move to No. 2 on UK all-time list only behind Sydney McLaughlin and to score six valuable points for the team. Her time is one of the top five fastest in the world so far this year.  
Russell claimed bronze in both the 100H (12.78w) and 400H (55.44), being named to the All-SEC second team in addition to her participation in the silver medal 4x100m relay. 
Matt Peare took bronze and six points, going over the bar at 17'4.5″/5.30m. 
Logan Coles placed 10th in hammer throw (194'4″/59.23m) as the top true freshman finisher, being named to the Freshman All-SEC team. 
Joining him as an All-SEC freshman is fellow thrower Areti Filipidou, who placed 11th in discus (158'9″/48.40m) and Donsten Brown who competed in high jump. 
Follow Kentucky Track and Field and Cross Country on Facebook, Instagram, Twitter and at UKathletics.com.