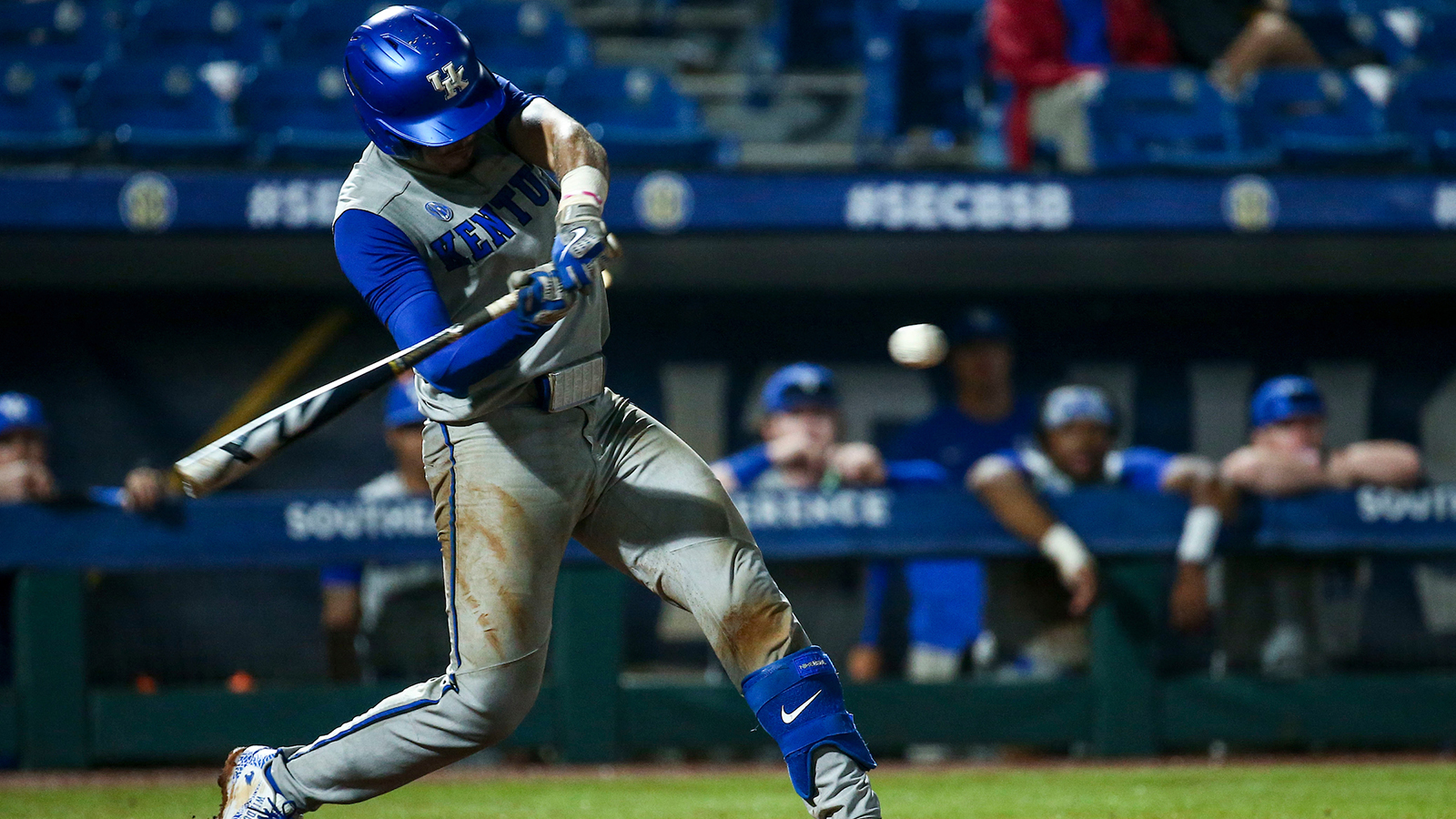 HOOVER, AL – LSU erased an early deficit and defeated Kentucky, 11-6, in a late-night Southeastern Conference Tournament game that forced the Wildcats into the loser's bracket of the double-elimination portion of the tournament.
 
The Cats (31-25) will face Vanderbilt on Friday afternoon at the Hoover Met.
 
UK took an early 2-0 lead on Devin Burkes' lined home run to left field before the No. 15 Tigers scored nine unanswered runs, including one close play at the plate that led to Coach Nick Mingione's ejection by home plate umpire Derick Mollica.
 
Burkes finished with a career-high four hits, including a pair of homers, on the evening and played a part in all of UK's runs.
 
NOTES
UK has scored in 297 of 302 games under Coach Nick Mingione.
The UK pitchers have struck out 564 in 56 games.
UK is 23-38 in 23 appearances in the SEC Tournament.

UK is 2-5 in the SEC Tournament under Mingione and 6-7 overall in the postseason.
Junior IF Chase Estep reached base safely in 52 of the 56 games this season.
Senior OF Oraj Anu has a hit in 12 of 14 games since returning returning to the starting lineup on April 26.

He has 10 multi-hit games this season and 28 in his career.
He has 99 career hits.

Senior OF Hunter Jump has reached safely in nine straight games.
Redshirt Freshman C Devin Burkes went 4-for-4 with two homers and five RBI.

He has reached safely in 11 straight games.
He hit the second and third home runs of his career.
He set a new career-high in RBI.
He had the first multi-hit game of his career.
 
 
ON DECK
Kentucky will face LSU on Thursday in the SEC Tournament. The radio call will be on the UK Sports Network.