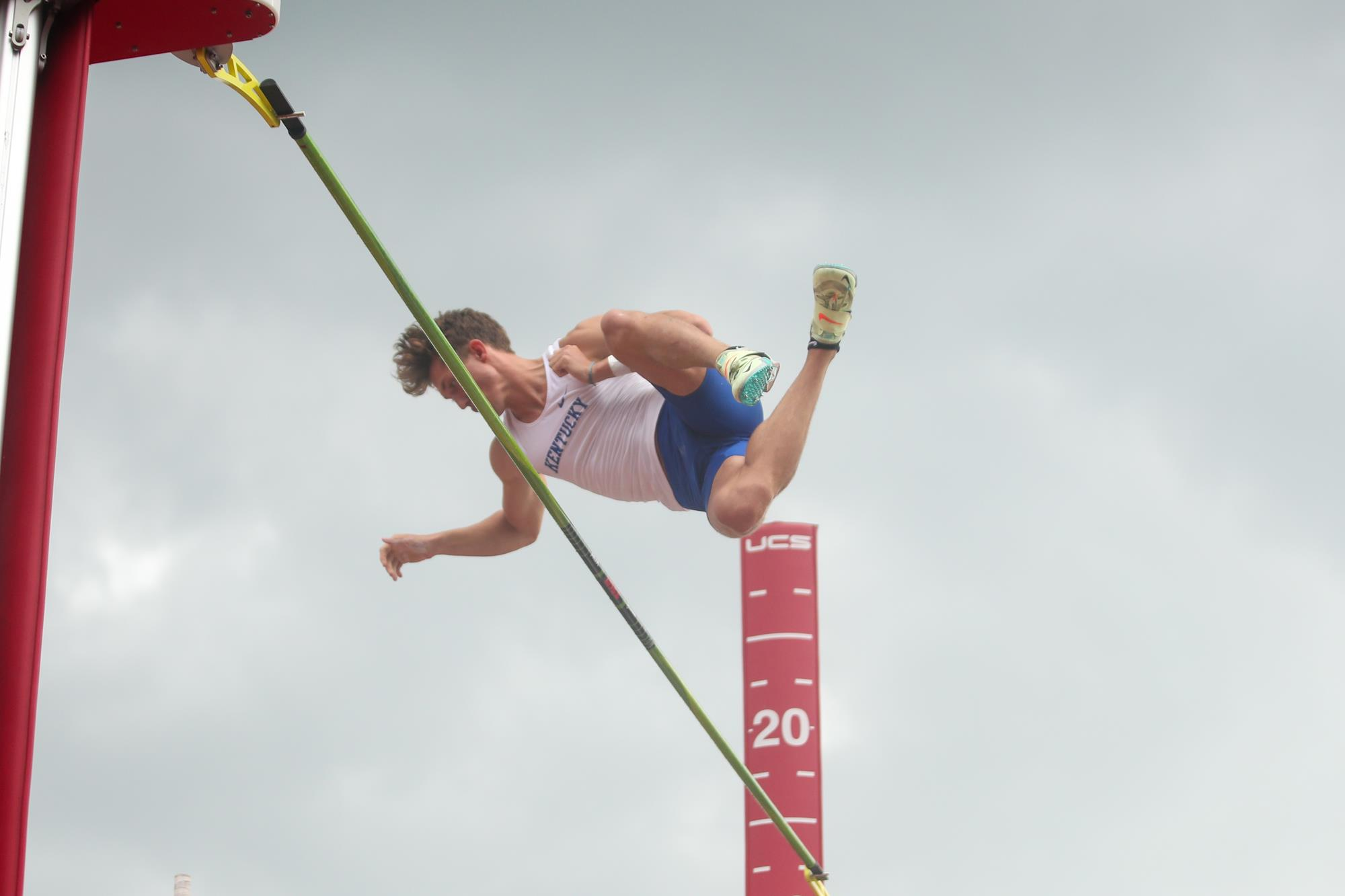 Two Wildcats Punch Ticket to Eugene on First Day of NCAA Prelims
BLOOMINGTON, Ind. – Kentucky track and field pole vaulter Keaton Daniel and thrower Josh Sobota qualified for NCAA Championships in Eugene, Oregon by placing in the top 12 at NCAA Division I East Preliminary Championships at Indiana University on Wednesday. 
Seven Wildcats also qualified for Friday's quarterfinals in the sprint and hurdle events. To qualify for quarterfinals, a competitor must place in the top 24, and then the top 12 in quarterfinals qualify for NCAA Championships. 
Wednesday and Friday feature men's events while Thursday and Saturday feature women's events. 
Due to the weather, Wednesday's competitors experienced delays and Thursday's event schedule has been changed. The updated schedule is attached. 
Day One 
Daniel qualified with a vault of 7'4.25″/5.29m and will compete in Eugene for the chance to medal in Eugene for the second year in a row. 
Sobota threw for an outdoor personal best and qualifying mark of 65'9.75″/20.06m in the shot put, making this his second year in a row qualifying for NCAAs in the event. It was also his third best shot put throw of his career. 
Dwight St. Hillaire and Brian Faust impressed in the men's 400m first round with the ninth (46.12) and 12th (46.22) fastest times of the group, respectively. 
Kenroy Williams ran 50.55 for the eighth fastest time out of 48 qualifiers and will run in Friday's quarterfinal. Beck O'Daniel finished 35th with a time of 52.41. 
Tai Brown ran 13.69 with a 2 m/s tailwind, placing third in his heat and automatically qualifying for Friday's quarterfinal. 
Lance Lang qualified for quarterfinals in both the 100m and the 200m. His 200m time of 20.39w (+2.3) earned him the eighth fastest spot among the 48 competitors and qualified in the 100m with a time of 10.27. 
Rodney Heath Jr. joined Lang in qualifying for 100m quarterfinals, finishing third in his heat to automatically qualify with a time of 10.38. 
Matt Peare narrowly missed qualification in the pole vault, finishing 13th after coming up just short in a jump off. 
Meet Information 
Thirty-four Wildcats, 19 from the women's team and 16 from the men's team, made the trip to Bloomington and are competing for an NCAA Championships berth. Men competed on Wednesday and will compete Friday while women compete on Thursday and Saturday. 
East preliminaries will feature the top 48 in the eastern region in each event with the top 12 in each event qualifying for NCAA Championships in Eugene, Oregon. The rules are the same for the western preliminaries: the top 12 move on to Eugene. 
Live results can be found at flashresults.ncaa.com and Indiana University is running a live stream of the event on their website. 
Thursday's schedule is the same as Wednesday's post-weather delay, beginning at 10 a.m. with hammer throw and ending around 8 p.m. with shot put, but with women's events. 
The first event on Friday is the men's discus and the last is the men's 4x400m at 8:45 p.m. Saturday's schedule is the same but with women's events. 
Below is a list of student-athletes competing in the meet along with the events they qualified for. 
Women: 
Shadajah Ballard – 100m, 100m hurdles, 4x100m 

Perri Bockrath – 3,000m steeplechase 

Karimah Davis – 200m, 4x100m, 4x400m 

Areti Filipidou – discus 

Sophie Galloway – triple jump 

Jade Gates – hammer throw 

Jenna Gearing – 800m 

Tori Herman – 1,500m, 5,000m 

Alexis Holmes – 400m, 4x400m 

Darci Khan – 100m hurdles 

Molly Leppelmeier – shot put, discus, hammer throw 

Deanna Martin – 800m 

Dajour Miles – 200m, 4x400m 

Megan Moss – 400m, 4x400m 

Masai Russell – 100m hurdles, 400m hurdles, 4x400m 

Jenna Schwinghamer – 800m 

Abby Steiner – 100m, 200m, 4x100m, 4x400m 

Siobhan Szerencsits – pole vault 

Annika Williams – long jump 
Men 
Tai Brown – 110m hurdles 

Logan Coles – hammer throw 

Keaton Daniel – pole vault 

Brian Faust – 400m, 4x400m 

Rodney Heath Jr. – 100m, 4x100m 

Langston Jackson – 4x100m 

Lance Lang – 100m, 200m, 4x100m, 4x400m 

Kennedy Lightner – 200m, 4x400m 

Rahman Minor – high jump 

Beck O'Daniel – 400m hurdles 

Matt Peare – pole vault 

Jacob Smith – 200m, 4x400m 

Josh Sobota – shot put, discus 

Robbie Springfield III – long jump 

Dwight St. Hillaire – 400m, 4x100m, 4x400m 

Kenroy Williams – 400m hurdles 
Karimah Davis also qualified as a part of the 48 in the east region in the 100-meter dash, St. Hillaire in the 200m, Lightner in the 400m and Jenna Gearing in the 1,500m but they will not be running those events in Bloomington. 
The Qualifiers at SEC Championships 
UKTF's 34 NCAA East Preliminary qualifiers are coming off an impressive showing at SEC Championships last week featuring 12 medals: three on the men's side and nine on the women's side. 
The most notable performance was the collegiate record and gold medal-winning women's 4x400m relay (3:21.93) featuring Davis, Dajour Miles, Abby Steiner and Alexis Holmes.  
Steiner and Holmes both ran blazing splits of 48.77 and 49.59 seconds respectively, with Steiner's split being one of the fastest in collegiate history. 
The second gold medal of the meet came from Daniel in pole vault, earning a season best vault of 18'2.5″/5.55m. It was his second SEC outdoor gold of his career and second-best vault of his career. He is the incoming fourth seed at regionals. 
In addition to the 4x400m gold, Steiner earned three silver medals in the 100m, 200m and 4x100m. 
In the 100m, Steiner ran 11.02 (-.7) and 22.07 (+.2) in the 200m. Her 200m time was inside the all-time collegiate top-10. She holds the second seed in the east region in both events. 
The 4x100m featuring Steiner, Shadajah Ballard, Masai Russell and Davis earned silver with a time of 42.63, the fourth fastest in program history. 
Steiner will run in the same four events in Bloomington as she did at SEC Championships. 
UK's men's 4x400m relay of St. Hillaire, Lang, Lightner and Faust broke three minutes for the first time in school history running 2:59.93, more than two seconds better than the previous school record to earn SEC silver. 
Kentucky's time made UK the seventh fastest outdoor mile relay school in collegiate history and earned eight points. Both Lightner and Faust ran sub-45-second splits with Faust going 44.49 in the anchor leg. The school record they broke was recorded in the SEC outdoor final last year in college station with three of the legs of the relay the same and Faust slotting into anchor leg. 
Another SEC silver came from Perri Bockrath, earning a silver medal in the women's 3,000m steeplechase in school record time (9:52.48). It was an eight second personal best and the 14th fastest in the NCAA this season. She's seeded sixth in the east prelims in the event. 
Jade Gates threw for silver in the hammer throw with a school record mark of 219'11″/67.05m. The previous school record, which also belonged to Gates, was 219'1″/66.77m from the Kentucky Invitational. Gates is the sixth seed in the event in Bloomington. 
Holmes, now a 4x400m collegiate record holder, claimed bronze in the 400m running a personal best 50.74 to gain the World Championships standard, move to No. 2 on UK all-time list only behind Sydney McLaughlin and to score six valuable points for the team. She is the top seed in the 400m at regionals. 
Masai Russell earned bronze in both the 100m hurdles and 400m hurdles and will compete in both events in Bloomington as the third and second seeds respectively. She repeated as SEC 400m bronze medalist with a time of 55.44. Her 100H time was 12.78w (+2.1). She also earned a SEC bronze in the 60H indoors earlier this year. 
Matt Peare took bronze in pole vault, going over the bar at 17'4.5″/5.30m. Peare has earned a medal in each of the last four SEC Championships he has competed in, winning the SEC Indoor Championships in 2020 and 2021 and taking silver indoors this year. Peare entered this season coming off a leg injury suffered when going for what would have been a record-setting height after having clinched the victory at the 2021 SEC Indoor Championships. 
Some other NCAA regionals qualifiers that impressed at SEC Championships through scoring points for the Wildcats were Josh Sobota, Molly Leppelmeier and Jenna Schwinghamer. 
Sobota earned two fourth place finishes in shot put (65'0″/19.81m) and discus (188'2″/57.37m), with both marks coming close to his personal bests. He ranks 15th in the NCAA this season in shot put and 25th in discus, fifth and 12th in the east region before the start of regionals. 
Schwinghamer broke the women's 800m school record with a time of 2:03.18 en route to a fifth-place finish. Jenna Gearing placed seventh to score two points in a PB 2:03.81, which is third fastest in school history. 
Leppelmeier's fourth place shot put throw was a personal best by over a foot (54'6.75″/16.63m) and moved her up to second all-time for UK in the event outdoors. She also scored two points in the women's discus with a personal best for seventh place, 169'2″/51.56m that improved her No. 9 mark on the UK all-time list. 
Leppelmeier is second all-time for UK in the hammer throw as well, with her best mark of the season () notching her the 10th seed spot at regionals. 
Track Season Recap 
The Wildcats enter NCAA East Preliminary Championships ranked sixth (women) and 24th (men), with 22 performances ranked in the 2022 NCAA top 50 for the women and 15 for the men. 
The women's and men's teams also combine for 18 NCAA top 20 performances for the 2022 outdoor season so far. 
The women's 4x400m leads the nation with their collegiate record performance at SEC Championships, while the men's 4x400m team is ranked second in the nation. 
Steiner, appearing in four of those 18 season best performances, gave the Big Blue Nation a taste of #SteinerSpeed, in the lone home meet of the outdoor season. The senior smashed the UK Track & Field facility record in the 200-meter dash running an outdoor personal best of 22.05 seconds, the third fastest time in collegiate history and second fastest in the NCAA this season.  
She also ran the fifth fastest wind legal 100m in collegiate history at the Joe May Invitational at LSU in April, clocking 10.92 for the fastest wind legal time of the 2022 NCAA outdoor season. 
The women's 4x100m is also top ranked, sitting at No. 2 in the nation this season with a time of 42.46 from the Joe May Invite featuring Steiner, Ballard, Russell and Davis. 
Also ranked third in the nation this season is Russell in the 400m hurdles. She ran a personal best 55.41 at Florida Relays in late March, notching the fourth all-time spot for UK in the process. She also has the No. 7 100m hurdles time in the nation this season from when she earned a personal best 12.71 at the Kentucky Invitational, which was a facility record and third all-time for UK. 
Holmes is ranked fifth in the NCAA this season with her 50.74 personal best from her SEC Championships bronze medal performance, which is also a world championship qualifying standard. 
The highest ranked men's individual running performance this season is Lang's wind-assisted 10.06 (2.4) personal best from the Kentucky Invitational that ranks eighth in the NCAA this season and faster than the UKTF school record. His best 200m time of 20.30 is ranked 20th in the NCAA this season. 
Olympian St. Hillaire is the top Wildcat in the men's 200m and 400m with his season best times of 20.24w (3.0) and 45.41, respectively. His 200m time is ranked 16th in the nation and 400m time is ranked 13th. 
Schwinghamer is the top ranked distance runner for the Cats, currently ranking 13th in the NCAA this season in the 800m from her school record performance (2:03.18) at SEC Championships. 
Bockrath made a jump into the NCAA top 20 with her SEC silver medal and school record in the 3,000m steeplechase, now ranking 16th. 
Tai Brown leads the Cats in the 110m hurdles, also ranking 13th in the NCAA, with a time of 13.49w (2.8). 
The men's 4x100m is the 17th fastest in the NCAA this season with a time of 39.18 from the Kentucky Invitational, featuring Lang, St. Hillaire, Smith and Lightner. 
The final runner ranked in the NCAA top 20 is Kenroy Williams in the 400m hurdles, ranked 18th with a time of 50.30. 
Field Season Recap 
Leading all field event specialists on the men's and women's teams are Daniel, Rahman Minor, Gates and Josh Sobota. 
Daniel is ranked 7th in the NCAA this season in pole vault with his season best vault of 18'2.5″/5.55m from his SEC gold performance, closely followed by teammate and fellow school record-holder Matt Peare at 23rd (17'7″/5.36m) 
Minor is ranked 13th in the high jump with a height of 7'2.25″/2.19m from Florida Relays, which was his best jump in over two years. He has jumped over seven feet in each of UKTF's five regular season outdoor meets this season and placed in the top two of every one of them. 
Gates is the No. 16 hammer thrower in the NCAA this season with her silver medal throw (220'0″/67.05) from SEC Championships. 
Sobota is ranked high in both the shot put and discus, ranking 15th in the shot put with his outdoor collegiate personal best of 65'2.25″/19.87m from the Joe May Invitational and 25th in discus (191'9″/58.44m). His shot put was second all-time in UKTF history and discus throw was ninth all-time for UK. 
Follow Kentucky Track and Field and Cross Country on Facebook, Instagram, Twitter and at UKathletics.com.