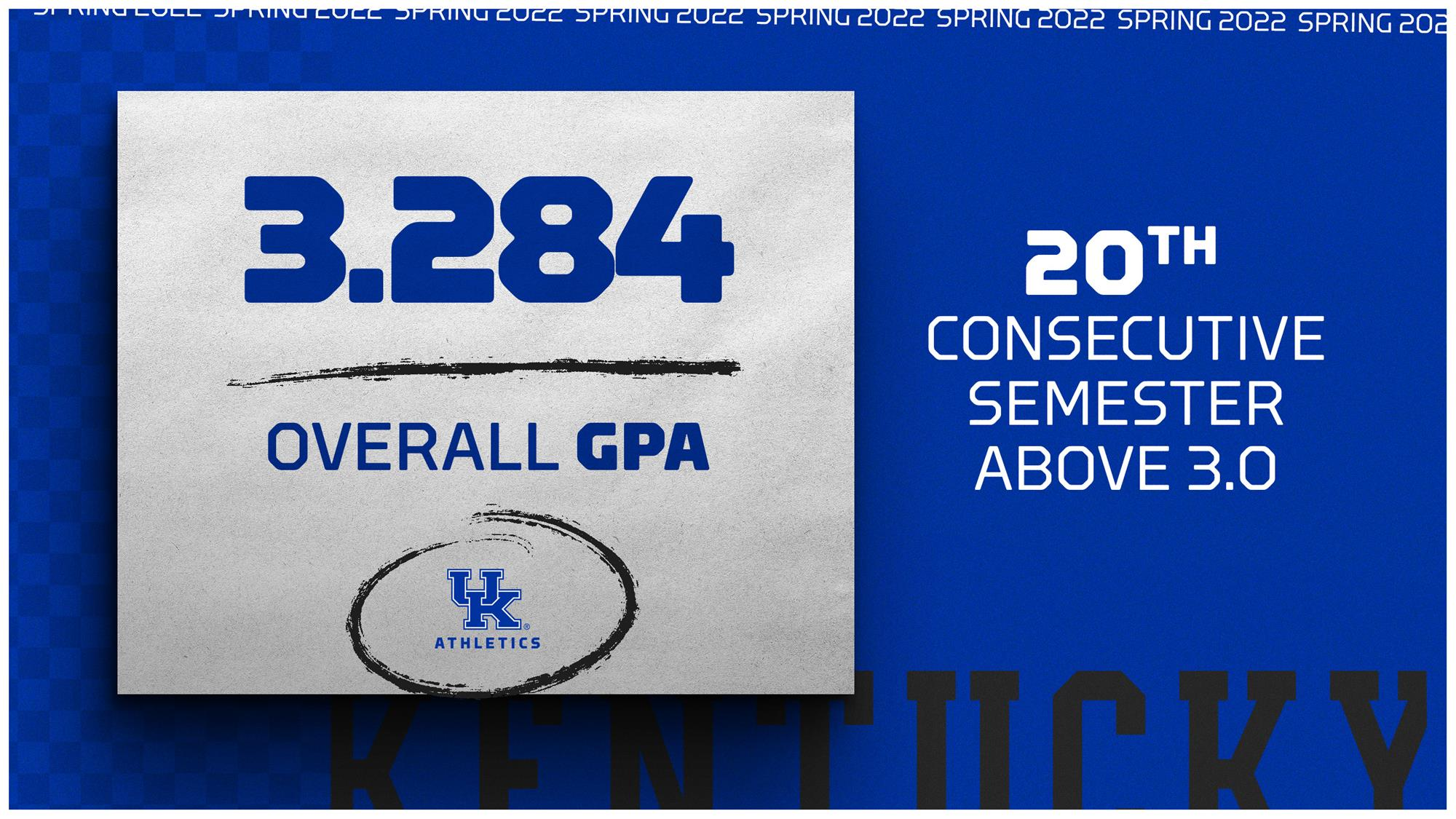 LEXINGTON, Ky. – In 2008, as part of his "15 x 15 x 15" plan, University of Kentucky Athletics Director Mitch Barnhart established an academic target the Wildcats had never reached – a composite 3.0 grade-point average for the students of UK Athletics.
 
"When we established the goal of a 3.0 overall GPA for our department, we knew we were setting the bar high," Barnhart said.
 
It took four years to accomplish, as UK – at the time numbering approximately 500 student-athletes – scaled the peak by posting a department-wide GPA of 3.03 in the fall semester of 2012. 
 
Since then, the Wildcats have never looked back. 
 
With grades for the 2022 spring semester now finalized, University of Kentucky Athletics has surpassed its goal of a 3.0 composite GPA for 20 straight semesters, as Wildcat scholarship student-athletes combined to achieve a GPA of 3.284 this spring.
 
"Ten years of 3.0 GPAs for our department is a remarkable achievement," Barnhart said. "It's a testament to the hard work and persistence of all those involved in the academic process – primarily, of course, our student-athletes, and also to the CATS (Center for Academic and Tutorial Services) staff for their guidance, support and encouragement, along with the emphasis our coaches place on academic success.
 
"In many ways, the last two years have brought challenges to college athletics that have never been seen. The many issues we face have not deterred us from our core mission, to educate young people and to earn victories in the arenas of competition."
 
The women's swimming and diving team led the department with a spring GPA of 3.765 among scholarship student-athletes. The golf team led the way for UK men's sports, posting a GPA of 3.617 among scholarship players.
 
Individually, 430  Wildcats achieved a GPA of 3.0 or higher, including 121 Cats who reached 4.0 for the semester. 
 
The spring grade report comes on the heels of last weekend's Commencement, in which a school-record 114 student-athletes graduated.  Along with the 21 student-athletes in the December Commencement, UK totaled 135 graduates in the 2021-22 school year. 
 
This year's academic milestones are paired with competitive achievement, reflected by UK's current No. 8 ranking (among 358 Division I schools) in the NACDA Directors' Cup all-sports standings. 
 
The University President, Dr. Eli Capilouto, is proud of the accomplishments of the Wildcats.
 
"The largest graduating class of student-athletes in our history is also among the most academically accomplished as reflected by 10 consecutive years – and 20 straight semesters – of a collective departmental grade-point average of 3.0 or higher. Their accomplishment underscores the commitment of Director Barnhart and all those who support our student-athletes to helping prepare these young men and women to lead lives of meaning and purpose," Dr. Capilouto said.
 
"At the University of Kentucky, we care deeply about success on courts and playing fields across our campus, our Commonwealth and the country.  But we care even more about the success our students are prepared for when they leave our community.  These numbers and markers of progress and achievement compellingly reflect that commitment."
 
The progress to which Capilouto refers did not come quickly, or easily.  When Barnhart arrived at UK in the summer of 2002, one of his stated goals was to "provide student-athletes with the best possible experience."  Obviously, success in the classroom was a foundational piece of that quest.  Over the years, commitment to greater academic success has been shown by adding staff to the CATS operation, which enhances personal attention and specialized services for the Wildcats. In addition to GPAs, additional measurements also indicate fulfillment of the quest.
 
For example, the NCAA founded its Graduation Success Rate in 2005.  At the time, UK Athletics had a graduation rate of 68 percent. Since then, the Wildcats have either set a new school record or tied the previous record every year.  As a result, UK's 2021 mark for the Graduation Success Rate has risen to 92 percent.
 
The NCAA's Academic Progress Rate, which also was founded in 2005, measures each team's academic eligibility, retention and graduation.  Teams can receive penalties, such as practice restrictions or playing time reductions, for not reaching the benchmark score.  None of UK's 23 varsity athletics teams has received a penalty in the 18-year history of the APR.
 
So, whether it's academic performance in the classroom, or athletic performance in the arena, University of Kentucky Wildcats continue to strive and achieve – 'til the Battle is Won!
 
University of Kentucky – Spring 2022 Team GPA Report
Sport
Competing
Scholarship
Competing Scholarship and Non-Scholarship 
Baseball
3.558
3.690
Men's Basketball
2.676
2.730
Women's Basketball
3.000
2.969
Football
2.795
2.925
Men's Golf
3.617
3.617
Women's Golf
3.598
3.598
Gymnastics
3.621
3.508
Rifle
3.264
3.264
Men's Soccer
3.485
3.491
Women's Soccer
3.619
3.627
Softball
3.525
3.522
STUNT
3.268
3.136
Men's Swimming and Diving
3.117
3.134
Women's Swimming and Diving
3.765
3.754
Men's Tennis
3.411
3.449
Women's Tennis
3.193
3.119
Men's Track
3.029
3.116
Women's Track
3.207
3.110
Men's Cross Country
3.456
3.533
Women's Cross Country
3.580
3.573
Volleyball
3.385
3.443
Men's Sports
3.105
3.179
Women's Sports
3.477
3.389
Overall
3.284
3.285