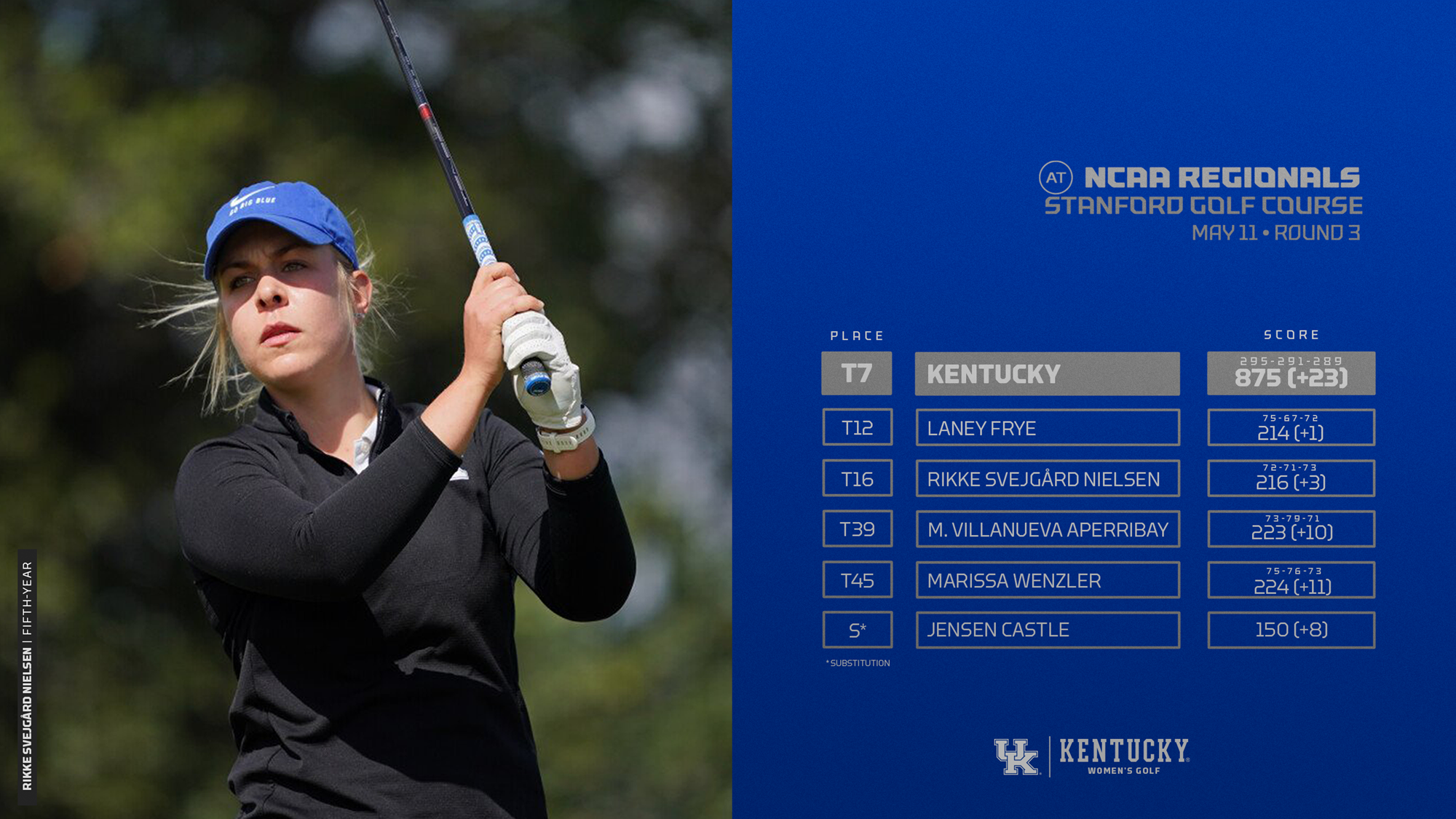 Kentucky's Season Comes to a Close in Stanford
STANFORD, Calif. – Kentucky Women's Golf finished its 2021-22 season missing the qualifying cut to advance to the NCAA Finals in Scottsdale, Ariz.
 
The Cats completed the three-day Stanford Regional on Wednesday in a two-way tie for seventh with Texas Tech. UK tallied a three-round total of 875 (+23), including 44 birdies and 39 bogeys.
 
"It was a tough week for us on the course and we are disappointed to have come up short," stated Head Coach Golda Borst. "We will learn from this and move forward, but for now it stings."
 
On the individual front, sophomore Laney Frye played an impressive three-rounds to finish in the top-15 just missing the playoff to qualify to finals as an individual. She improved from her first-round 75 to a second-round 67. Her third round of the regional was only one shot short of an even-par round. The Kentucky-native completed the Stanford Regional T12 (+1).
 
Fifth-year senior and team captain Rikke Svejgård Nielsen played her final round as a Wildcat this week finishing T16 (+3). Her consistency was prevalent throughout her 54 holes as she stayed in the top-20 on the individual leaderboard. The Denmark-native tallied a three-day score of 216 to finish three-over-par.
 
"We wanted to give Rikke another run at a National Championship, but it wasn't meant to be," said Borst. "We are so thankful for her and the legacy that she leaves behind at Kentucky. She's been our leader and our rock, and we will miss her tremendously!"
 
Also on the individual leaderboard, María Villanueva Aperribay was the next Cat in the lineup to find herself in the top-50. The junior finished her round T39 (E) to improve her placement by eight. She shot a tournament-best 71 to combine with her day one and two scores of 73 and 79 for 223 (+10).
 
Marissa Wenzler was not far behind Villanueva Aperribay as she finished T45 (+2). The Wildcat played her best round of the tournament on Wednesday seeing a two-over-par 73. She totaled 224 (+11) on the week.
 
Junior Jensen Castle was substituted by Marta López Echevarría due to illness on the first day of competition. However, she made up for lost time in the two rounds played by tallying 150. With a tough start to the tournament, she saw her best round on Wednesday. Like Wenzler, Castle shot a 73 (+2).
 
"It's tough when the road ends earlier than you would have liked," expressed Borst. "With that said, we are still immensely proud of our team for how they played this year. We have accomplished a lot and we have a lot to celebrate."
Out of the Stanford Regional, the University of Southern California, Stanford, LSU, and Perdue advanced to play in Ariz. with the addition of individual qualifiers.
ABOUT THE NCAA CHAMPIONSHIPS
 
Six regional tournaments will be conducted May 9-11 to determine the championship finals field. Regional tournaments are considered preliminary rounds of NCAA championships
competition and all national championship policies apply.
 
A total of 72 teams and 36 individual participants have been selected for regional competition. Of the 396 players participating in the regionals, 132 will advance to the championship finals, with the top four teams and top two individuals (not on an advancing team) advancing from each regional.
 
The national championships will be May 20-25 at Grayhawk Golf Club in Scottsdale, Ariz. hosted by Arizona State and The Thunderbirds. The final three days of the championships will be televised live by the GOLF Channel.
BIRDIES FOR TORNADO RELIEF FUNDRAISER
Collectively, UK Women's Golf has tallied 253 birdies since announcing the start of a new fundraiser to aid fellow Kentuckians in the Western region of the state who were devastated by an EF4 tornado in early December of last year. This tally includes the birdies shot throughout the first two rounds of the NCAA Stanford Regional. 
 
In partnership with the Kentucky Red Cross, the program is asking for monetary donations or pledges. For each birdie made, beginning with the Darius Rucker Intercollegiate and throughout the rest of the 2022 spring season, money will be given to those impacted by the catastrophic disaster.
 
Those wishing to donate can do so by clicking here.
For the latest on Kentucky Women's Golf, follow the team on Twitter, Facebook and Instagram, as well as on the web at UKathletics.com.