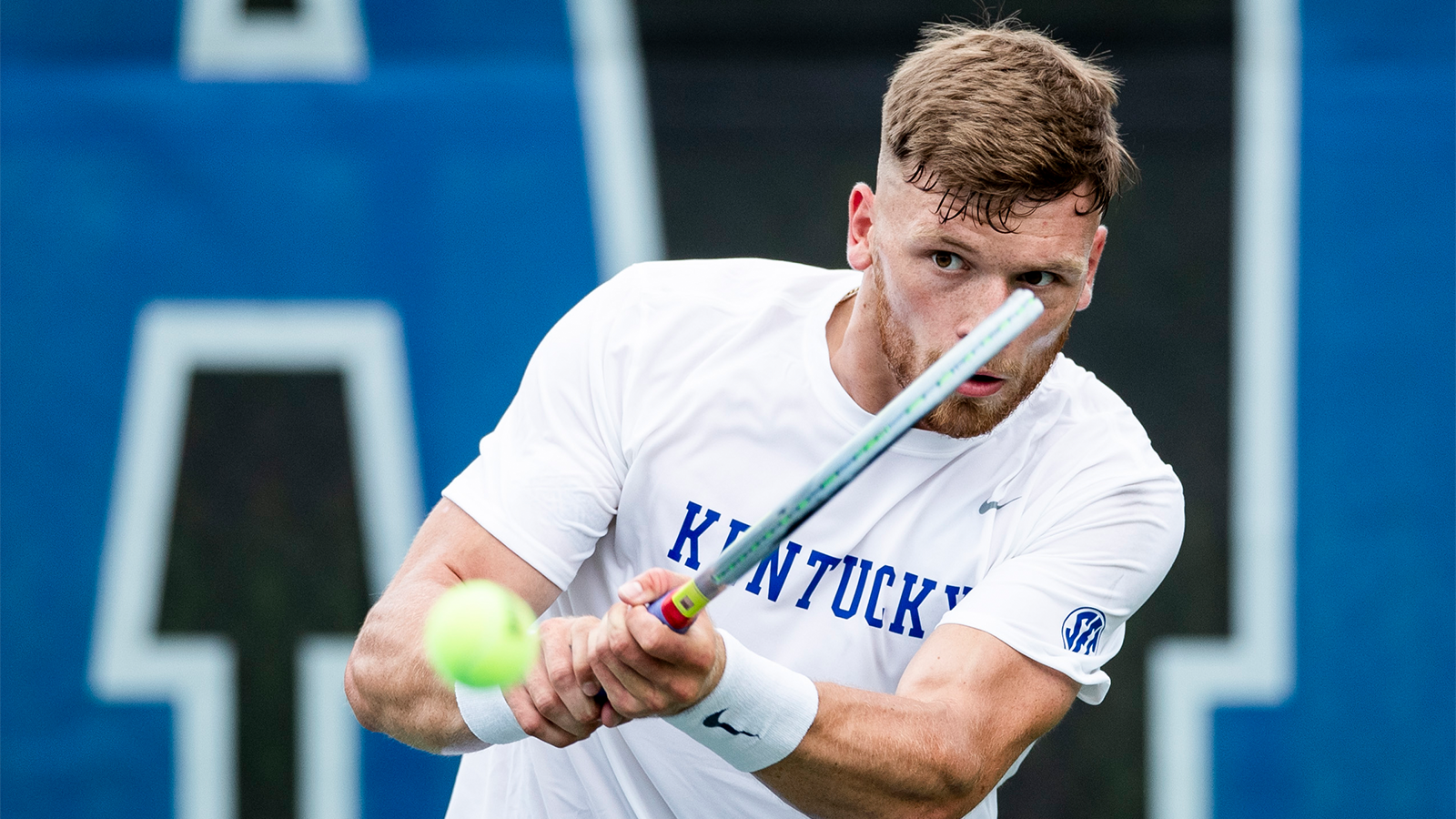 Kentucky Sweeps DePaul, Advances to NCAA Second Round
LEXINGTON, Ky. – The Kentucky men's tennis team won in impressive fashion on Friday afternoon, as the Wildcats posted a 4-0 sweep over DePaul in the first round of the 2022 NCAA Men's Tennis Championship at the Hilary J. Boone Tennis Complex.
 
Friday saw two opening-round matches as part of the Lexington Regional. Northwestern defeated East Tennessee State, 4-0, in the first match of the day to advance to Saturday's second round contest. The battle between the two Wildcats is slated to begin at 1 p.m. ET at the Boone Tennis Complex with tickets available for purchase here.
 
Kentucky, ranked eighth in the tournament and ninth nationally, improves to 22-7 on the year following today's victory over DePaul. The Blue Demons conclude their season with a 13-13 overall record.
 
The Wildcats opened the match by securing the doubles point in a dominant showing. Liam Draxl and Alexandre LeBlanc took care of business in the third spot, quickly defeating Tripp Tuff and Luuk Wassenaar in a 6-0 outcome. One court over in the second position was Gabriel Diallo and Joshua Lapadat who recorded a 6-1 win over Jona Gitschel and Leon Huck to earn the doubles point for the host team.
 
Carrying the momentum into singles, No. 113 Lapadat posted back-to-back 6-2 sets over Matteo Iaquinto on court five to extend UK's lead to two while earning his 20th individual win of the season. Soon after, No. 21 Diallo put the Wildcats up by three after besting Marino Jakic, 6-4, 6-1, on the second court. 
 
Captain Millen Hurrion, ranked 83rd in the latest Intercollegiate Tennis Association poll, clinched the match for Kentucky with his 6-3, 6-3 win against Huck in the third spot. It's a quick turnaround for the Wildcats, who now prepare to face Northwestern on Saturday with a trip to the Sweet 16 on the line.
 
Scouting Northwestern
Saturday's second-round matchup will be a battle of Wildcats with No. 8-seed Kentucky facing Northwestern with first serve set for 1 p.m. at the Boone Tennis Center. Northwestern received one of 34 at-large bids after finishing 19-10 in the regular season and as the No. 4 seed in the Big Ten West. The team reached the Big Ten Tournament quarterfinals.
 
Northwestern swept ETSU on Friday with singles wins from No. 42 Steven Forman, Simen Bratholm and Trice Pickens. NU, which checked in at No. 30 in the most recent ITA team rankings, have one ranked doubles pair in No. 82 Steven Forman and Felix Nordby.
 
Ticket information
Tickets for Saturday's second round match are on sale now and fans are encouraged to purchase them in advance. Youth and senior tickets are priced at $8, adults will be $10 per ticket and children ages two and under will receive free admission. Full-time UK students may show their valid UK student ID at the ticket trailer outside of the Hilary J. Boone Tennis Complex on match day for a free ticket. All seating is general admission. Tickets can be purchased here.
 
All pre-purchased tickets will be available via Mobile Delivery. Ticket purchasers will be able to access their tickets electronically through My UK Account or the UK Athletics app after purchase using the email they purchased the tickets with. Additional mobile ticket information may be found online at UKAthletics.com/mobiletickets. 
 
Additional information 
Parking will be available in the lot directly across from the tennis facility, in the E-lot and in Lot C-16 near Cliff Hagan Stadium. Additional parking can be found in the green lot of Kroger Field. PS7 will be free on Saturday.
 
UK Athletics' clear bag policy will also be in effect with each fan being permitted to carry one large clear bag. Non-compliant bags, empty or not, may not be carried inside. Backpacks and drawstring/cinch bags are not permitted. Additional information regarding the clear bag policy may be found online at UKAthletics.com/clearbag.
 
Fans should continue to check UKAthletics.com and official social media accounts for the most up-to-date information, including weather updates.
 
NCAA Tournament First Round
Kentucky 4, DePaul 0
 
Singles
1. No. 4 Liam Draxl (UK) vs. Vito Tonejc (DU) Unfinished 
2. No. 21 Gabriel Diallo (UK) def. Marino Jakic (DU) 6-4, 6-1
3. No. 83 Millen Hurrion (UK) def. Leon Huck (DU) 6-3, 6-3
4. Francois Musitelli (UK) vs. Luuk Wassenaar (DU) Unfinished
5. No. 113 Joshua Lapadat (UK) def. Matteo Iaquinto (DU) 6-2, 6-2
6. JJ Mercer (UK) vs. Tripp Tuff (DU) Unfinished
Order of finish: 5, 2, 3* 
 
Doubles
1. Millen Hurrion/Francois Musitelli (UK) vs. Vito Tonejc/Marino Jakic (DU) Unfinished 
2. Gabriel Diallo/Joshua Lapadat (UK) def. Jona Gitschel/Leon Huck (DU) 6-1
3. Liam Draxl/Alexandre LeBlanc (UK) def. Tripp Tuff/Luuk Wassenaar (DU) 6-0
Order of finish: 3, 2*
 
For the latest on the Kentucky men's tennis team, follow @UKMensTennis on Twitter and Facebook, @kentuckymenstennis on Instagram, and on the web at UKAthletics.com.